Justin Fields to start against Green Bay Packers
3 min read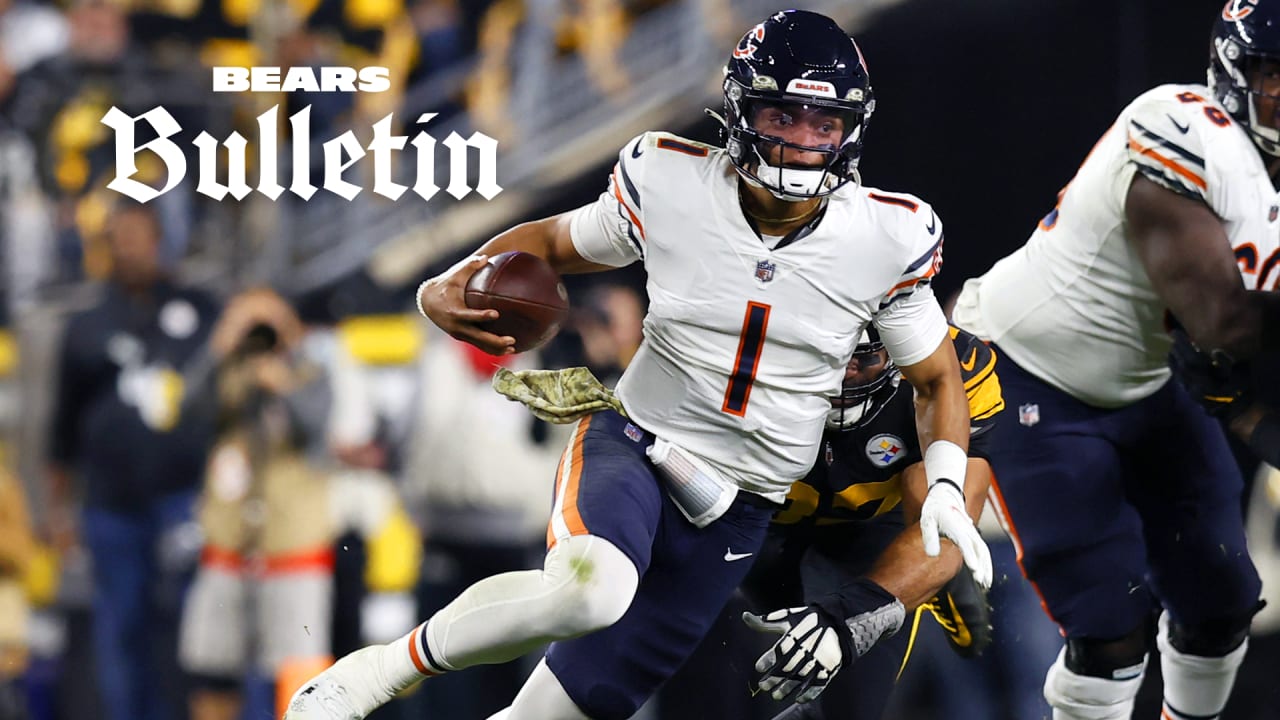 Fields said that he was unable to throw for about a week after sustaining the injury because it was too painful. He added that the injury was similar to the one he suffered in January while playing for Ohio State in a College Football Playoff semifinal against Clemson, but that one was "way worse, by far."
"January was my hip and my ribs, but this is just my ribs," Fields said.
The rookie quarterback still isn't certain when he got hurt against the Ravens. He exited after a 6-yard scramble early in the third quarter, but it didn't appear that he got hit in the ribs on that play.
"I'm not sure," Fields said. "I still don't know. I didn't get hit that hard, so I think it happened before that last play when I came off. I tried to get up and run and it was hurting to run. I'm not even sure what play it happened on."
Fields is still feeling the lingering effects of the injury, but that's not going to stop him from starting Sunday night against the Packers.
"There's pain there, but the pain's just not unbearable," he said. "I know there's going to be pain, but it is what it is. You have three cracked ribs, of course there's going to be pain. As long as it's just not crazy pain where I can bear it, I'm going to play and practice."
While Fields struggled against the Ravens, he had shown marked growth in his two previous games. He became the first quarterback in Bears history with at least 175 passing yards and 100 rushing yards against the 49ers and followed with an impressive performance versus the Steelers, passing for a career-high 291 yards and engineering a late go-ahead touchdown drive.
"We really feel like he was really improving as the games went by for him individually, our team, our offense," Nagy said. "There are still places where we can certainly improve at. As a staff, we felt like we were really getting a good feel for where he was and then he gets injured. So, then for him to come back against a big division opponent and rival that we know all about, I know that he's excited for it and that's just kind of how he is. So, he's ready to go."
Fields has appeared in 10 games with eight starts this season, completing 115 of 198 passes for 1,361 yards with four touchdowns, eight interceptions and a 69.0 passer rating. He has also rushed for 311 yards and two TDs on 56 carries.
It's unclear who will serve as Fields' backup Sunday night. The Bears' No. 2 quarterback, Andy Dalton, did not practice Wednesday due to an injury to his left, non-throwing hand he suffered while making a tackle in last Sunday's 33-22 loss to the Cardinals. If Dalton is unable to play, fellow veteran Nick Foles would serve as the backup quarterback in Green Bay.
With Fields out, Dalton started the Bears' last two games. After passing for a season-high 317 yards in a 16-14 win over the Lions, he threw four interceptions that the Cardinals converted into 23 points last Sunday at Soldier Field.
https://www.chicagobears.com/news/rookie-qb-fields-to-start-for-bears-in-green-bay