Kendall Hinton writes next chapter of remarkable…
5 min read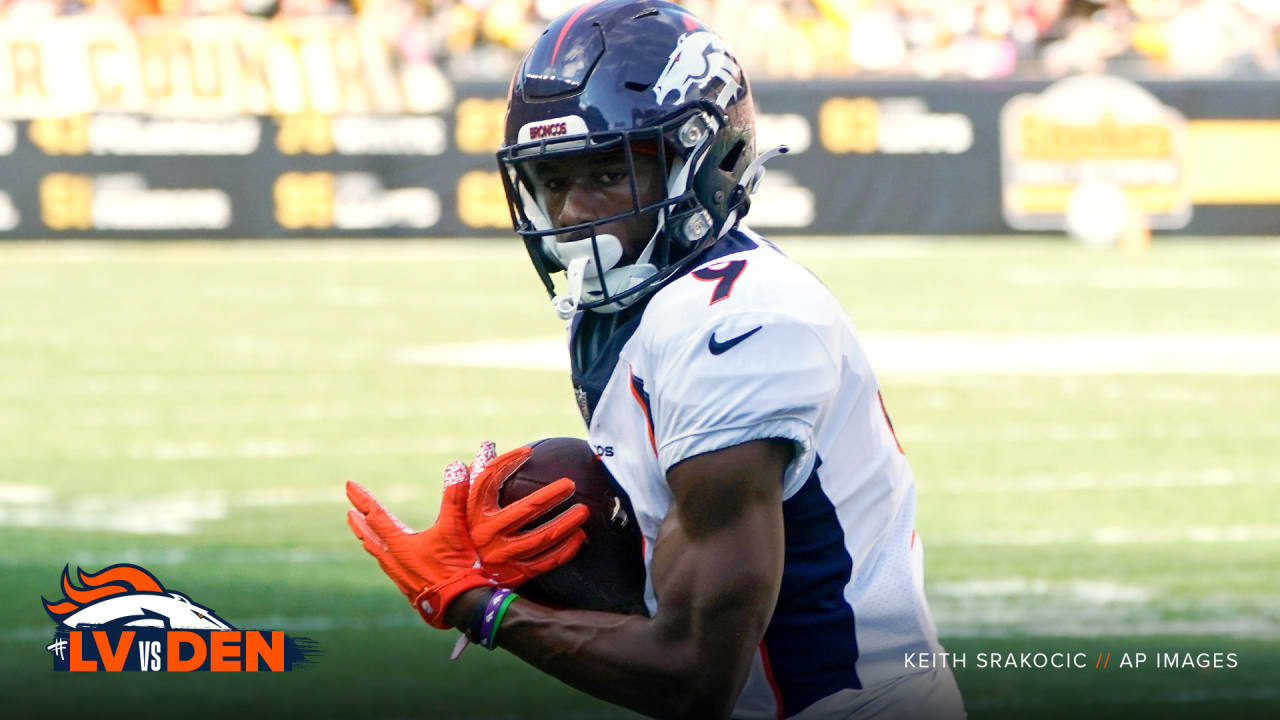 ENGLEWOOD, Colo. — Kendall Hinton is no longer just the Broncos' former emergency quarterback.
He's no longer a former college signal-caller trying to find his way in the NFL.
He's no longer a potential defensive back, desperate to make a roster by any means necessary.
After his performance against the Steelers in Week 5, Hinton is now a legitimate NFL receiver.
"The light came on," Head Coach Vic Fangio said Wednesday. "He wasn't a receiver [all four years] in college, so he's got the benefit of being on the practice squad for a couple years and learning. It takes guys time. Now he can actually call himself an NFL wide receiver. Not somebody that was an ex-quarterback, ex-something, trying to play receiver. He is a receiver."
Hinton's path to the NFL is anything but normal. He joined the Broncos as an undrafted free agent in 2020 after transitioning from quarterback to wide receiver at Wake Forest, and after being waived at the end of training camp, he re-signed to the Broncos' practice squad in November.
Just over three weeks later, he found himself in an unprecedented situation. After the Broncos' quarterbacks were all ruled ineligible due to COVID protocols, Hinton played quarterback for Denver against the New Orleans Saints. Hinton's performance was far from stellar — he completed just one pass in a 31-3 loss — but his willingness to step into the role on short notice endeared him to teammates, the organization and the fan base. Hinton said Wednesday that he believes that willingness to help the team showed something to the coaching staff.
"I honestly do," Hinton said. "… Coach Fangio, [Quarterbacks] Coach [Mike] Shula, [Offensive Coordinator] Coach [Pat] Shurmur — they could all see my excitement in the opportunity and how hopeful I was to go make a play for my team. I think more than anything, guys respect that in the locker room. Not so much the field, but that's a respect off the field, more so."
As Teddy Bridgewater said Wednesday, "those are the type of guys we want on this team."
Hinton returned to the practice squad after the game and didn't see any more action the rest of the season, but he didn't give up hope of playing at his regular position.
"I didn't have that thought," Hinton said when asked if he thought it could be his last game. "I knew that'd probably be my last game as a quarterback. But no, no, no. I knew there was a lot of work to do. I feel like I have a lot of potential to just continue to develop. You never know where you're going to be."
Where Hinton ended up was back in Denver on a future contract, and he impressed the coaching staff during both OTAs and training camp. After a brief spell at defensive back during OTAs, Hinton returned to the offensive side of the ball and made the most of his opportunity. Fangio said while he is surprised "to some degree" about Hinton's success, his performance early in the offseason let him on to the second-year player's potential.
"He keeps getting better," Fangio said. "He's the guy, like we talked about in camp, you kept asking me who's playing [well] and who's looking good in OTAs and training camp. About every other day I mentioned him. He just keeps improving. He's become a good receiver."
Hamler also believed around that time that he could make an impact in the NFL. As he sat in a meeting room with Courtland Sutton, Tim Patrick, Jerry Jeudy and KJ Hamler, he realized he could play in the same offense as the team's top receivers. And with the benefit of the offseason program, he continued to improve.
"With the pandemic, it was such a crazy year," Hinton said. "I had no idea what I was coming into, and I didn't know what to expect. The receiver role was fairly new [to me]. I wasn't sure what to [expect] coming in and what I needed to excel at, but this past offseason, I knew the points I had to get better at. I knew my weak spots. I just took the time this offseason to really grind and pick those points up."
Following the injuries to Jeudy and Hamler, he has now become a rather integral piece of the Broncos' receiving corps. He caught his first career pass in Jacksonville in Week 3, and he played a career-high 39 offensive snaps against Pittsburgh. His two catches were both critical in the Broncos' comeback attempt.
The first came on fourth-and-2 early in the fourth quarter, as Hinton slipped across the formation and caught a pass from Bridgewater for his first career touchdown. Hinton never took a rep running that play in practice, but he was ready when Bridgewater looked his way. Then, on the Broncos' final drive, an impressive 23-yard catch along the sideline moved the Broncos inside the 10-yard line.
"I caught it and just went in slow motion," Hinton said of the second catch. "I had to get my head down to see where my feet were at. I had just enough space to get the second foot in."
Hinton will now aim to continue his success as the Broncos' season continues. And while he's taken time to reflect on the unlikeliness of his NFL journey, he's also focused on what's next.
"Every day, I wake up and it's crazy — I'm playing in the NFL," Hinton said. "It's such a blessing, such an honor. Every day, it's wild. This journey continues, and through all the bumps in the road, I'm so appreciative of where I'm at now. Like you said, it's good to sit back and enjoy those moments, but also preparing myself for what's next."
https://www.denverbroncos.com/news/he-s-become-a-good-receiver-kendall-hinton-writes-next-chapter-of-remarkable-nfl