Kevin Patullo On Devin Funchess' Potential Return;…
4 min read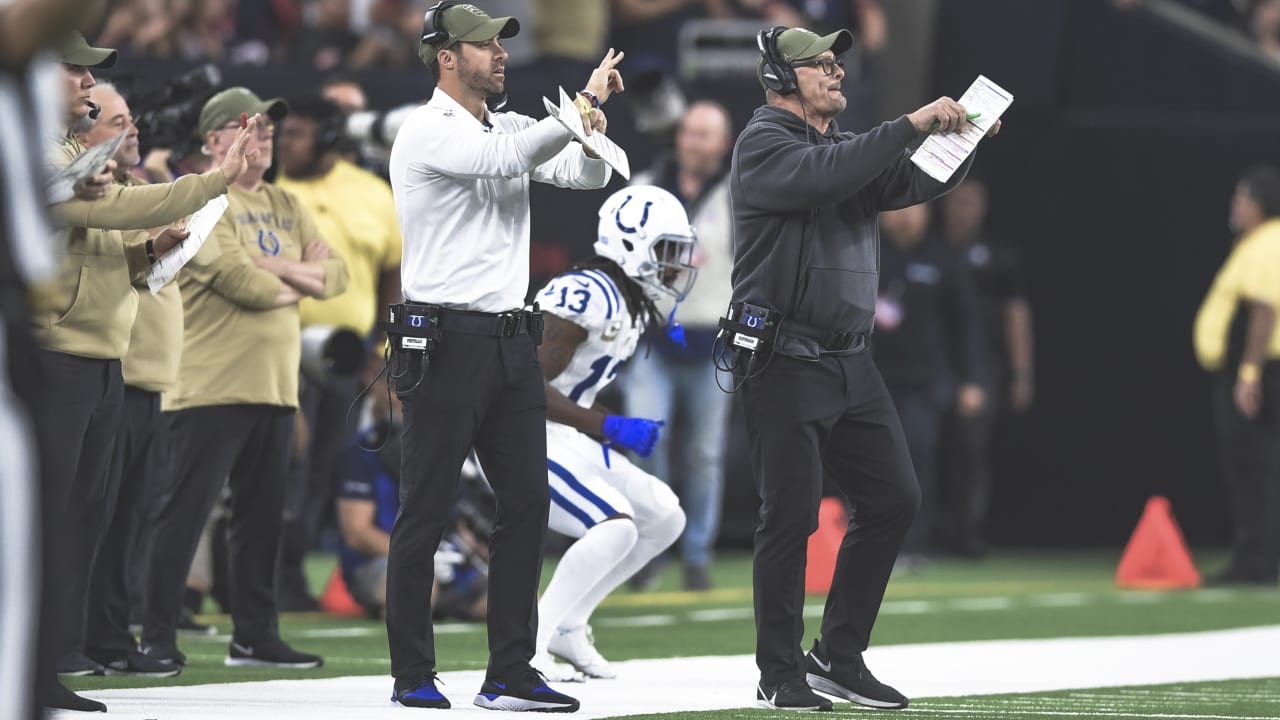 Kevin Patullo, wide receivers coach:
At the end of that Week 12 loss to the Houston Texans, a guy like Zach Pascal was understandably upset. But he seemed more down about the performance of the group than anything he did or didn't do individually. Is that just an indication of your entire group's mindset?
Patullo: "At this point in the season, everybody wants to win so bad. They could really… they don't even care (about individual accolades). They can care less and they're so happy for each other. So, I think a lot of it was that. And then after you watch the tape, they'll see usually the opportunities that they could have had or potentially could have (had) arise, or we could play them again theoretically too. So, we've talked about that too. If we get them again, here's what we need to do. The week before Marcus Johnson had a couple of big catches; there was nobody that was a bigger fan than Zach for Marcus. So, it's cool to watch. I think they all feed off each other."
It remains to be seen when Devin Funchess is able to come back, but what element have you missed with a guy of his size not being in your offense?
Patullo: "I think the range, like you said it right there, the size and the range and the speed. There's not a lot of guys like that in the NFL that have that range, size and speed that can play downfield and play underneath and play in the slot and give you a little bit of everything and have a bigger target for Jacoby (Brissett) running through there. So, that's something that we've missed and hopefully get him back soon."
Funchess obviously had a big role for you Week 1, and made the big fourth-down conversion.
Patullo: "No, he really did. And he took advantage of it, was physical on the route, made the big play for us. And you smile about it and think like, 'OK, we're going to get that back. And when we do, hopefully he's ready to go.' But he's been good with everything so far, being in tune with it too."
How has Parris Campbell been? I feel like every time he ramps it back up, something else happens. Has he been feeling OK?
Patullo: "I know. Yeah, he's been great. I mean really all year he's been great with it and we've had private conversations and just the frustrations of it and things like that. But, for the most part, he's been positive and trying to stay up to date, and that's the biggest thing that he's making sure he's focused on is being in tune with the offense, the changes that are happening week to week so that when he comes back, there's no mental gap at all. He can jump right into it and have no problems. But, physically he's taking care of all his business, trying to get out there as fast as he can. It's unfortunate. And we've talked about it like, 'Hey, just sometimes these things happen and just got to keep pushing. When you get your chance, you got to go full speed.'
Was that Steelers game a perfect example of what you can do with Campbell? Moving him around, getting him good opportunities to get his hands on the ball?
Patullo: "I think so, yeah. He played, really, for me, he played three different positions. He played X, Z and he played some slot too and he was moving around and mentally that was the biggest thing for him to handle it and he did a really good job, and then he made some plays. And a lot of it, too, he was getting tired because he hadn't been out there very much, but he was still making plays and competing hard and blocking in the run game and doing everything that we asked him, and it was fun and you can see he was enjoying himself and into the game. And he's a very competitive guy and so it was good to see that and for him to get a taste of some success; to know that, 'Hey, I just got to get back out there and when I do, I can do it again. No problem.'
When a team like the Texans switches from man to zone coverages, what do you say to your players on the sideline?
Patullo: "So when you start to get teams that are changed on you a little bit like that, really, you just got to get them to understand they had this previously and now they're just going to this and show them on the pictures, get them to understand things may feel a little bit different. Use your pre-snap keys when you see it, and so when it pops up again, they're kind of ready for it."
https://www.colts.com/news/kevin-patullo-tom-rathman-devin-funchess-jonathan-williams