Kliff Kingsbury Could Follow Bruce Arians'…
2 min read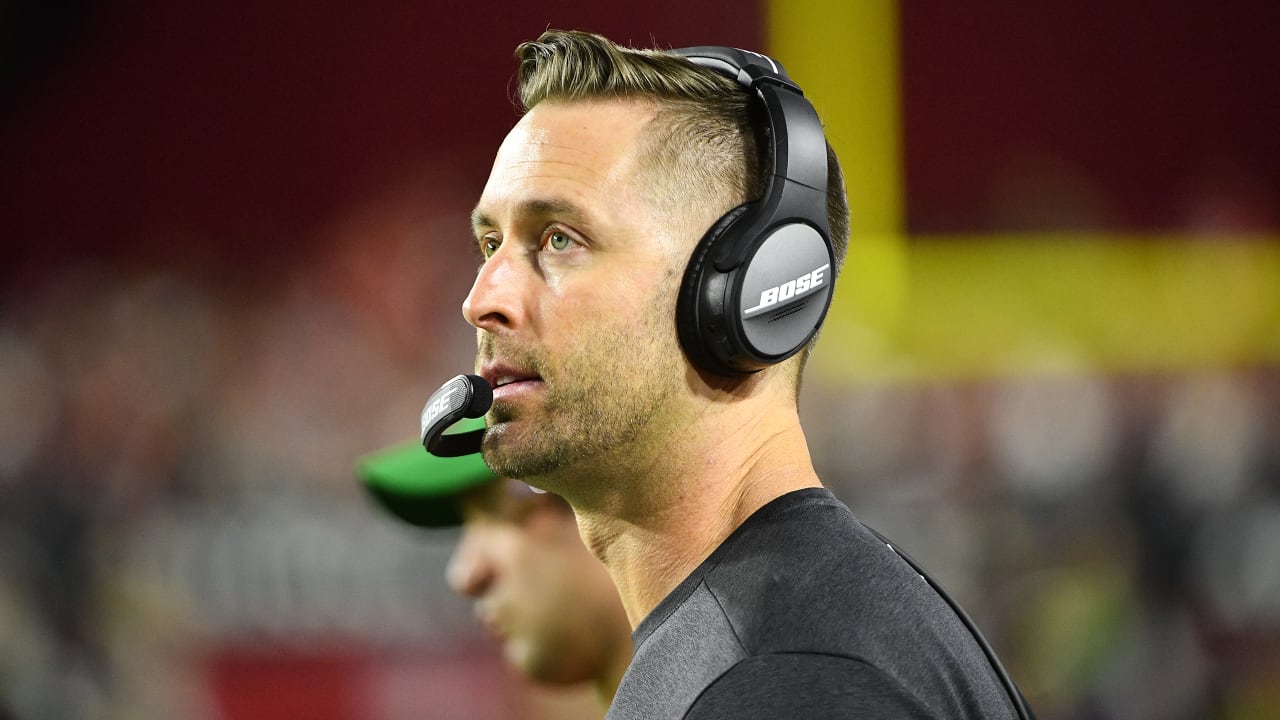 TAMPA, Fla. – The coaching styles of Bruce Arians and Kliff Kingsbury mesh about as well as oil and water.
"B.A. is a lot more gruff, old-school, mother-(expletive)-you type coaching," defensive tackle Corey Peters said. "Kliff is a lot more laidback, positive, younger style, more energy."
Their time in Arizona has also been vastly different.
Arians – now the coach of the Cardinals' Week 10 foe, Tampa Bay – is the winningest coach in franchise history with a 49-30-1 mark over five years, while Kingsbury is only nine games into his tenure.
Despite the variances in experience and temperament, there are reasons to believe Kingsbury is on his way to mirroring Arians' success with the Cardinals.
Arians proved his mettle early by taking a Cardinals team that went 5-11 in 2012 and turning it into a 10-win team in his debut campaign. Kingsbury has the Cardinals at 3-5-1 one year after a 3-13 season, and the offense has made massive strides in a short time.
The Xs and Os are key for both, as Arians relied on his aggressive style to transform both sides of the ball in Arizona, while Kingsbury has found success with his Air Raid principles. But Peters sees something more critical.
"The most important thing with coaches is to be authentic, and with those two guys, Bruce Arians and Kliff, they really have that," Peters said. "Guys in this locker room can see through any bull (expletive). It's not going to play over well if you're trying to be something that you're not."
Kingsbury and Arians will match wits on Sunday, and there could be a bevy of points from the offensive architects. The Buccaneers are allowing 31.5 points per game and the Cardinals are giving up 27.9.
Tampa Bay is only allowing 3.4 yards per carry – second in the NFL – but the Bucs' pass defense has been an issue, and Kingsbury hopes rookie quarterback Kyler Murray and the offense can continue its impressive recent stretch following an inconsistent first month.
"We all kind of adjusted how we were approaching it, what we needed to do, and how we could maximize who we were," Kingsbury said. "The biggest thing that I've seen (Murray) make strides in is ball security, eliminating negative plays and just overall how he carries himself in the building, the preparation and the leadership qualities. It's a work in progress and will be, but he has stepped up in all those areas."
https://www.azcardinals.com/news/kliff-kingsbury-could-follow-bruce-arians-successful-path-with-cardinals