Linebacker Za'Darius Smith on Becoming a Viking
2 min read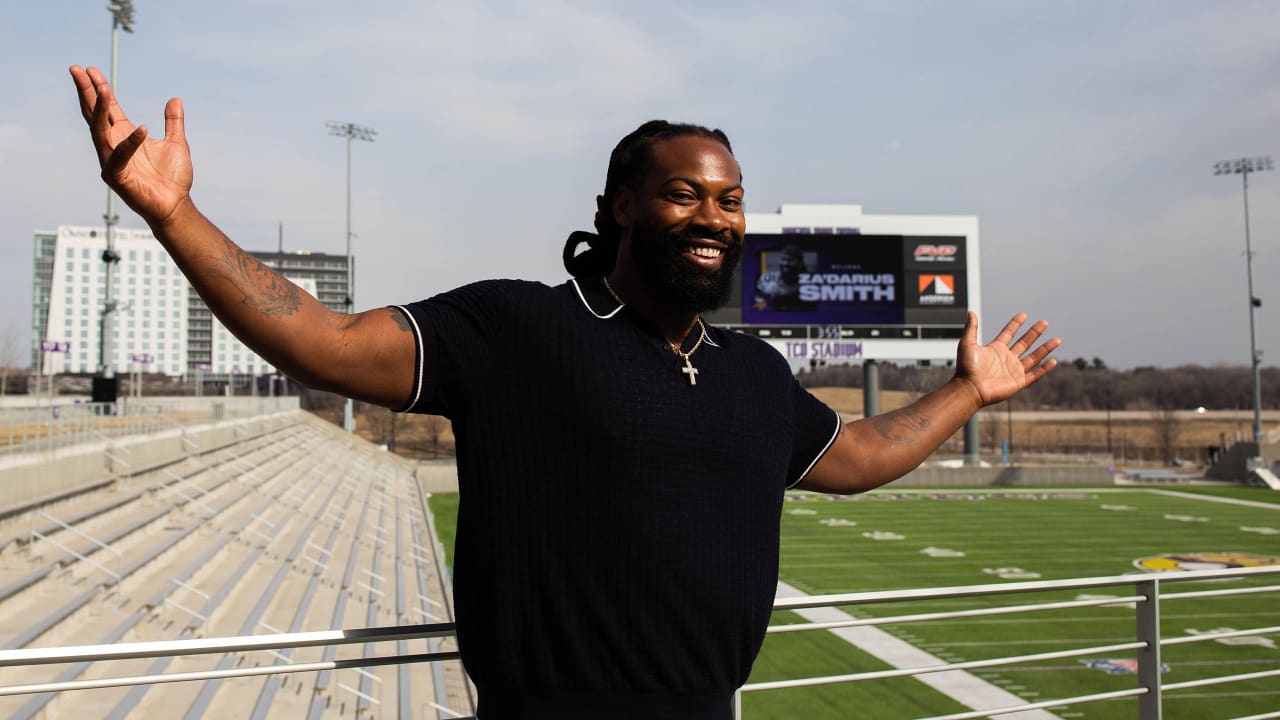 "I got a chance yesterday to go to the museum, and they were just telling me a lot of things about a lot of history here," Smith said. "They were like these four guys right here [were] in the Pro Bowl at the time. I was like, 'No way.'
"And it said Purple People Eaters," Smith added. "And I was like, 'OK. Meet at the quarterback.' That's some slogan that we can keep going here and hopefully be going for the next couple of years."
There's no doubt Smith and Hunter have the potential and talent to be among the league's top tandems at getting to the quarterback.
But the key to that success will be health, as the players have missed a combined 42 games in the past two seasons.
Hunter missed all of 2020 with a neck injury before tearing his pec in Minnesota's seventh game of 2021. Smith, meanwhile, played just 18 snaps in Green Bay's season opener with a back injury and missed the remainder of the regular season.
Smith returned for the playoffs and had a sack against the 49ers, playing 19 snaps for the Packers in their Divisional Round home loss.
The 29-year-old proclaimed himself ready to go Tuesday after undergoing surgery for a bulging disc in his back last season.
"Coming into that season, I kind of felt something when I was in the weight room and it was my lower back," Smith said. "A lot of athletes have bulging discs, so what they said was my bulging disc was a little bigger than normal.
"I went to [Los Angeles], got [surgery] done with my doctor. One of the best doctors out there. Completed the surgery. I don't know too many people [who] come back from back surgery," Smith added. "But I came back in four months, got a chance to practice for three weeks before that playoff game. As you can see, I'm as healthy as ever. Just did my physical. Everything's clear. So excited man. Back is good."
Smith will hope to recapture the form he had in 2019 and 2020 when he earned back-to-back Pro Bowl honors and terrorized the rest of the league.
He recorded careers highs in sacks (13.5) and tackles for loss (17) in 2019 to make his first Pro Bowl. Smith followed that up with another Pro Bowl season with 12.5 sacks, also earning Second-Team All-Pro honors from The Associated Press.
"He's a proven player with an extensive track record in this league," said Vikings General Manager Kwesi Adofo-Mensah. "He's normally a motivated player but I think he's extra motivated to resume his position among the league's best where he belongs."
https://www.vikings.com/news/za-darius-smith-ready-to-form-best-duo-with-danielle-hunter