Marcus Johnson Continues Ascension With…
2 min read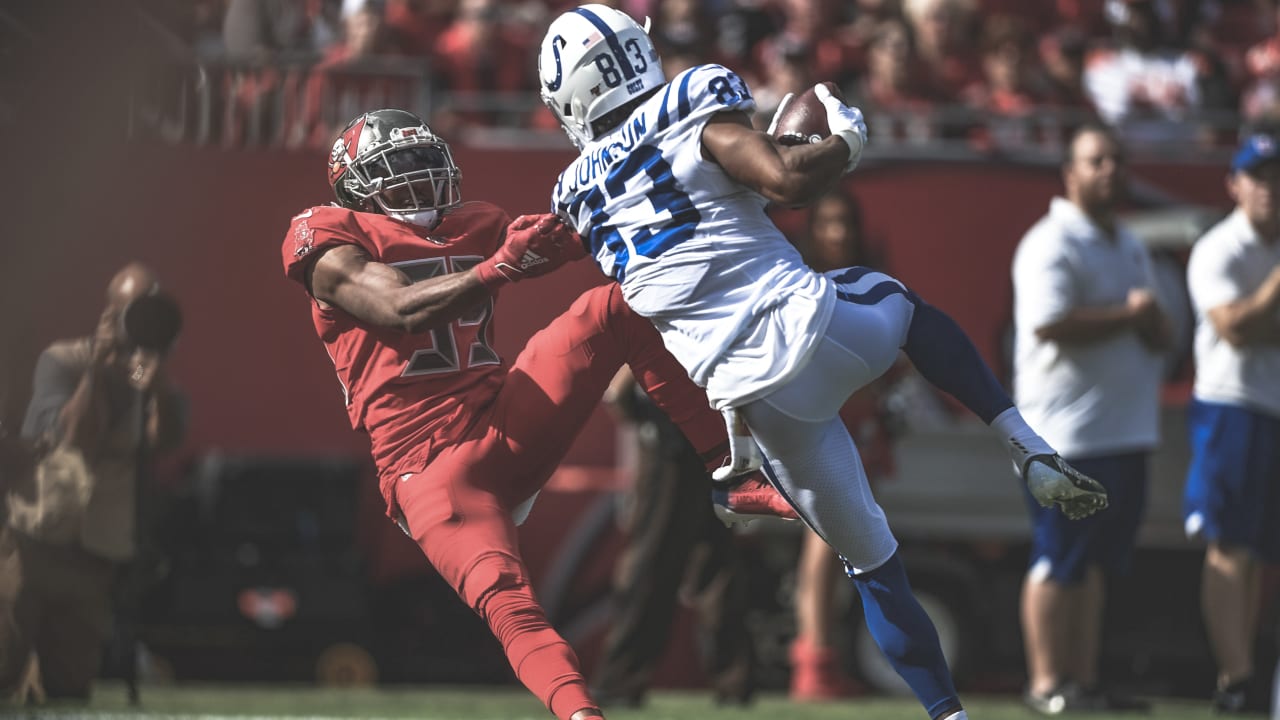 The play that would result in the longest catch of Johnson's career came in the second quarter with just 38 seconds remaining in the second half, with the Colts backed up to their own 25-yard line.
After getting another clean inside release off of the line of scrimmage, Johnson darted downfield as Brissett uncorked a deep ball. Just like before, Johnson jumped up, positioned himself to high-point the ball and came down with it. What could've been a potentially futile drive would result in the Colts getting down inside Tampa Bay's 5-yard line in just five plays, and ultimately resulted in a field goal for the Colts, who carried a 27-21 lead into the halftime break.
With Johnson beating the Buccaneers' defense deep on multiple occasions, he struck fear in their secondary as he would later draw a 45-yard defensive pass interference penalty in the fourth quarter as the Colts attempted to pull away with their 35-31 lead.
"In a couple zones, we thought we could scheme some things up to take shots," Colts head coach Frank Reich said after the game. "We wanted to be aggressive throwing it down there, so we were able to get that today. Marcus Johnson, obviously, made a couple huge plays down the field and then he drew an interference down the field so that's as good as a catch in our book. That's something very positive to build off."
An ankle injury during the Colts' matchup with the New York Jets early in the 2018 season ended Johnson's year prematurely, but he fought back in his rehab to get back on the field for the Colts this summer to show why they traded for him in the first place.
After an intense preseason battle for roster spots at receiver, Johnson re-joined the Colts on their practice squad in October. He was then called up to the 53-man roster due to injuries at the position in Week 10, and his development has picked back up where it left off this summer.
While injuries created an opportunity for Johnson to get on the field with the Colts, he has taken full advantage and now has 12 catches for 207 yards (17.3 avg.) and two touchdowns in just five games, with three starts.
https://www.colts.com/news/marcus-johnson-tampa-bay-buccaneers-100-yard-performance