Marlin Briscoe moves into the spotlight
4 min read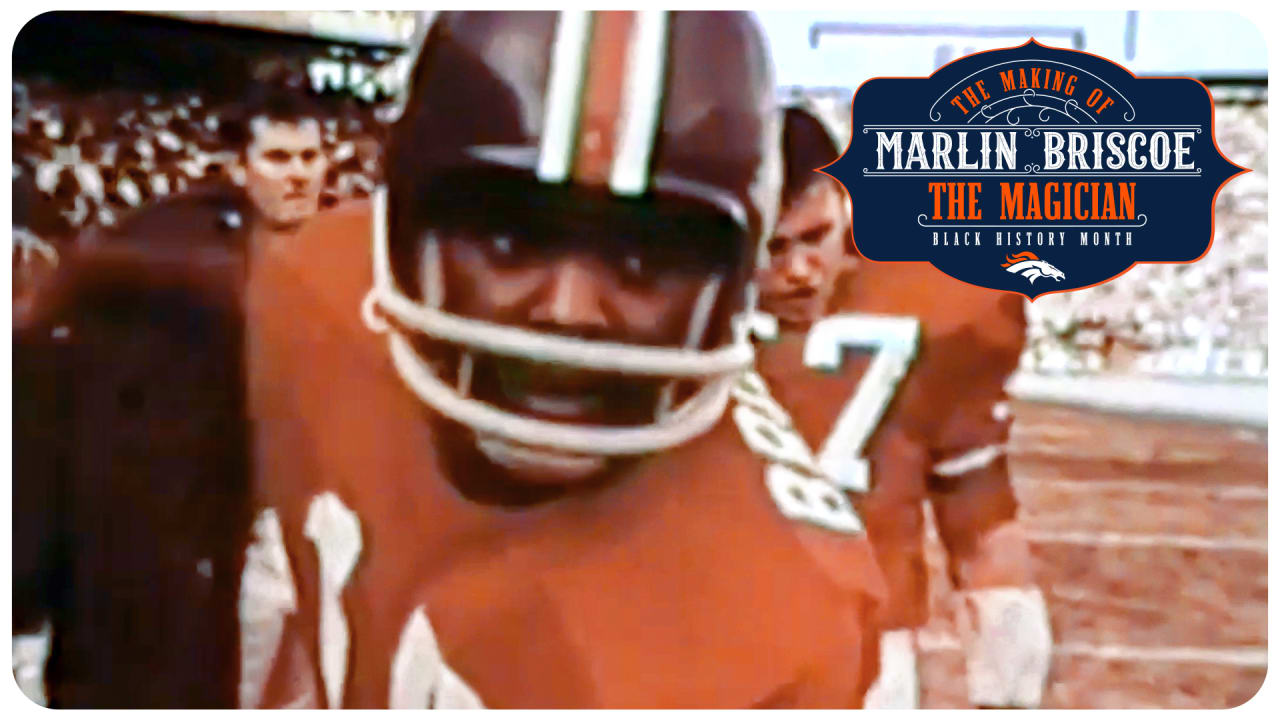 On the field, there were basically three areas Briscoe had to prove himself because of the racial bias at the time.
"There were a few things that society didn't think a Black man could do, and [three were] think, throw and lead," Briscoe says.
Briscoe didn't need to do much work on his throwing ability. His unique elusiveness may have been his calling card, but his arm talent was evident. In Rhoden's Third and a Mile[5], Floyd Little said, in addition to Briscoe running with the ball like Barry Sanders, "he had a better arm" than Michael Vick.
"For moving around, left or right, he throws as accurately and as long as anybody," one teammate told Ebony Magazine[6]. "He's all over the place. He confuses the defense."
The next of the three aspects that came was the leadership. The concern was that a Black quarterback, expected to garner the unquestioned commitment from other players as the maestro of the offense, would have trouble leading white players.
"Those guys from southern [schools], the Black kids from southern [schools], they played with all Black players and all Black quarterbacks, so they were used to Black quarterbacks," Briscoe says. "… So to them it wasn't a big deal, but it was hard, I think, for some of the white players, probably. But I never thought about it."
Some white players took quickly to supporting Briscoe. Left tackle Sam Brunelli was a good friend "from the beginning" who encouraged him and "urge[d] the guys to give it extra effort," Briscoe said in 1968[1].
"Don't let 'em touch The Magician," Brunelli would exhort to his teammates, Briscoe recalls.
Not all were so open-minded. Crabtree recalls going to a dinner with several of the team's white players and hearing one of his teammates call Briscoe the N-word. For some rookies who attended southern universities, it was possible they had never even played with or against a Black athlete, as the majority of the SEC schools had yet to integrate.
But Briscoe thought little of these concerns. From the time playing youth football to his high school and college years, he had always played alongside white and Black players alike.
"It never occurred to me that there would be any level of racism," Briscoe says now. "It just never occurred to me. The reason was I played quarterback all my life on integrated teams."
Instead, Briscoe preferred to let his play speak for him. If he could help them win, he figured, they would have to give him at least some modicum of respect — even the racists who called him the N-word behind his back.
In his first action, when he came off the bench and nearly beat the Patriots with a fourth-quarter comeback, Briscoe began to sense a sea change.
"We almost pulled it out, and I could see the difference in how these guys were treating me than they were before — not from a slanted position, but in professional sports or any sport at any level, you learn respect for each other," Briscoe says. "So with each week, I started to progress. … Each week the players, Black and white, began to see if you can play the game, you gain respect. That's basically what I had to do and did do."
The final aspect was the game's mental facet.
Since the Broncos had him practicing at cornerback until three weeks into the season, he did have some ground to make up as far as learning the offense.
"I didn't have the cerebral training at that position," Briscoe admits. "… As the season went along and I began to get more training, things developed for me. I threw quite a few interceptions, but that was because I didn't know what exactly was I supposed to do against these teams."
As he re-settled into the position, he set to catching up on what he'd missed. This may be easy for players today as they peruse as much video as their heart desires on team-issued tablets, but Briscoe had to take home a reel-to-reel projector and canisters of film in 1968.
"I would go home every day," Briscoe says. "Other guys on the team, they'd go out and have a few beers and chase women or whatever if they're single. … I would take a projector and film, I'd go home and study film. They didn't know what I was doing at night. I was at home in my apartment."
Reading defenses was probably his greatest challenge, but he caught on quickly.
A record home crowd saw the evidence of this on Oct. 27 when he won the game with a 10-yard touchdown run on a quarterback draw — Briscoe had changed the play at the line of scrimmage when he saw the Dolphins' formation.
From one week to the next, Briscoe was showing he could handle the game at its most important position. Now, with a chance to settle into the starting role for the final four games, it was time to prove he could handle the duties on a weekly basis.
https://www.denverbroncos.com/news/the-making-of-the-magician-marlin-briscoe-spotlight-1968-racism