Matt Eberflus tells Cris Collinsworth why Justin…
3 min read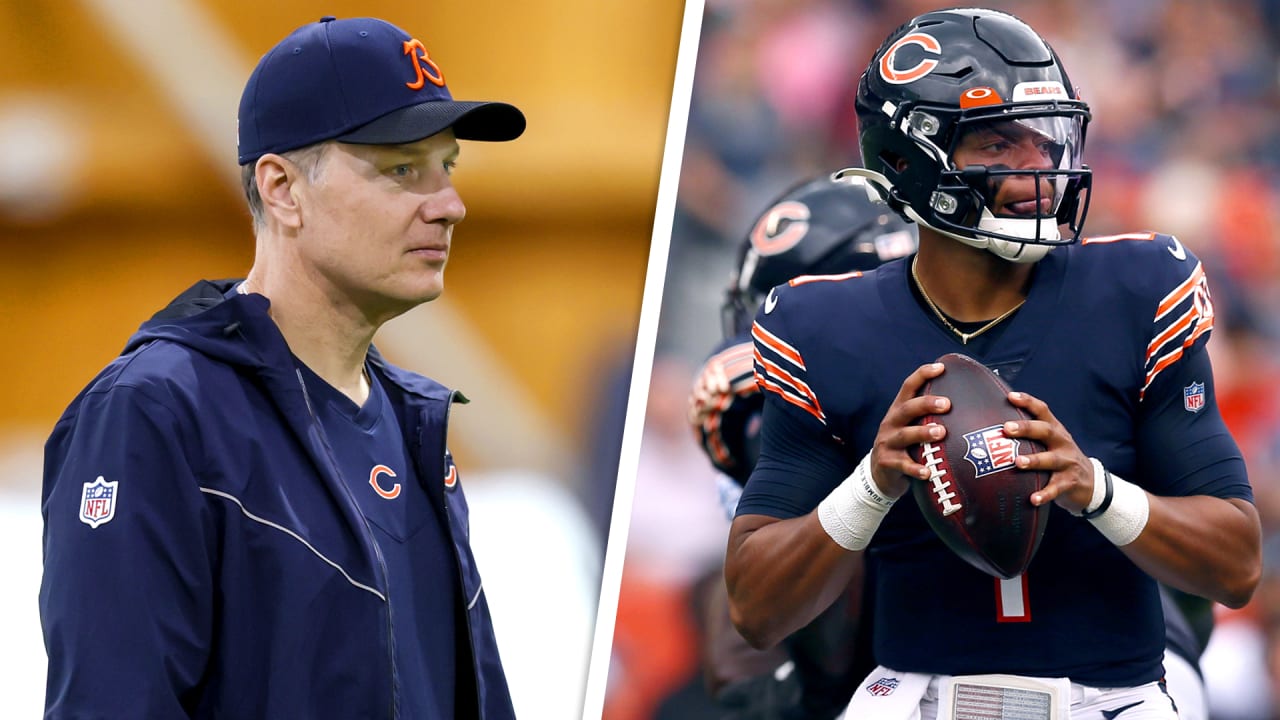 The Bears' offseason program continues next week with a voluntary minicamp Tuesday through Thursday. The Collective Bargaining Agreement permits all teams with new head coaches to conduct a voluntary minicamp.
"He's excited to get started," Eberflus said of Fields. "This is his football team, and he's excited to get going with the guys, and you can feel that as we go through this process of just getting together as a team and getting to know each other."
Defense will be 'fanatical' about takeaways
Eberflus reiterated his commitment to generating takeaways on defense. In all four of his seasons as Colts defensive coordinator from 2018-21, Indianapolis ranked in the top 10 in the NFL in that vital statistical category.
"That's how we'll be practicing here with the Bears," Eberflus said. "We're going to do a great job of punch, hammer, rake every single time. We're going to be fanatical about it and, in turn, that's going to help our offense protect the football because that goes hand-in-hand. If we're stripping at it every single play on defense, our offense has got to have great ball security."
With the Colts, Eberflus had "ballhawk" t-shirts printed and awarded points to defenders for forcing turnovers, presenting a trophy to the top point producer at the end of the season. All-Pro linebacker Darius Leonard claimed the trophy three times in four years.
"If we have 20 minutes in individual [practice drills], we're going to spend 6-to-7 minutes on taking the ball away," Eberflus said. "Every single drill for us is about taking the ball away. We're always going to do that, a strip attempt every single play, scoop and score all loose balls. We're always practicing that. It's always on our mind. We emphasize it."
Eberflus feels good about deep draft
The Bears dealt their 2022 first-round pick to the Giants last year to move up to select Fields at No. 11. But Eberflus is confident that Bears will be able to land eventual starters with their two second-round choices (Nos. 39 and 48) and one third-round pick (No. 71). They acquired the 48th pick as part of last month's trade that sent outside linebacker Khalil Mack to the Chargers.
"What's nice about this draft is that it's deep," Eberflus said. "It's deep just because of the whole COVID thing; guys stayed in [college] another year. We feel that it's a good draft to have where we are: 39, 48, 71. We feel pretty good we're going to pick up three starters there, or have potentially three starters based on the development of those players. So we feel real good about it."
Defensive line will play in waves
Eberflus revealed that he plans on utilizing 8-9 defensive linemen as part of a rotation that's designed to keep players fresh and able to give optimal effort. The top performer—likely Robert Quinn—is expected to play about 65 percent of the snaps, while most others will see action on 50 percent or less of the plays.
"The defensive line for us is really about playing in waves," Eberflus said. "We want those guys playing max speed all the time. That might be just 30 plays, that might be 40 plays, that might be 25 plays. Everybody's going to have a role, and everybody has to understand what their role is. We feel that over the past years that that's the best way to do it: just play those guys in waves and do a great job rotating those guys."
https://www.chicagobears.com/news/eberflus-fields-very-comfortable-in-offense-draft-takeaways-defense-collinsworth