News, notes and nuggets from the Chicago Bears'…
2 min read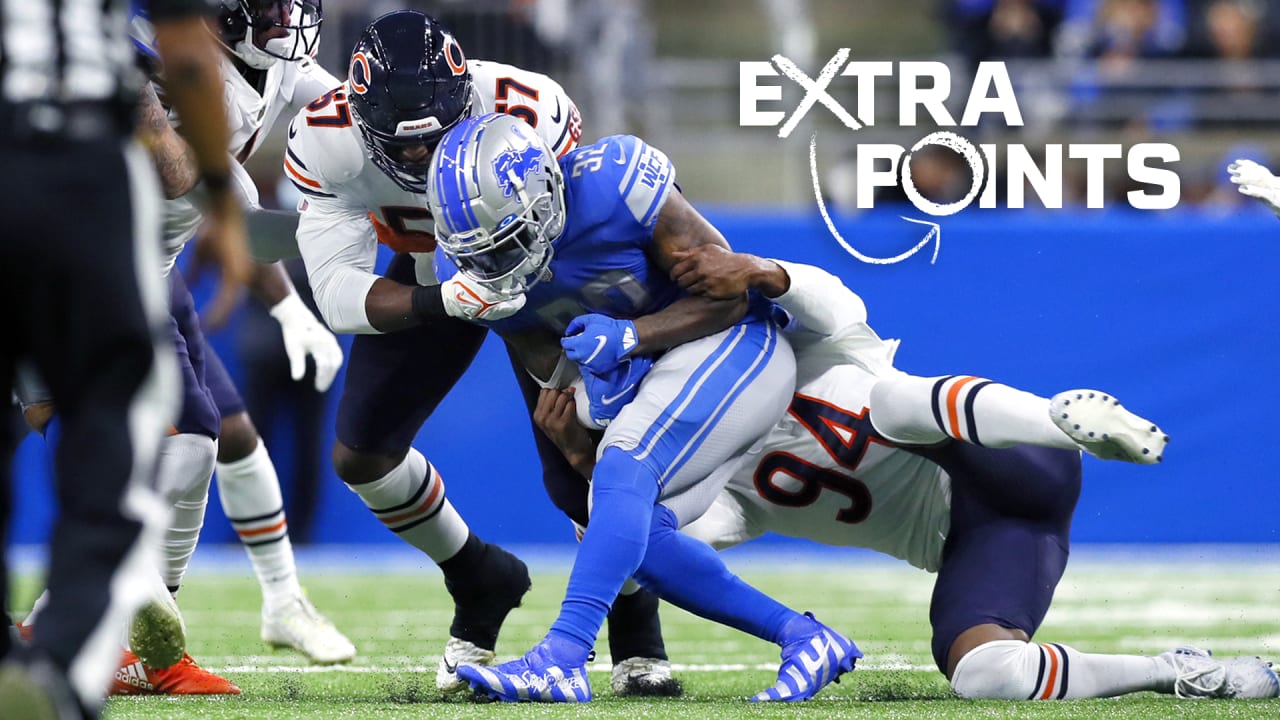 The Bears offense continued to struggle scoring touchdowns, mustering just one in Thursday's 16-14 win. The unit has produced 17 TDs in 11 games this season, including seven in the last five games.
Lions running back D'Andre Swift exited the game with a shoulder injury he sustained while being tackled by Roquan Smith midway through the second quarter. Swift left the contest after being held to zero yards on three carries. In his previous two games, the second-year pro had rushed for 130 and 136 yards against the Steelers and Browns, respectively.
The Lions dropped to 0-10-1 this season and 0-14-1 since their last win, a 34-30 comeback victory over the Bears last Dec. 6 at Soldier Field.
Since losing their season opener to the 49ers 41-33, the Lions have failed to score more than 19 points in 10 straight games.
The Bears have now won eight straight games over the Lions when facing a quarterback other than Matthew Stafford. They defeated Dan Orlovsky twice in 2008, Daunte Culpepper in 2009, Drew Stanton in 2010, Jeff Driskel and David Blough in 2019 and Goff twice this season.
While Andy Dalton passed for 312 yards, the Bears running game was limited to 68 yards on 29 carries, a 2.3-yard average. David Montgomery ran for 46 yards on 17 attempts. Entering Week 12, the Bears running game ranked sixth in the NFL, while the Lions run defense was 31st. In its previous three games, Detroit had allowed 236, 145 and 184 yards on the ground.
The Bears were thin at receiver, with Allen Robinson II sitting out the game due to a hamstring injury and Marquise Goodwin exiting the contest with a foot injury. Damiere Byrd took advantage of expanded playing time, catching four passes for 42 yards after entering Thursday's game with five receptions for 32 yards this season. His 7-yard reception late in the fourth quarter was the 100th catch of his six-year NFL career.
https://www.chicagobears.com/news/extra-points-thanksgiving-leftovers-from-bears-victory