NFL Experts Assess Vikings After Loss to Seahawks
3 min read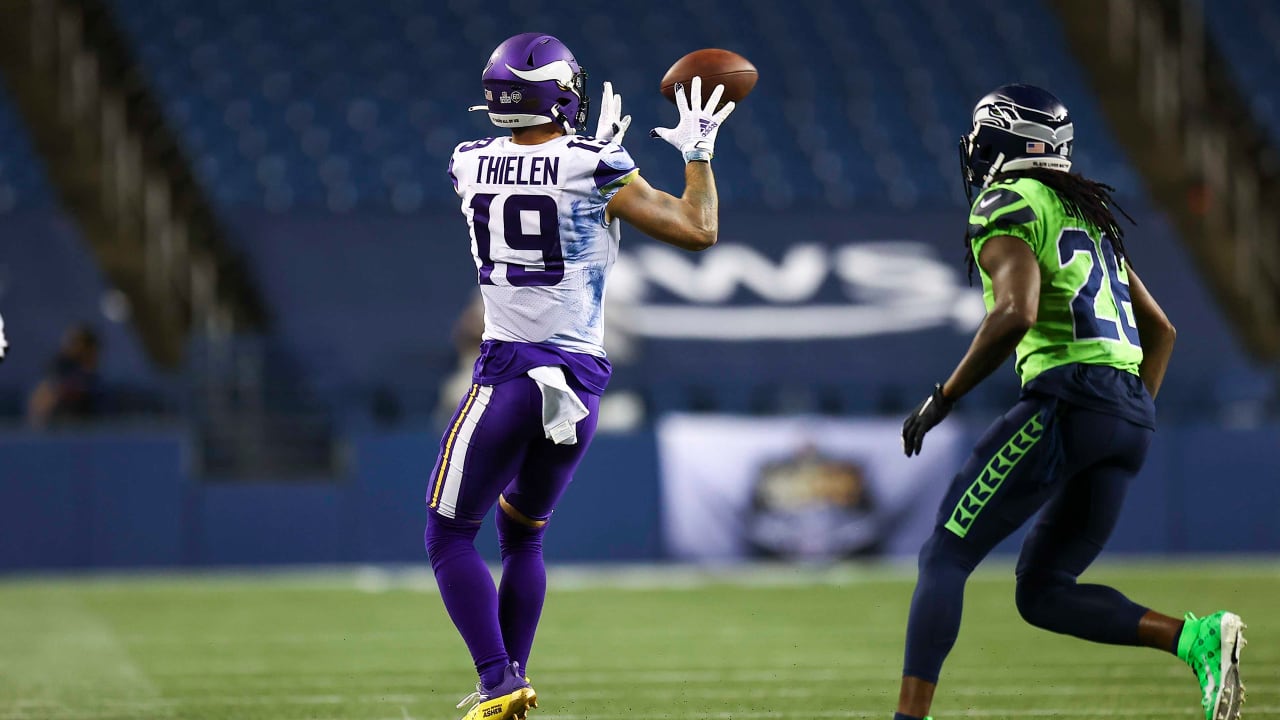 The Vikings woke up Monday morning with a 1-4 record and wondering what could have been following Sunday night's loss to the Seahawks.
Minnesota dominated time of possession by controlling the ball for 39 minutes and 28 seconds
20:32. That was helped by an offense that ran for more than 200 yards and a defense that didn't allow a single third-down conversion to Seattle.
But the 27-26 final score was a gut punch for the Vikings. Minnesota couldn't convert on fourth-and-short coming out of the 2-minute warning in the fourth quarter, and Seattle promptly drove down the field for the game-winning score.
A handful of NFL pundits offered their takes on the thrilling game, including Grant Gordon of NFL.com.
Gordon noted that he was impressed by the Vikings offensive output of 449 total yards. Alexander Mattison had 112 rushing yards on 20 carries, and Adam Thielen caught nine passes for 80 yards and two scores.
As Thielen goes, so too does Kirk Cousins it would seem. The Vikings top receiver and perhaps one of the league's most underrated, Thielen hauled in nine catches for 80 yards and each of his team's second-half scores thanks to 13 targets — more than double anyone else on Minnesota. In all weathers and through all struggles, Thielen is a constant for Cousins and the Vikes.
Dalvin Cook is very much the engine of the Vikings offense, though. He left with [a groin] injury early in the second half. … Mattison had a terrific day with 112 yards on 20 carries to show for it. With Cook's health something to monitor (coach Mike Zimmer said he will have an MRI), having Mattison is as good a fallback plan as you can have when it comes to replacing a star such as Cook. A loss is a loss, of course. But this was an odd game against a great opponent. Though it's unlikely, this should be looked at as a step in the right direction for a struggling squad.
This is a 1-4 team with a lot of youth on defense, but they also kept Russell Wilson — the undisputed MVP front-runner — under wraps for the majority of the evening. Their ground game was also on point, with Alexander Mattison maybe even looking better than Dalvin Cook as a fill-in. Still, a loss is a loss, and they crumbled in crunch time. At least they fought until the end?
The Vikings host the 0-5 Falcons in Week 6 at U.S. Bank Stadium. Atlanta announced Sunday night that General Manager Thomas Dimitroff and Head Coach Dan Quinn were relieved of their duties.
The Falcons on Monday named Raheem Morris as the interim head coach. He is in his sixth season with the Falcons and his first as the defensive coordinator. Morris was head coach of the Tampa Bay Buccaneers from 2009-11.
https://www.vikings.com/news/nfl-experts-assess-vikings-after-loss-to-seahawks