No Hollywood Ending For Kyler Murray, Cardinals…
3 min read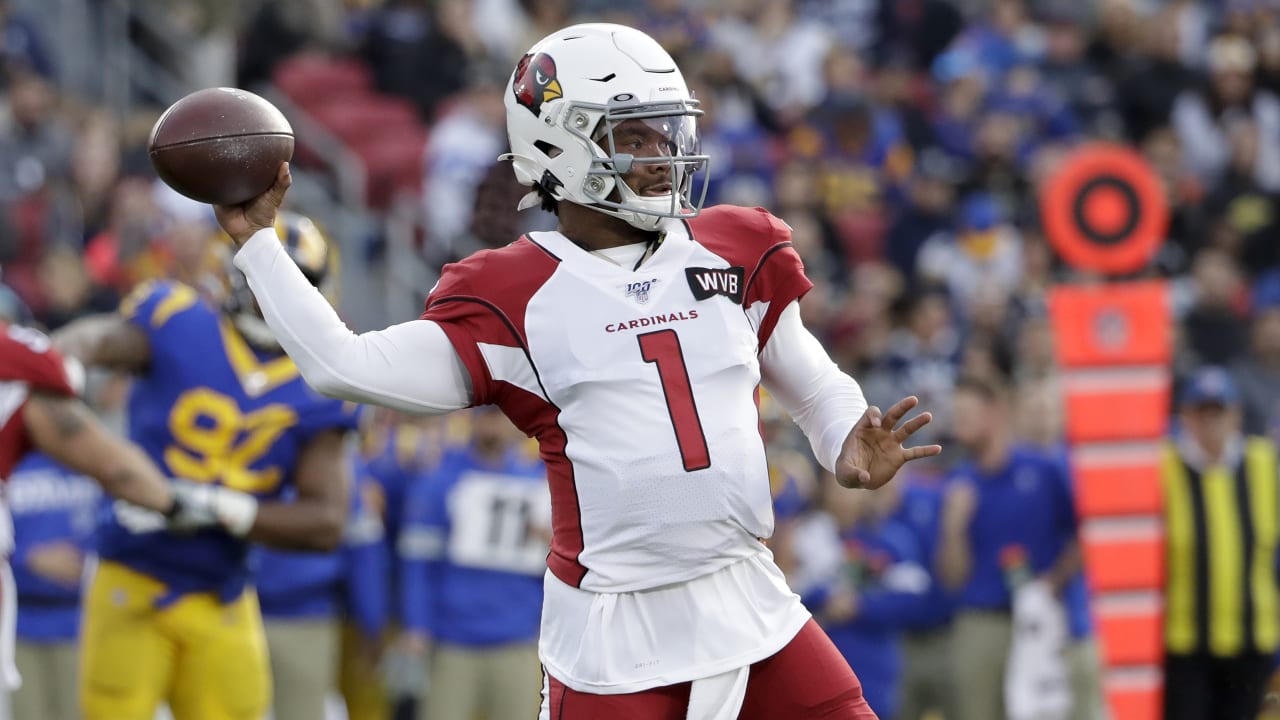 The Cardinals moved the ball consistently throughout but were bitten by five turnovers. They lost a pair of fumbles in the first half on self-inflicted miscues, and then had two picks and the last-second fumble after intermission.
Murray was clearly hampered, as there were no designed runs baked into the game plan and he eschewed scrambling when opportunities arose. The dual threat quarterback saw the silver lining in that after the game.
"Honestly, it helped me out, just standing in there and going through reads, going through progressions," Murray said. "It's a learning lesson for me. I'm kind of glad. Everything happens for a reason, and I thought we played well today."
The Cardinals trailed by seven at intermission but tied things up at 17 heading into the fourth quarter on a 4-yard scoring strike from Murray to Damiere Byrd.
The Rams answered with a touchdown from Jared Goff to tight end Tyler Higbee, and Murray's second interception of the game on an overthrow intended for Larry Fitzgerald ended the most realistic chance at an upset.
"He would never make an excuse, but some of those throws that he doesn't miss like that sailed on him a little bit," Kingsbury said. "When you're not 100 percent with your lower half, that can happen. But for the most part, he battled his tail off and gave us a chance to win."
Murray briefly left the game in the fourth quarter after taking a big hit from Rams outside linebacker Clay Matthews and landing on his elbow. Murray said he initially couldn't feel his thumb, pinky and ring fingers but returned to the game for the final drive.
"I couldn't really throw the ball after that," Murray said. "I had to let it die down. But once it did, I was fine."
Byrd finished with seven catches for 74 yards, while tight end Dan Arnold added four catches for 76 yards and a touchdown.
The Cardinals defense was put in suboptimal position at times due to the giveaways. While the Rams scored 31 points, they averaged just 5.4 yards per play, which was a much better defensive showing than the first meeting in Arizona.
Outside linebacker Chandler Jones finished with two pass deflections and a quarterback hit but did not get a sack, ending the season second in the NFL with 19.
While the Cardinals didn't end the year on a three-game winning streak as hoped, they capped it with another indicator of progress. It was enough to give Murray an excited feeling about the 2020 sequel.
"I'm not used to this, the end of the season not playing for anything," Murray said. "But the growth we've shown from start to finish is what I'm most proud of. I know the guys are proud of it. It's Year 1 for us. A lot of guys have bought into the system. … Going into next season, I think we're going to be pretty dangerous."
https://www.azcardinals.com/news/no-hollywood-ending-as-cardinals-drop-finale-to-rams