One last practice show for the fans
2 min read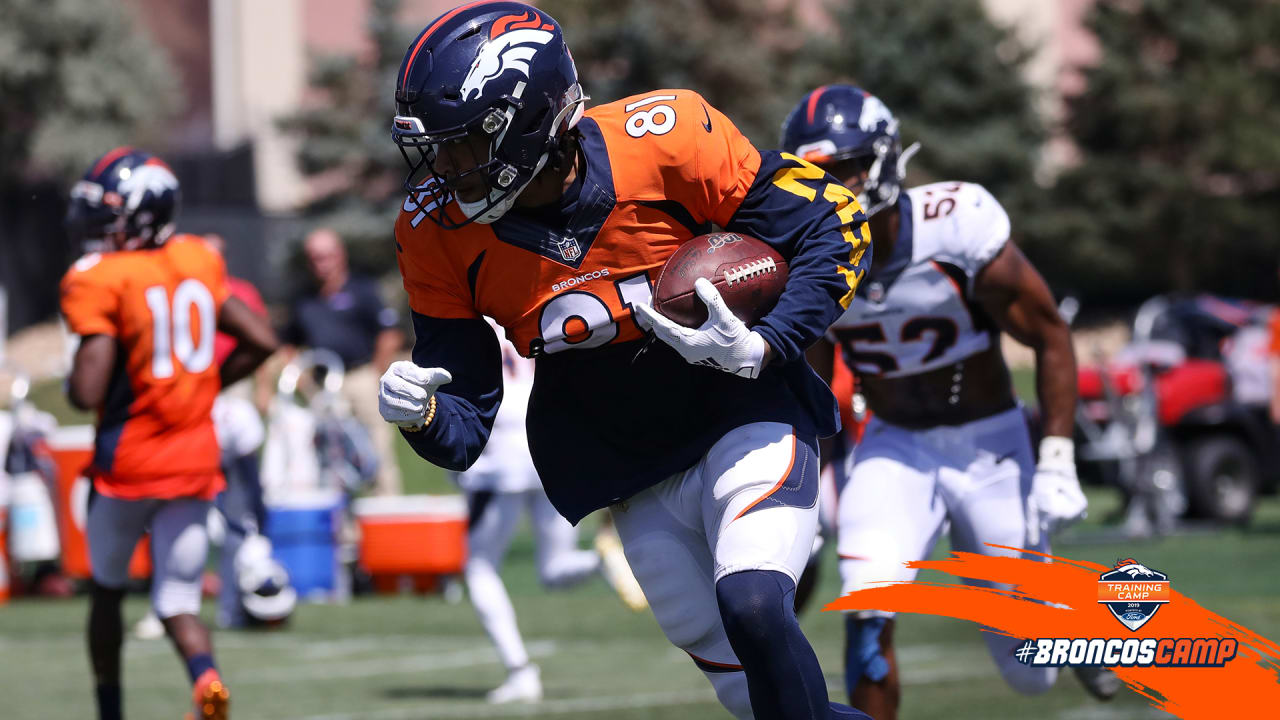 ENGLEWOOD, Colo. — The Broncos will practice Thursday and will work with the 49ers for joint practices on Friday and Saturday, so their on-field work continues.
But with the close of Tuesday's practice — which took place in shorts — the training-camp, fans-on-the-hillside portion of the 2019 campaign ended.
No more fans to lead in rhythmic clapping, as Von Miller, Bradley Chubb and Head Coach Vic Fangio did Tuesday. No more cheering for two Emmanuel Sanders touchdown catches in short succession. No more inviting a horde of supporters down from the hometown, as left guard Dalton Risner did Tuesday, hosting a crowd of over 50 fans — most of them young — from his hometown of Wiggins, Colorado.
For their day-to-day work, the Broncos will now have to enjoy the silence.
"I'm going to miss [the fans], because they bring that game-day feel, so it gets us prepared for the season," wide receiver Tim Patrick said.
"But when they leave, it's time to get serious, because the season is coming, and it's time to tighten everything up and get ready to win some games."
More wins could make the atmosphere look and feel different next summer when the Broncos start what will be their 18th training camp at UCHealth Training Center.
"Maybe we'll win enough this year that the [hillside] will be full next year," Fangio said.
PUNT-RETURN OUTLOOK REMAINS HAZY
The Broncos knew that their punt-return competition would take some time to resolve, but after four weeks of training camp and two preseason games, Fangio said the team was "not close" to having a clear front-runner emerge.
"Our return game is up in the air, so we need to — by the time we play Oakland — have some clarity there," he said.
Five different Broncos have fielded 12 punts so far this preseason: wide receivers Kelvin McKnight, Nick Williams, River Cracraft and Brendan Langley and running back Devontae Jackson. Four resulted in fair catches. Eight were returned for 28 yards — 18 of which came on a single McKnight return early in the preseason opener. One was fumbled — a Langley muff that the Falcons recovered on Aug. 1.
Successfully fielding the punt is the top task.
"The first job of a punt returner, by far, is the ability to catch the ball," Fangio said. "Most punts go between 40 and 45 yards in the air, 48 yards. If you drop it, that's a big turnover in field position. That's Job 1. And then Job 2, obviously, we'd like to have a guy that can do something with the ball back there."
https://www.denverbroncos.com/news/broncos-day-17-camp-report-one-last-practice-show-for-the-fans