Patrick embracing role as tone-setter on O-line
3 min read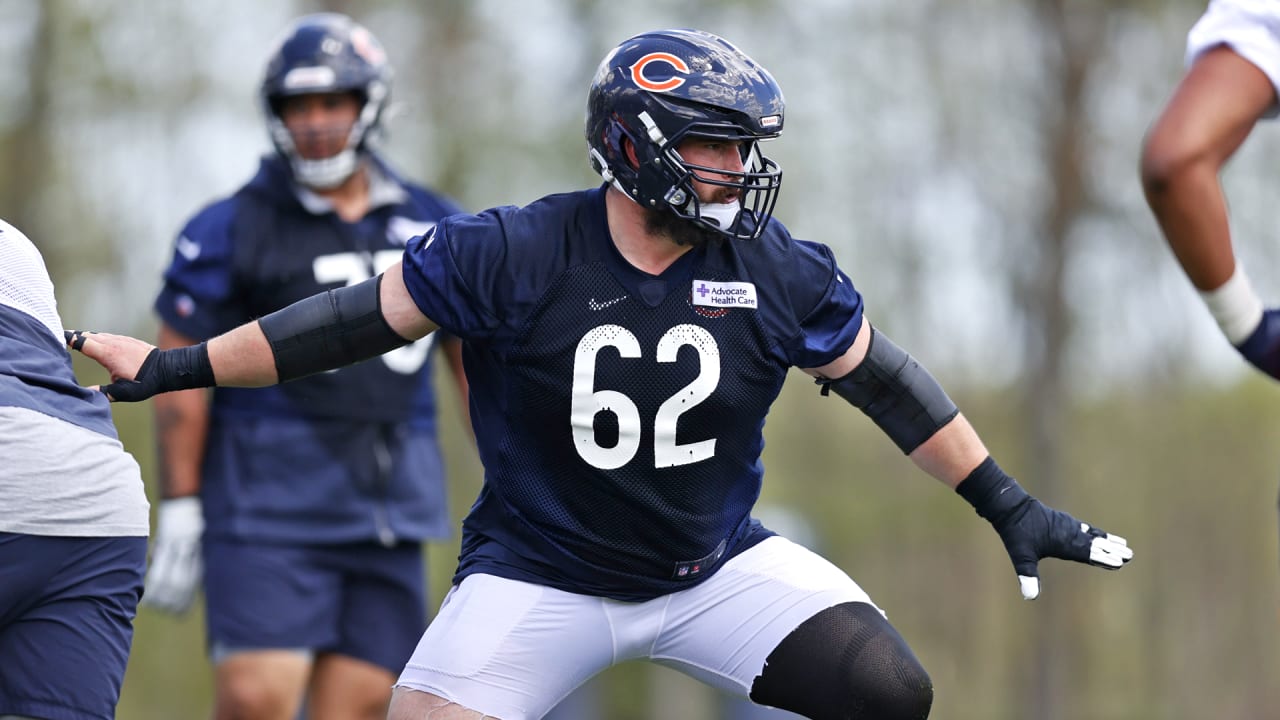 "It's definitely a challenge and I'm loving it," said Patrick, who joined the Bears after spending his first six NFL seasons with the Packers. "When younger guys are asking me questions, I need to be right. Or if it's in the weight room, it's pushing guys to do as much as they can or exhaust themselves everywhere.
"It's forcing me to be my best. It's another way of competition, because I'm not competing against other guys, I'm competing against myself every day. My better has to be even better the next day, and the next day has to be even better than that. And it's awesome because you have the backing from being hand-picked, I guess you could say. But it's more or less belief in you and belief in yourself, both internally and externally."
Patrick understands that the Bears offensive line must step on the field with a physical, take-no-prisoners mentality.
"Football is played a certain way," he said. "It's not a contact sport; it's a collision sport. We, as the offensive line, have two duties: If it's a run, we're denting the defense. If it's a pass, we're setting a wall. That's the expectation that every man should have when they put on a Chicago Bears helmet as an offensive lineman."
Patrick is the Alpha dog in a pack of young pups. The group includes six players who were selected in the last two drafts: tackles Teven Jenkins and Larry Borom in the second and fifth rounds, respectively, in 2021, and four Day 3 picks this year: Fifth-round tackle Braxton Jones, sixth-round tackle Zachary Thomas, sixth-round center Doug Kramer and seventh-round guard Ja'Tyre Carter.
This year marked the first time that the Bears chose four offensive linemen in a single draft since 1989 when there were 12 rounds. It's probably not a coincidence that Poles was an offensive lineman at Boston College who signed with the Bears in 2008 as an undrafted free agent.
"[I'm] so fired up that our GM is a former offensive lineman because I think he gets it to the core; what it takes to build an offensive line," Patrick said. "It's tough, competition, smart; just guys who love football and just want to compete.
"I think it's great. Bring 30 guys in. We can only have five, and it's going to push guys further. It's going to push me further. I'm going to push other guys further. I can't think of a better scenario, even for me as a veteran, [than] having so many young guys. They see different things. They are asking me questions, and I have to be on top of my game and what I know mentally because I know they are going to ask a ton of questions, and I have to be right."
Patrick feels that learning to play fast will be the most difficult adjustment that the young linemen will need to make.
"All these guys have the talent, the speed, the physicality," Patrick said. "But it's applying that inside the scheme of football and being able to play fast. I know there's a lot of people that study 40s and everything. But you can have a guy who runs a 5.4 at O-line and a 4.8 guy, and the 5.4 guy is going to play faster because he knows what he's doing. He knows what the defense is going to do. He can anticipate the snap count and get off the ball and get to his assignment.
"I think that's the toughest thing because there's so much information, like so many nuances in our offense. And then you're facing a different defense possibly each week, and you have to be able to know stuff like the back of your hand."
https://www.chicagobears.com/news/patrick-embracing-role-as-tone-setter-on-o-line