Patrick Peterson Re-Introduces Himself At…
2 min read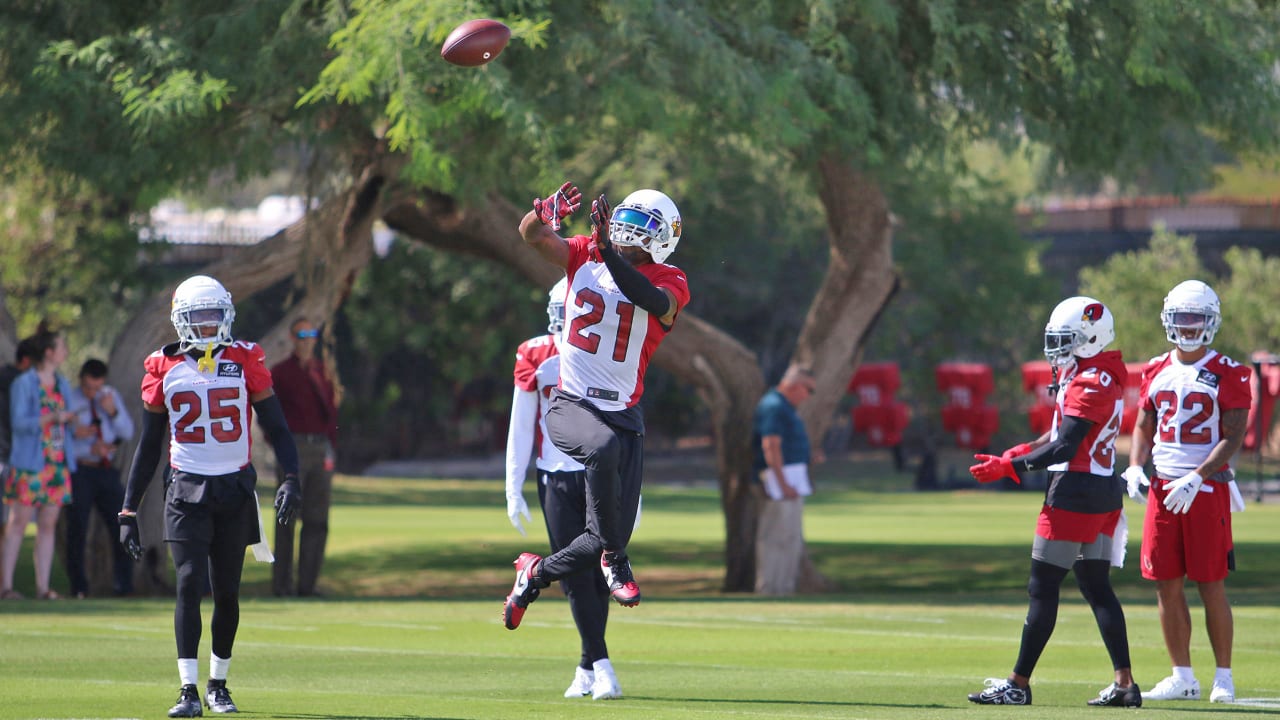 Peterson also immediately can help in the meeting room.
"Whether it's on the field or off the field, in the film room, (Peterson) is talking and he's giving the young guys all types of little things that can help their game," safety Budda Baker said. "He drops right back in. We had a great practice today. He didn't mess anything up, he's on his stuff."
Peterson said the six weeks he was absent "flew by" as he tried to structure each week like a regular football week. Meetings were obviously out and he was unable to study the playbook because of suspension rules, but he did go through on-field practice work the best he could and then simulated "games" on Sundays. That happened in Flagstaff, where Peterson spent his first two training camps with the Cardinals.
To do so, he'd place cones on the field to represent a quarterback and then run routes as a defender – guard a dig, guard a post, guard a go. He'd work on all four corners of the field, and broke the work into four quarters – work 18 plays and take a break, then 15 or so, and break. The idea was to make it seem like a game, until he ran about 55 to 65 "defensive plays" like he would in a game.
Coach Kliff Kingsbury said the expectation is that Peterson will be ready to play full-time right away.
"He's going to bring some good juice to the practice field this week," Kingsbury said.
Peterson reiterated his frustration watching games at home, particularly in the first three games of the season when he felt there were too many "bonehead mistakes" in coverage, in part because players were still learning how to apply defensive coordinator Vance Joseph's system.
Those issues were already improving recently, Peterson said.
"(QB) Kyler (Murray) understands how to win football games," Peterson said. "Now as a defense, we have to take the next step and finish football games. Because '1' can do it. Now it's on us to hold up our end of the responsibility."
The Cardinals have gotten a roster exemption for Peterson this week, coming off suspension, although they will have to make a move – releasing a player and adding Peterson to the 53-man list – prior to Sunday's game in New York.
With the trade deadline approaching, Peterson's name has been raised nationally, but GM Steve Keim has said repeatedly the Cardinals have no interest in dealing away their top cover corner. Peterson said he knew nothing of the rumors.
https://www.azcardinals.com/news/patrick-peterson-re-introduces-himself-at-cardinals-practice