QB Nick Foles expects transition to Chicago Bears,…
4 min read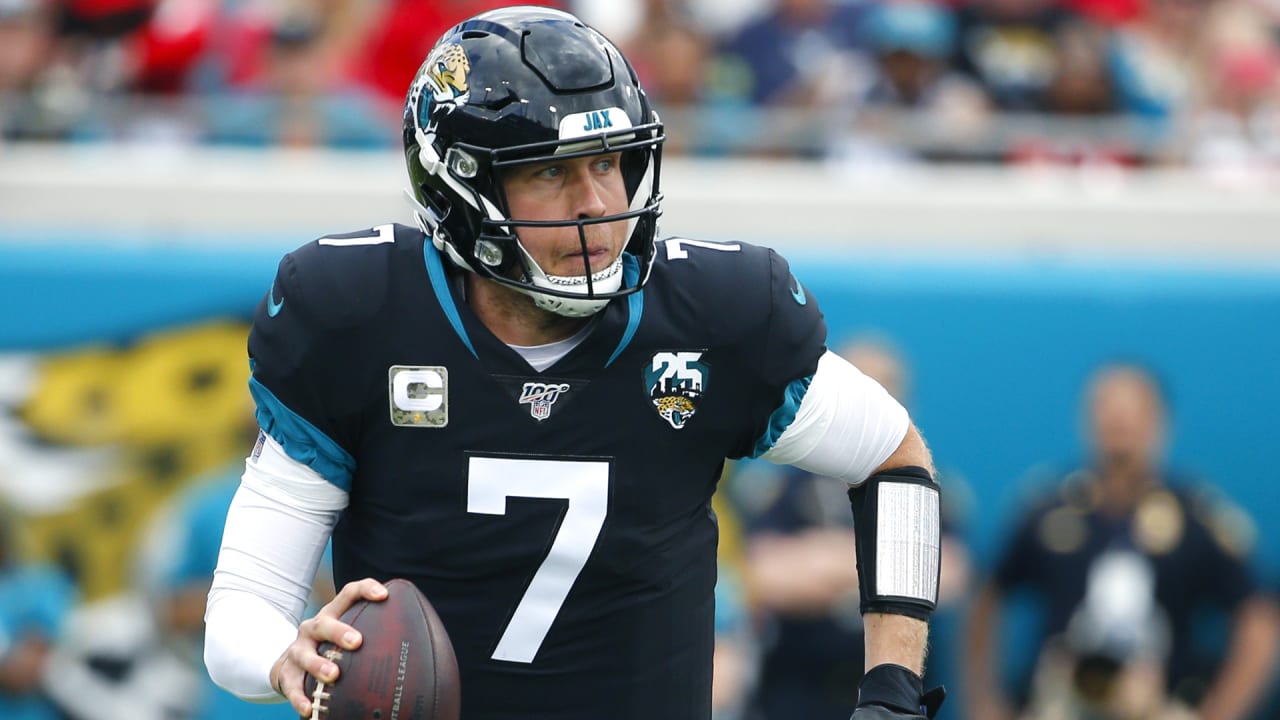 Nagy worked with Foles as an offensive quality coach with the Eagles in 2012 and Chiefs offensive coordinator in 2016. Lazor was Eagles quarterbacks coach in 2013 when Foles passed for 27 touchdowns and two interceptions. DeFilippo was Eagles quarterbacks coach in 2017 when Foles led Philadelphia to its first Super Bowl championship and worked with Foles again last year as Jaguars offensive coordinator.
"The beautiful thing is there's a lot of similarities in this offense from my Philly offense, so I feel right back at home," Foles said Friday during a video call with the media. "Whether it's the run game or the pass game, there are similarities. It's been a year since I was in that offense, but it's nice to have that verbiage and have this feel and understand why we're doing it, this is how we do it, this is the history."
Foles joins the Bears having completed 61.8 percent of his career passes for 11,901 yards with 71 touchdowns, 35 interceptions and an 88.2 passer rating in 58 games with 48 starts for the Eagles (2012-14, 2017-18), Rams (2015), Chiefs (2016) and Jaguars (2019).
Foles finally arrived at Halas Hall for the first time last week for COVID-19 testing and has participated in walkthrough sessions with Bears rookies this week, along with Trubisky.
Foles spent the offseason in California with his wife, Tori, who gave birth to the couple's second child in June. With his family expanding and the coronavirus limiting travel, he was unable to work out with any of his new Bears teammates.
"The situation for everyone's been crazy in 2020," Foles said. "Obviously, you'd want to be around your teammates and throw with your teammates. But the situation was, that just wasn't the case … I wouldn't say 'disadvantage' is the right word; I'd just say, 'You know what, that's just the situation.' The situation is what it is.
"My focus is acclimating to being in Chicago, getting to meet a lot of people at this facility, trying my best to memorize names, which is impossible with so many people, but I'm working on it. I'm looking forward to getting to know my teammates."
Foles has enjoyed working with fellow quarterbacks Trubisky and third-stringer Tyler Bray both virtually and in person.
"I'm enjoying the QB room," Foles said. "The big thing I know is the quarterback competition, all that, you'll ask me about it. But the big thing is we help each other improve in the QB room, not only as players but as people, and that'll help our team. So I'm focusing on all these little things, and the situation is what it is. I'm just doing everything I can, each day in the moment, to do the best I can to enjoy this and be the best player I can be.
"My mentality is, 'simplify things, enjoy the game, have fun, play with some swagger, love your brothers, love everyone here and go out there and play ball and have fun.' You've got to eliminate the clutter and just focus on the simple things and try your best to enjoy it because when you enjoy something, you usually do better."
As he prepares to battle for the No. 1 job, Foles insists that he won't focus on the competition itself but instead on making sure he's executing the offense, doing all the little things correctly and sharing his knowledge with Trubisky and Bray.
"I'm just going out there and if I'm working the second team, third team, first team, let's just play ball, man," Foles said. "I love this offense. I love the verbiage. I've been in this offense. I know what I can do in this offense. But all that stuff gives me is wisdom, wisdom to go out there and help my teammates, to help Mitch, to help Tyler.
"I'm not keeping secrets from Mitch; I want to help Mitch. So if there's a play that I've ran a lot and I know a lot, I'm going to give him that information, just like I know he will with me because we're working to help each other. When he makes a great throw, I'm going to be right there to slap him a five and then they'll probably have to sanitize our hands, but I'm going to do it. That's part of this thing. It is a competition, but we're all on the same team, so we're going to push each other every day, but there's got to be a healthy way to do it."
https://www.chicagobears.com/news/foles-expects-transition-to-bears-will-be-smooth