Robert Quinn, Roquan Smith shine, Justin Fields…
3 min read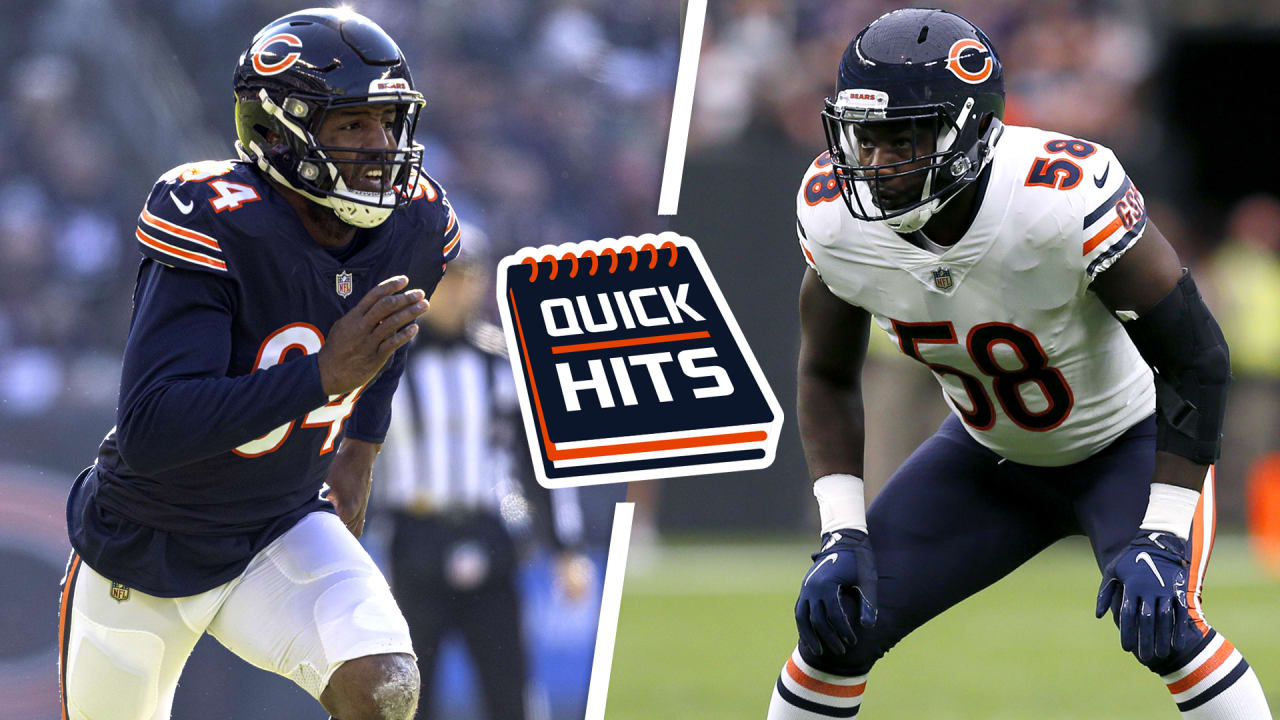 It was also great to see how Smith performed Sunday. The fourth-year pro registered a career-high 17 tackles, eclipsing the 16 he compiled Nov. 28, 2019 in a 24-20 Thanksgiving win over the Lions in Detroit.
"Roquan is a monster," said cornerback Jaylon Johnson. "Talking to my brother, it was funny, he gained a whole different respect for Roquan. And I was like, 'Why did you say that?' And he was like, 'He's just a monster. He runs sideline-to-sideline, hitting people, run back, rinse, wash, repeat, hitting people.'
"You take it for granted when you're on his team. But I just sat back and was looking like, 'Damn, he's a monster. He really leads our team, he really brings us all together. He plays with a different mindset.' You can see it on the field."
Secondary issues: Stingy throughout Sunday's game, the Bears defense didn't allow its first (and only) touchdown until Devonta Freeman's 3-yard TD run with :22 remaining gave the Ravens a stunning 16-13 victory.
The score capped a 5-play, 72-yard drive that took just 1:19. The key play came on third-and-12 from the Chicago 32 when a blown coverage led to a wide open Sammy Watkins catching a 29-yard pass from Tyler Huntley.
In the Bears' previous game Nov. 8 in Pittsburgh, breakdowns in the secondary helped put the Steelers in position to turn a 27-26 deficit into a 29-27 victory on Chris Boswell's 40-yard field goal with :26 to play.
"We need to change, the defensive backs," Johnson said. "At the end of the day, we've just got to be better. Whatever it is, if it's communication, if it's execution, if it's lack of focus, whatever it is in that moment, we have to lock in and make a conscious effort just to execute … We all just have to really come together and find a way where we can help each other execute in those crucial moments."
"The beauty of that play of the long touchdown to Mooney was the blocking by the tight ends," Nagy said. "That was clinic blocking, and the thousands of times that we've run that play in this offense in the last 10 years, that's one of the best ones we've had because of the blocking. So, the execution was all the players."
"Jesse and I thought we had really good blocks to spring Darnell, and then Darnell took care of the rest, so that was exciting," Kmet said. "You see that dude take off, it's pretty cool. He split in between me and Jesse and then was able to split the two defenders and take it to the house, so that's always a lot of fun to see."
Injury update: While the Bears did not practice Monday, they had to release an injury report in advance of their Thanksgiving matchup with the Lions in Detroit.
Players who would not have been able to practice included quarterback Justin Fields (ribs), receiver Allen Robinson II (hamstring), running back Damien Williams (calf), Hicks (ankle) and defensive back Duke Shelley (hamstring). Mooney (foot) and Jackson (hamstring) would have been limited.
https://www.chicagobears.com/news/quick-hits-quinn-smith-shine-in-bears-loss-injury-update-justin-fields