Ryan Pace lauds QB Andy Dalton's experience, fit…
3 min read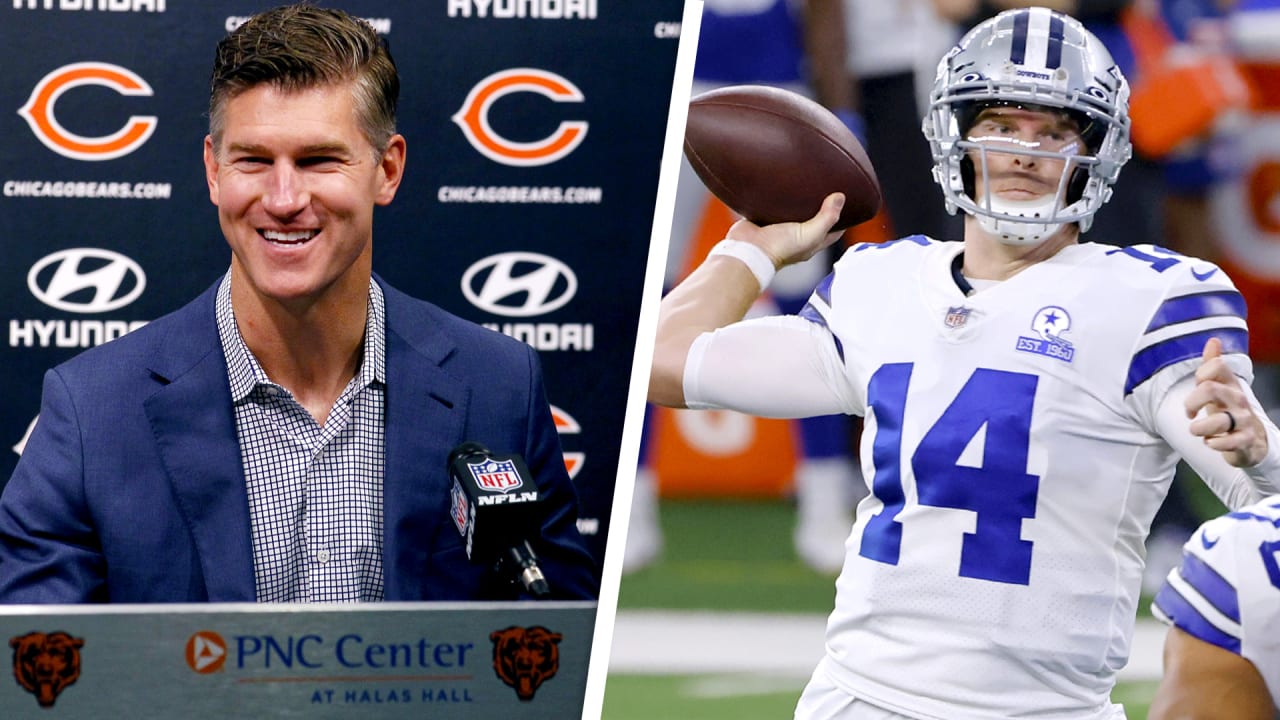 Dalton has played 10 NFL seasons with the Bengals (2011-19) and Cowboys (2020). He has appeared in 144 games with 142 starts, completing 62.2 percent of his passes for 33,764 yards with 218 touchdowns, 126 interceptions and an 87.5 passer rating. He has also rushed for 1,335 yards and 22 TDs on 422 attempts.
Dalton was selected by the Bengals in the second round of the 2011 draft (35th overall) out of TCU. The 6-2, 220-pounder helped lead Cincinnati to the playoffs in each of his first five NFL seasons, twice as AFC North Division champions and three times as a wild card.
Dalton was voted to the Pro Bowl in three of his first six seasons in 2011, 2014 and 2016. He established career highs with 4,293 yards and 33 touchdowns in 2013 and a Bengals record 106.2 passer rating in 2015 when he threw for 3,250 yards with 25 TDs and seven interceptions.
In Cincinnati, Dalton worked closely with Bears offensive coordinator Bill Lazor, who served as Bengals quarterbacks coach in 2016 and offensive coordinator in 2017-18.
In Dalton's only season with the Cowboys last year, he became the team's starter after Dak Prescott sustained a season-ending ankle injury. Appearing in 11 games with nine starts, Dalton completed a career-best 64.9 percent of his passes for 2,170 yards with 14 touchdowns, eight interceptions and an 87.3 passer rating. His best performance came in a 37-17 Week 16 win over the Eagles when he connected on 22 of 30 passes for a season-high 377 yards and three TDs.
Unlike last summer when the Bears held an open competition between Mitchell Trubisky and Nick Foles for the No. 1 quarterback position, Dalton has already been assured that he'll be the team's starter this season. Asked what led to that decision, Pace said: "Because that's how we see Andy Dalton, as a starting quarterback."
"We're excited to have him, and again, that went into the evaluation process," Pace said. "He's been a starter in the league for a long time and produced at a high level for a long time. That's all of us collectively in the building—coaches and scouts—coming to that conclusion as we went through the free-agency process, and yeah, he's our starting quarterback as we head into the season."
Multiple media outlets reported that the Bears aggressively pursued a trade for Seahawks star Russell Wilson, but Seattle ultimately decided not to deal him. Other free-agent quarterbacks who were available this offseason included Ryan Fitzpatrick, Jameis Winston and Tyrod Taylor.
In addition to Dalton, the only other quarterback on the Bears roster is Foles, who was acquired last year in a trade with the Jaguars in exchange for a compensatory fourth-round draft pick. Foles did not perform as well as expected in 2020, throwing for 1,852 yards with 10 touchdowns, eight interceptions and an 80.8 passer rating. 
"As we talked about last season, it's not just Nick," Pace said. "We had other issues with our roster from a personnel standpoint that we improved throughout the season and that we're still striving to improve now. It's just not all on Nick. But we're always looking to add to every position and get better everywhere, and there's no more core position than quarterback—and we feel like we've done that. We feel like we've gotten better with Andy. We're excited to add him … and with those two in there, we have a lot of experience heading into the '21 season."
https://www.chicagobears.com/news/pace-lauds-dalton-s-experience-fit-in-offense