Ryan Poles on Khalil Mack trade, free agent…
4 min read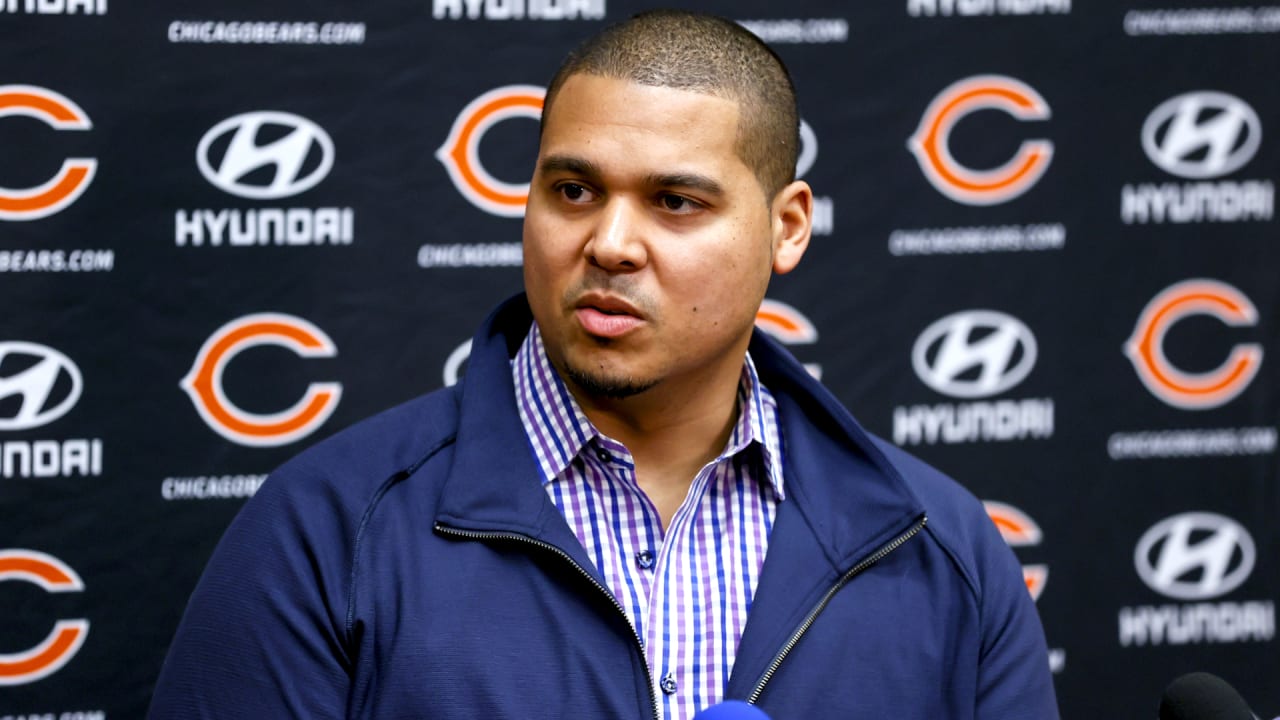 Trading Mack was difficult but beneficial
Poles conceded that trading Mack to the Chargers March 16 wasn't easy, but the deal was ultimately made because it was best for the Bears.
In return for the six-time Pro Bowler, the Bears received a 2022 second-round pick (No. 48 overall) and a 2023 sixth-round selection. The Chargers are responsible for the remaining three years of Mack's contract, enabling the Bears to gain $6.15 million in salary cap space in 2022, $28.5 million in 2023 and $23.25 million in 2024.
"With the excitement of the players we did bring in, I would say one of the harder things to do was the Khalil Mack trade," Poles said. "A guy that caliber of a player is not easy to move on from, but it's one of those situations that you knew you had to do what is best for the club."
Several factors influenced the decision.
"There are a lot of things with analytics, age, play time," Poles said. "We put all of that together, and there's a timing mechanism as well. If you wait, what does that look like? If you do it now, what does that look like? We just thought right now it would allow the Bears to have more ammunition to add more players.
"It was just looking at our future. It was looking at where we needed to go … it just seemed like the right time to do it in terms of value where we can help this team out now and in the future."
Poles said that everyone at Halas Hall—from ownership to coach Matt Eberflus—was on board with the trade.
"They understood that it was the right move at the right time," Poles said. "I think the cool thing is having the ability to call Khalil and having those conversations with him, and also making sure that I put him in a really good situation. I wasn't going to send him somewhere that he wasn't happy, [but somewhere] that he could compete, that he could do a good job if it's finishing out his career or whatever. I wanted to make sure he knew that I cared and I wanted to put him in a good situation. I think he really appreciated that. I know the agent appreciated that.
"It's really, at the end of the day, I think a win/win for Khalil, the Chargers and the Bears in terms of the direction that we're all going."
Poles understands that some fans may not be thrilled about the trade.
"That's part of this business that I've been a part of, and I've seen those hard decisions and you're not going to please everybody," Poles said. "And I would understand why some people would be upset. It's not easy for us to do either, but again, that's kind of the name of the game. That is my job, is to do what I think is best for the organization for now and the future. The other thing, too, is just, I think, having the communication with the player and his agent and making sure he's in a good position. I think that goes a long ways as well."
Ogunjobi situation 'emotionally draining'
The Bears agreed to terms with Ogunjobi on a three-year contract early in free agency, but they decided not to sign him after he failed a physical March 17. The issue involved a foot injury the defensive tackle sustained Jan. 15 while helping the Bengals beat the Raiders in a wild-card playoff game.
"I would say the most challenging thing that I had to go through was the Larry Ogunjobi situation," Poles said. "From the business side, it was very clear. We have a process, I'm going to listen to our doctors. I'm going to look at the evidence and go with what I think is right again for the organization.
"The toughest thing I've had to go through—it was emotionally draining –was to deny someone an opportunity when you have this verbal agreement that that's what's going to happen. That tore me to pieces. I sat in the back of the car, and I had a conversation with the kid and let him know just from what my job was and from my perspective what we had to do. That was hard, really hard, because I was excited about him."
Poles was asked whether the Bears missed out an opportunity to sign another free agent or two between the time Ogunjobi agreed to terms and failed his physical.
"Yeah, I would agree on that," Poles said. "I've had a lot of conversations and I almost feel like the process is flawed a little bit where I wish we could have some of these images and some of the physicals done before. That's going to be some type of rule change. I don't know the process in getting that done. It's probably something at a meeting like this in the future. But yeah, I think there's a lot of people were hurt just with the whole timing of it."
https://www.chicagobears.com/news/poles-discusses-free-agent-signings-khalil-mack-trade