Shelby Harris details unforgettable game day
3 min read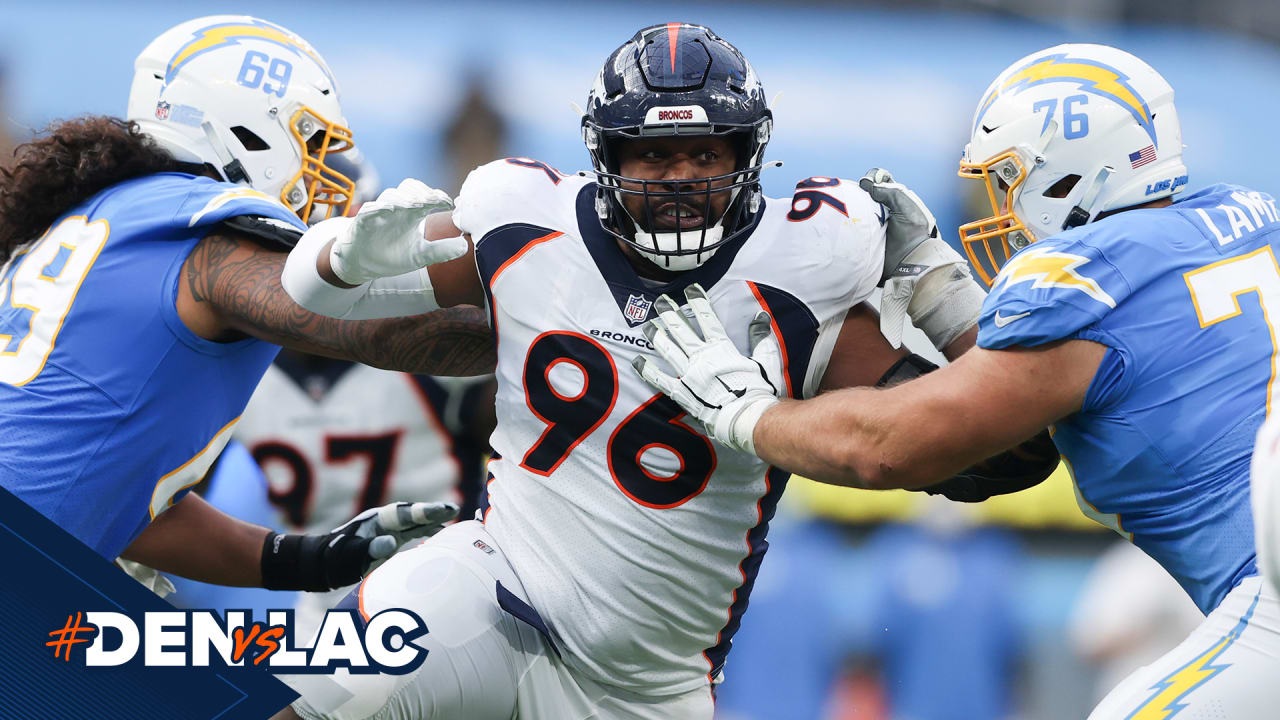 ENGLEWOOD, Colo. — Shelby Harris' day began in Los Angeles with a series of loud knocks at his hotel room door and ended in Denver with the birth of his son.
And in between, Harris recorded four tackles, a quarterback hit and two pass breakups in the Broncos' Week 16 game against the Chargers.
The events of Sunday morning, though, nearly kept him from the field. Harris' wife called him several times early that morning to let him know that her water had broken, but Harris slept through the phone calls. She then called Broncos Director of Player Development Ray Jackson, who rapped on Harris' door at 7 a.m. to wake him up and figure out a plan.
"We wanted to get her to the doctor and just see how much time we really had to kind of see how far along her contractions were and everything to see how much time I actually truly had," Harris said Tuesday. "Should I stay, or even if I did leave, would I miss the birth? Those are all things that we were all worried about while we were talking to my wife and everyone."
Harris and the Broncos at least considered whether he should fly directly back to Denver and went as far as securing a flight ahead of the game. Harris chose to stay, and the team secured a private flight for him that would arrive in Denver several hours earlier than the team's flight.
The team's game ended at 4:05 p.m. CT, and Harris quickly headed to the airport.
"I'm talking about the minute the game ended — I knew a couple people on the Chargers and said 'What up' real quick," Harris said. "I ran into the locker room, instantly got undressed — I'd say that's probably the quickest I've ever gotten changed. I was still sweating when we left. It was really classy by Inglewood police and all the sheriffs out there because they gave us a police escort to the airport. I really just feel special because everybody went over and beyond what they really had to do and it's just something that doesn't happen every day."
Harris arrived at the hospital in time for the 10:46 p.m. delivery to welcome Shelby Lamar Harris Jr. into the world.
"I cut the umbilical cord and everything — I pulled the baby out," Harris said. "It was just a real special moment. … I truly want to thank the Broncos just for going over and beyond what they had to do to make sure I got back and was there for the birth. It really meant a lot to me and my family and we'll forever be grateful."
The Broncos' fortunes were better for the birth of Harris' last child, as he recorded a game-winning interception against the Steelers in 2018 before bringing the game ball to the hospital to meet his newborn daughter.
"It's just funny my last two kids have stories that will go with their birth forever, so it's pretty cool," Harris said.
https://www.denverbroncos.com/news/a-knock-on-the-door-to-the-birth-of-a-child-shelby-harris-details-unforgettable-