Slow Start Becomes Dynamic Debut For Kyler Murray,…
3 min read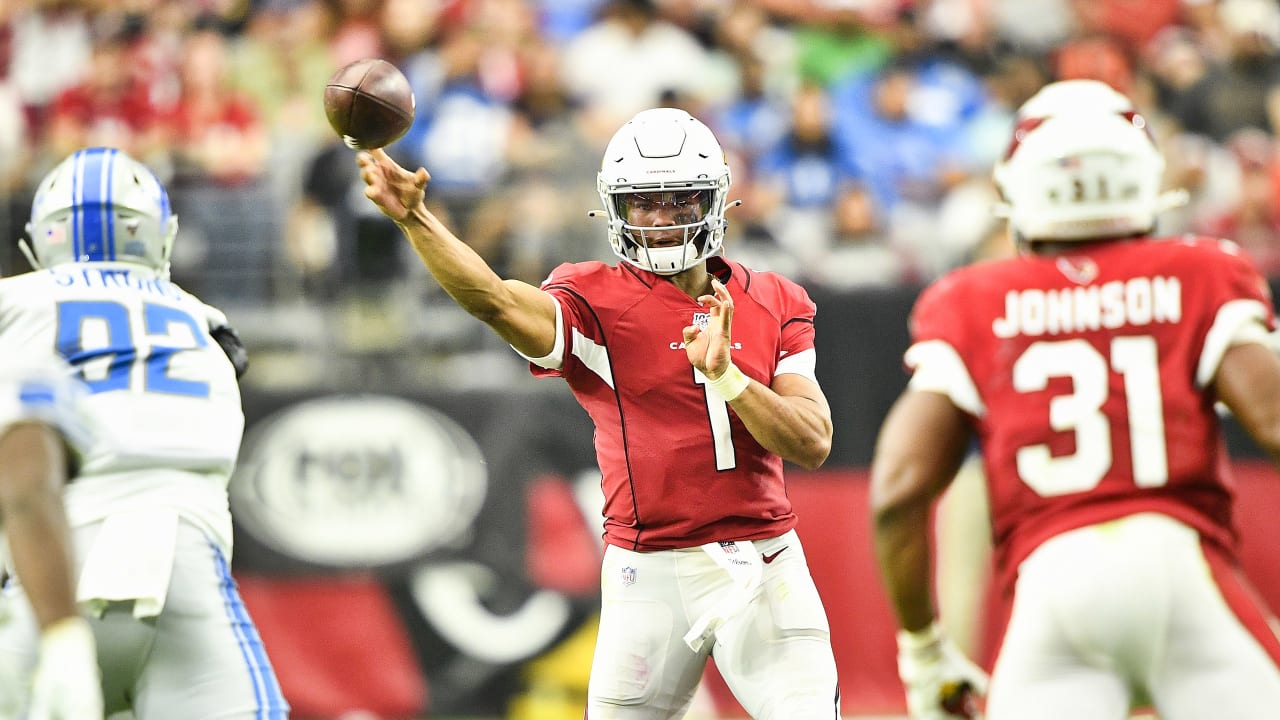 This season, however, is ultimately about the installation of Kingsbury's offense and the growth of Murray. It was hard to see Sunday's game as anything but a microcosm of that narrative.
Murray finished 29-of-54 for 308 yards, throwing an early interception that was forced along the sideline. He actually was outrushed by Lions quarterback Matthew Stafford, 22-13, each getting three attempts. The Cardinals had a measly 58 yards of offense at halftime, only 100 yards through three quarters.
"I have to do a better job early in the game getting (Murray) comfortable and getting him in a groove," Kingsbury said. "I was just trying to do too much."
Murray, however, wasn't going to back Kingsbury's analysis.
"We've got to execute better," Murray said. "It's not one person's fault. We're out there on the field. We have to execute what he calls. It's a learning experience. Next week, we've got to be better."
Murray did say the Cardinals basically went to what they do best. There was a beautiful 27-yard touchdown throw to running back David Johnson on a play not even designed to go there. There was Larry Fitzgerald's 4-yard touchdown catch, and a two-point conversion pass to Christian Kirk that shockingly tied the game.
"You don't have to worry about (Murray) getting discouraged," said Fitzgerald, who finished with eight catches for 113 yards. "With all of us (receivers), he's going to give us a shot."
That was the momentum the Cards took to overtime. They had the ball first needing a touchdown to win, and managed to reach the Detroit 8-yard line on first-and-goal. But the drive stalled, and Zane Gonzalez needed to kick his fourth field goal of the game.
After the Lions (0-0-1) tied it, Murray again moved the team, but a third-down pass from the Detroit 46 was batted down with 1:10 left. Faced with going for it and potentially giving Lions kicker Matt Prater – who owns the NFL record with a 64-yard field goal – an easier chance if the play failed, Kingsbury went with the punt.
"If you don't convert there, it's pretty much game over," Kingsbury said.
It should've sealed the tie. But Matthew Stafford inexplicably threw a ball straight to veteran cornerback Tramaine Brock with 11 seconds on the clock and Brock around the Lions 20 – only to have Brock drop the interception.
"I just have to focus on bringing the ball in," said Brock, who added he probably would've tried to score on the play.
But Brock also broke up a potential game-winning Lions TD pass in overtime. The Cardinals also could've helped themselves by scoring a touchdown after a first-and-goal from the Detroit 8 (and second-and-goal from inside the 1) following Trent Sherfield's recovery of a muffed punt. That possession only got a field goal, as did another drive sparked by a 41-yard Larry Fitzgerald catch.
Again, there were growing pains. Baker and Suggs lamented the plays the defense didn't make, and they weren't talking about Brock's drop. Too often there were Lions pass-catchers running open, and there were a few instances of players discussing miscommunication after plays.
"We definitely wish we had played better, got some more turnovers and made some more plays," said Suggs, who had two sacks to move alone into 12th all-time in NFL history with 135½ in his career. "But it's not the end of the world. The sun will rise tomorrow."
Assuming Murray continues to trend in the direction he was headed Sunday, it's tough not to feel that the future is bright for the Cardinals.
"That would've been terrible if we had not done anything at all (on offense)," Murray said with a smile. "That would've left a bad taste in our mouth. The fact we can kind of feel decent with what happened … it's something to build on going forward."
https://www.azcardinals.com/news/game-detroit-lions-at-arizona-cardinals-2019-kyler-murray