Stephon Gilmore Is Settling In To Gus Bradley's…
2 min read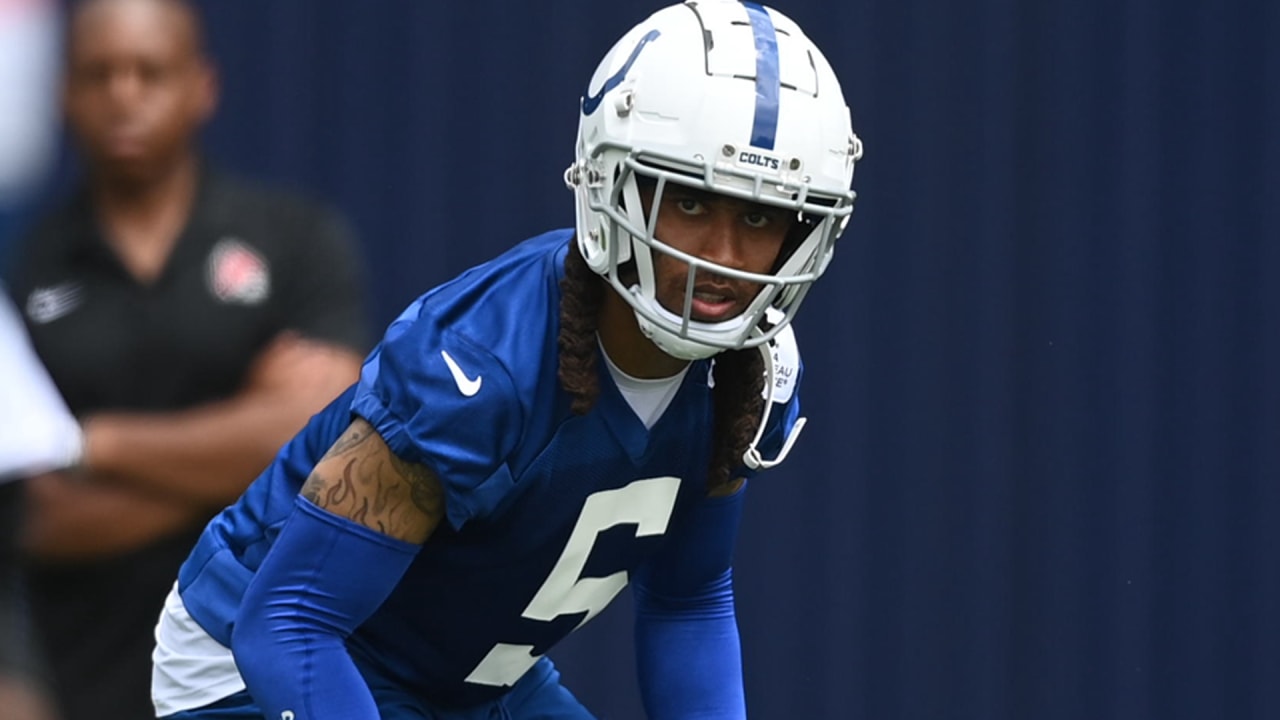 The Colts held their second-to-last practice of their offseason program on Wednesday, and have one final veteran minicamp practice Thursday before breaking for the summer.
Cornerback Stephon Gilmore had an interception during seven-on-seven drills, and after practice we had an opportunity to check in with the 2019 Defensive Player of the Year on how he's acclimating to his new surroundings in Indianapolis.
While Gilmore hasn't played for defensive coordinator Gus Bradley – or in a branch of his scheme – over his career, he's had to play about every different kind of coverage in 10 seasons with the Bills, Patriots and Panthers. That includes some of the concepts favored by Bradley.
"I know the scheme," Gilmore said. "I've been in the league for a while and a I've seen how those guys have played. I think it fits my style of play a lot. It's only going to help me make plays, I just gotta keep putting the work in day in and day out, working on my technique, trusting my teammates and go from there."
There are, of course, different nuances and terminology to how Bradley wants his cornerbacks to play coverage. Gilmore said having cornerback Brandon Facyson, a four-year veteran of Bradley's scheme who's had an impressive offseason program, around has been helpful for the Colts' entire cornerback room in learning the defense.
Bradley said he values Gilmore's veteran leadership and versatility, specifically in Gilmore's ability to play both outside corner positions (read, zebra).
"He's shown it," Bradley said. "He's had past, where you look at all his production. I mean, the ability to play press coverage like we like to play, aggressive on the perimeter, he's shown that on tape and he brings that veteran presence too."
In addition to Gilmore, Facyson and Isaiah Rodgers have been active playmakers at cornerback during OTA and minicamp practices over the last few weeks. Bradley, too, described cornerback Kenny Moore II as "very sharp" with the capabilities to do everything asked of him in his scheme.
"Everyone's taking it serious. That's what I like," Gilmore said. "The ultimate goal is to be great on the field, everybody wants that. It's fun to be in a group like that, that puts the work in. The sky's the limit there."
A reminder of Gilmore's accomplishments:
2019 Defensive Player of the Year
Two-time first-team All-Pro (2018, 2019)
Five-time Pro Bowler (2016, 2018-2021)
27 interceptions and 89 pass break-ups in 132 career games
Highest PFF coverage grade (91.1) among CBs from 2018-2021
Third-lowest passer rating allowed (64.8) among CBs from 2018-2021
Fifth-lowest completion percentage allowed (50.4 percent) among CBs from 2018-2021
https://www.colts.com/news/stephon-gilmore-gus-bradley-scheme-defense-cornerback-veteran-minicamp-practice