Steve Hutchinson Elected to Pro Football Hall of…
3 min read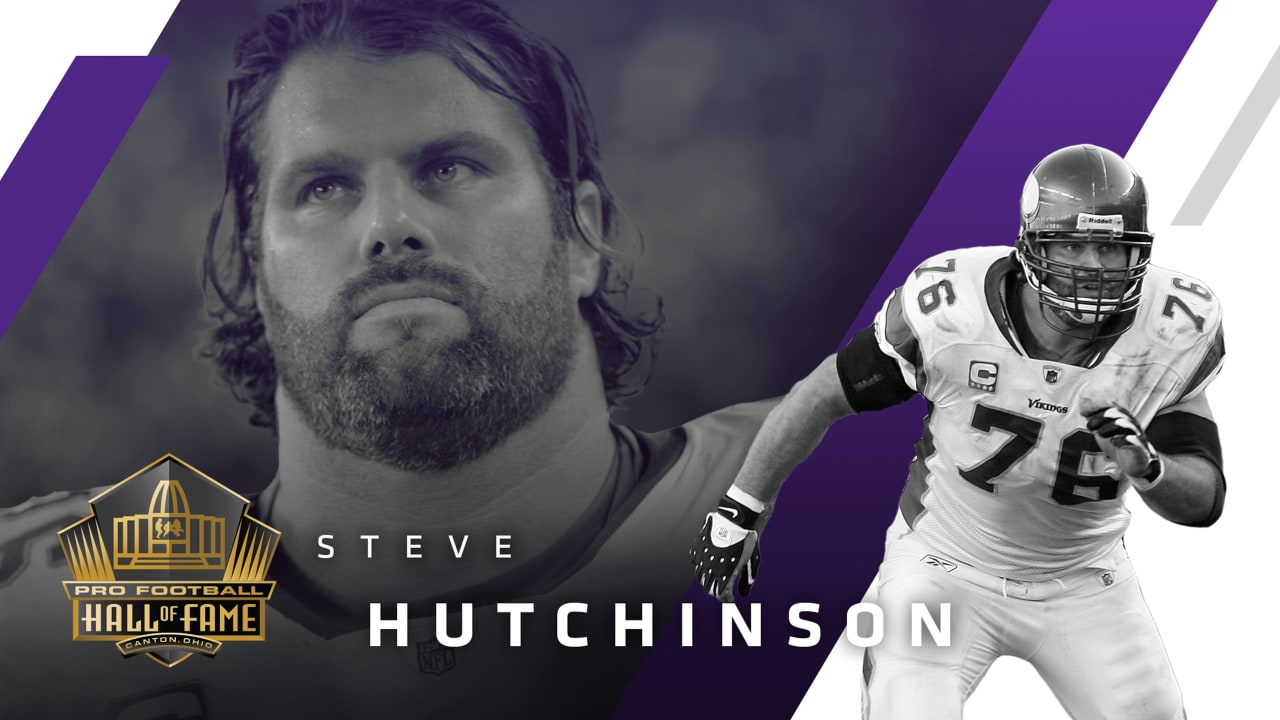 Former Vikings center Matt Birk lined up to the right of Hutchinson for 48 consecutive regular-season games from 2006-2008 and said he simply marveled at his teammate's skill set and work ethic.
"Hutch was a physical force … one of the few interior linemen who could physically dominate his opponent," Birk said. "In the run game, he moved guys off the line of scrimmage. He would just shut guys down in the passing game.
"Never had to worry about Hutch and his matchup," Birk added. "You could always rely on him to play winning football."
Hutchinson was also as disciplined as they came, as he committed just 19 total penalties (10 false starts and nine holds) in 169 career games. He was whistled for just eight infractions (five false starts and three holds) in his six seasons with Minnesota.
Hutchinson was not called for a single penalty during the 2006 or 2008 seasons. He will now join a handful of former Vikings offensive linemen such as Randall McDaniel, Mick Tingelhoff, Ron Yary and Gary Zimmerman in the Hall of Fame.
Although the two weren't teammates, McDaniel said he enjoyed watching Hutchinson from afar.
"I loved his technique, his style … he was so sound fundamentally. I loved how he would finish blocks – there was no bouncing off a guy with Hutch," said McDaniel, who went into the Hall of Fame in 2009. "He finished his guy, which made me happy. I loved to see guys still play like he did.
"There was no quit in Hutch. Win or lose, he had his man taken care of. You wouldn't hear much out of his guy in a game. His consistency is what set him apart," McDaniel added. "To play inside you have to be consistent, and that's what running backs appreciate. They want to know you're going to handle your man. They want to know your guy isn't going to be hitting them, and Hutch always took care of that — at the point of attack or cutting a guy off, he always took care of his guy."
Williams said he was ecstatic when the Vikings lured Hutchinson away from the Seahawks in the spring of 2006.
A five-time All-Pro and six-time Pro Bowler, Williams explained what made his former foe and teammate so special on the field.
"I knew we had signed a great player. I played against Hutch when he was in Seattle, and I already knew what type of player we were getting. I was excited, and the respect was there," Williams said. "We hit the ground running in practice and made each other better. It was fun. I got to see him lock down a bunch of guys.
"He was one of the most patient guards you were ever going to face. He had such a wide base. As a D-lineman, we want you to give us something that we're going to counter when we're rushing, but he would hold his punch and shoot his punch from down low, from his waist," Williams added. "Most guys are taught to shoot their hands up at your chest, but he would come up from the bottom and it was hard to counter that because he was so strong. He would engulf you and tie you up, and it was a stalemate. If he got that low right hand on you, it was over."
Hutchinson attended Coral Springs High School, which is about 50 miles from where he received the life-changing news.
Hutchinson will be recognized at the NFL Honors awards show, which airs on FOX at 7 p.m. (CT).
Hutchinson will be joined by safety Steve Atwater, wide receiver Isaac Bruce, running back Edgerrin James and safety Troy Polamalu in the 2020 class.
https://www.vikings.com/news/steve-hutchinson-pro-football-hall-of-fame-vikings-nfl