The Cardinals looked for a franchise quarterback…
3 min read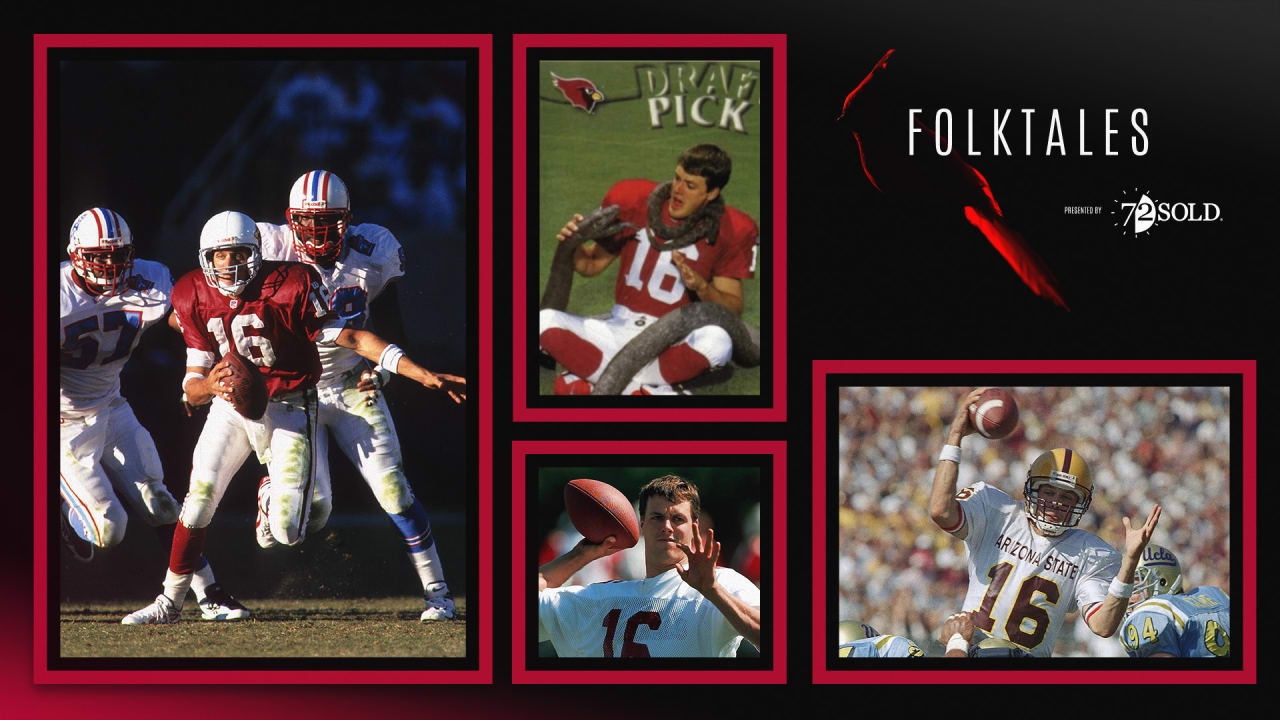 The Cardinals finished the 1996 season 7-9, with veterans Esiason and Kent Graham each starting eight games at quarterback. The offense finished No. 22 in the league in points per game.
When the draft evaluations began, the coaching staff and front office naturally studied the local star closely.
"Jake was a very, very exciting player," said Vince Tobin, the Cardinals' head coach from 1996 through 2000. "One of the big things is that, at that time, the Cardinals weren't drawing very well. And so we really felt like Jake could come in and give us a shot in the arm as far as fan support, the adrenaline, just the things that he does on the field."
The Cardinals routinely sell out their home games at State Farm Stadium these days, but they were still angling for widespread support in the 1990s.
"There's no doubt that they saw an opportunity to capitalize on the guy who was probably at the time arguably the most popular athlete in Arizona," said Paul Calvisi, the Cardinals' longtime sideline reporter. "Charles Barkley was gone. The Diamondbacks had yet to exist. The Coyotes had just arrived. So really ASU football and that Rose Bowl team, they were rock stars, and Jake Plummer was the lead singer."
The Cardinals had the No. 9 overall pick, but both sides knew his selection wouldn't happen there. Plummer was not forecasted as a first-round pick.
"At the time, I was too small, too skinny, not durable enough, all this BS that they like to have," Plummer said. "Had I come out now, I might have been a first-round pick in the draft because I have the style that these teams are looking for. But I was fine. I knew that I wasn't going to be drafted early."
Plummer's most realistic shot in the first round came at No. 26 overall, where former 49ers coach Bill Walsh — then a consultant for the team — lobbied for San Francisco to take him. Instead, the 49ers went with quarterback Jim Druckenmiller out of Virginia Tech as the heir apparent to Steve Young.
"I was really mad when they didn't take Jake Plummer," Walsh said in 1999. "I told people the continuation of the dynasty was in that decision."
The Cardinals then waited nervously as the second-round selections were made.
"We knew going in that we'd like to get Jake on our team," Tobin said. "Once you've passed on the first round, and it comes down to the second round, there's some anxiety that Walsh or somebody else would jump ahead and trade to move up and take him."
No one did, and the homecoming became official with the Cardinals' second-round selection at No. 42 overall. As Plummer cleared out of his nap-induced haze, he began to process the idea of remaining in Arizona.
"At first, I was like, 'Oh, I've been here; I've lived here,'" Plummer said. "I was excited to maybe go somewhere else. But as it played out, like, to get drafted by the Cardinals, to stay in the town that I was used to — I knew the roads. I knew how to get around. I had a great support system. I had ASU folks that would support me. I had friends. I had a very good network already there. It was really awesome to get drafted by the Cardinals and make a really easy transition to be ready to go into the league."
https://www.azcardinals.com/news/longform/folktales-drafting-jake-plummer-cardinals-arizona-state