The stories, games and accolades that defined Karl…
4 min read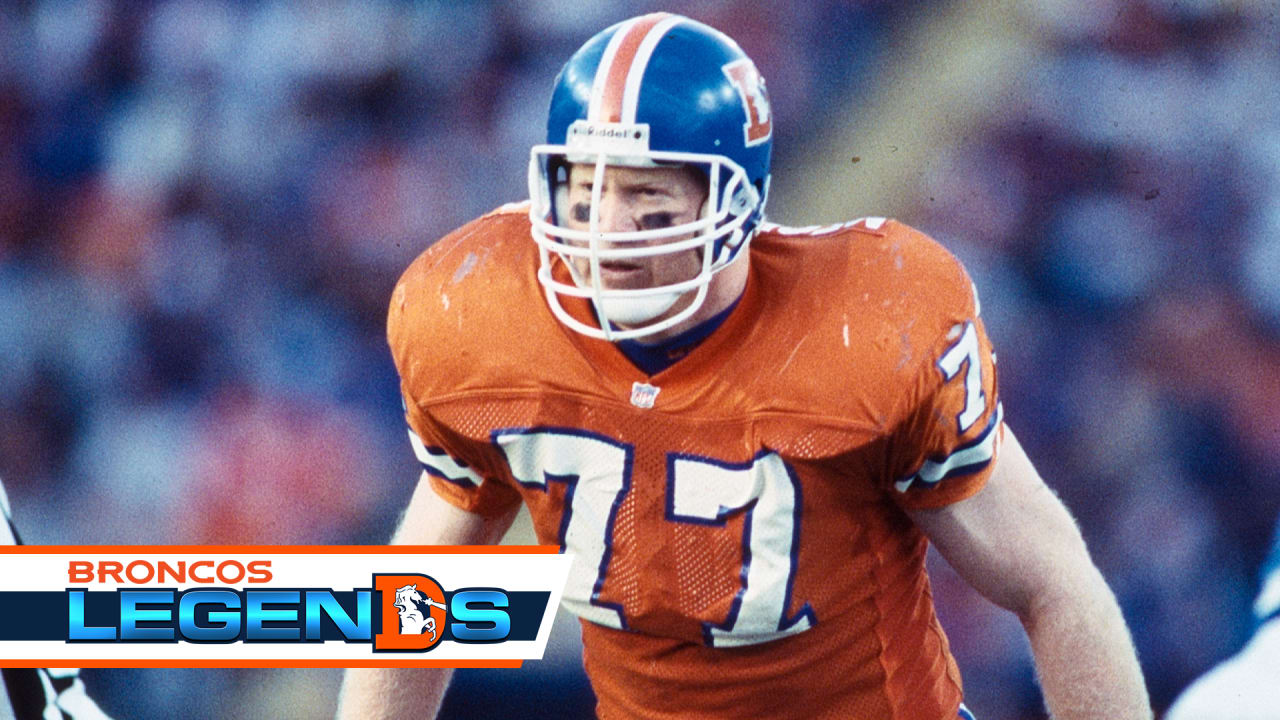 Stats to know
Career stats: 180 games, 141 starts, 1,118 tackles, 79 sacks, 16 forced fumbles, 14 fumble recoveries, five interceptions, two defensive touchdowns
In his own words
"One of the things I talk about in my presentations is decisiveness — the courage to be decisive. I was a 12th-round draft choice; nobody expected me to make it, because height, weight, 40[-yard-dash] time, I didn't match up. But I found out early on in my career if you could take the first step in the right direction before anybody else did, all the angles would change in your favor. The tight end couldn't pin you in, the guard couldn't cut you off, a fullback couldn't keep you from getting to the line of scrimmage. Everything changed. And that was really my career. It was based on that. Joe Collier was an amazing guy. I was drafted, like I said, as a 12th-round draft choice [and] I was drafted as a nose guard. I was a 240-pound nose guard, and they don't last. I got hurt right away, and so they moved me out to defensive end and I made the team as a third-down pass-rusher.
"Two years later, Joe — and Myrel Moore, at the time, was the linebacker coach and Stan Jones was the defensive line coach — the three of them got together and said, 'You know, I think Karl is actually a linebacker. We should move him to linebacker.' I switched to linebacker, I made the Pro Bowl my first year as an All-Pro linebacker. But I also still played defensive end. I played defensive tackle. I played on the left, I played on the right. And then all of a sudden they move me to outside linebacker when they had matchup issues out there. There were games I played all seven defensive front positions. And that's something nobody's ever done before and probably will never do again. Everybody else had to know two different positions, too. You had to have the right group of guys who were smart enough; you had to have the coach that really identified something in an individual that he was trying to take advantage of.
"And Joe moved me all over the place, and what a great opportunity. As a defensive guy, you want to be where the ball is going, right? And that's where Joe tried to put me. 'We think this team runs right all the time, so you're going to play on the right side all game this week,' and then the next week, 'That team runs to the strong side all the time, so we're going to put you on the strong-end side linebacker.' They just moved me around depending on the opponent and what the challenges were that week."
Three games to remember
Week 2, 1985 season: Broncos 34, Saints 23
You can call it Meck's flu game. Despite fighting the illness, Mecklenburg logged his first four-sack game. The Broncos jumped out to an early lead, which helped Mecklenburg and the rest of defense. But you don't just get four sacks on luck, though Mecklenburg may have felt so at the time.
"They can't seem to block him and they can't seem to find him where we put him in our normal defense, and that's where he's helping us right now," said Moore, the linebackers coach, "As long as we can keep getting big plays out of him in the variety of positions we play him, we're going to keep doing it."
Week 13, 1985 season: Broncos 31, Steelers 23
In this second four-sack game, archived newspaper articles tracked Mecklenburg as playing seven positions — nose tackle, both defensive end spots and all four linebacker positions — and he also had two forced fumbles, in addition to his four sacks.
Week 13, 1987 season: Broncos 31, Patriots 20
As a multi-positional dynamo, Mecklenburg wasn't just a sack machine. In this game, he helped power a second-half comeback with two interceptions. After falling behind 17-3 at halftime, the Broncos got within a touchdown early in the third quarter. Then, Mecklenburg made his first interception; six plays later, the game was tied. Later in the fourth quarter, he snagged his second pick as New England looked to bounce back from a pick-six on their previous possession. It would not result in points, but it would help the Broncos bleed the clock to the point that a comeback was practically impossible.
https://www.denverbroncos.com/news/broncos-legends-stories-games-accolades-that-defined-karl-mecklenburg-s-