Vic Fangio, Broncos poised to learn and move on…
3 min read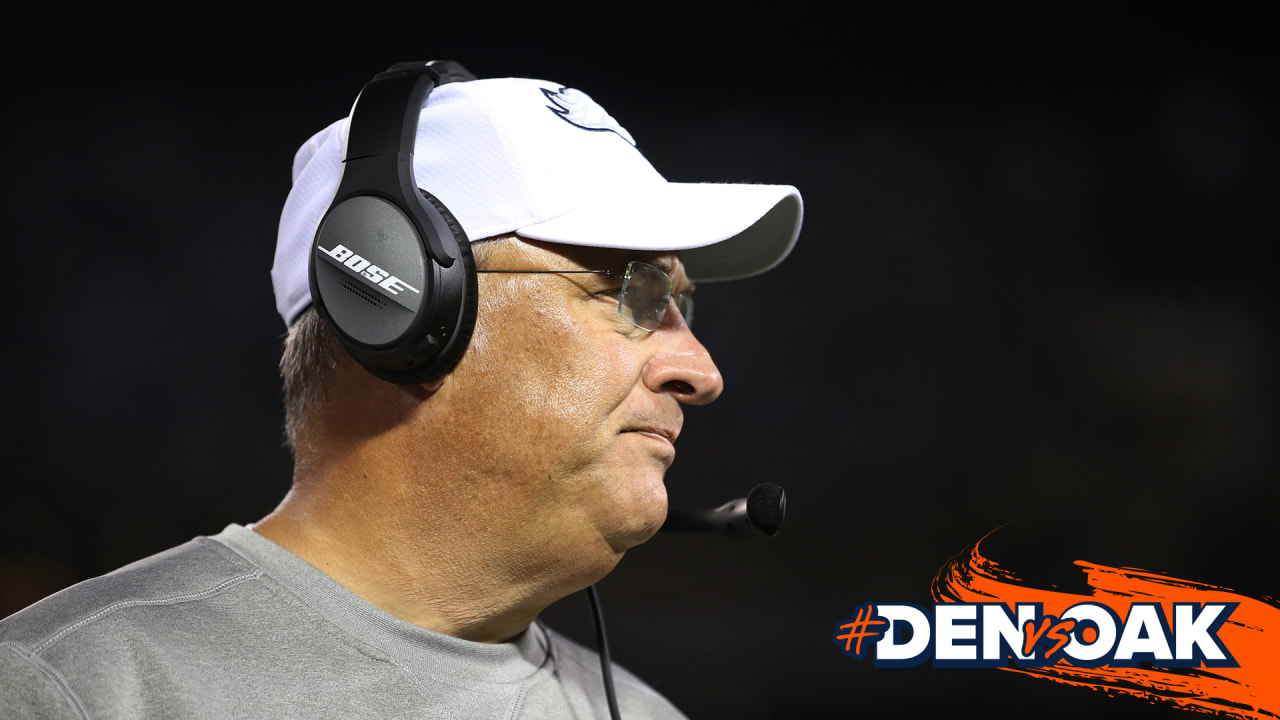 SCANGARELLO'S FIRST EFFORT
Monday's game against the Raiders was also Offensive Coordinator Rich Scangarello's regular-season debut as a play caller, and though the offense didn't muster a touchdown until the late in the fourth quarter, Fangio seemed pleased with Scangarello's performance.
And there's good reason to be pleased. The Broncos put together four red-zone drives in the second half, including two drives to start the third quarter that traveled inside the Raiders' 10-yard line.
The possessions didn't all result in touchdowns, but the Broncos were able to move the ball with relative efficiency in the second half.
But no one's perfect when it comes to calling a game.
"I thought it was good," Fangio said. "I thought our operation was good for the most part. Obviously, any time you call plays — same for me calling defense — there's always a few you'd like to have back or call something different. That's just the way it goes. You're never going to call every play the perfect play, so I thought it was fine."
Fangio also clarified that while he has the authority to choose or veto a call, the Broncos will "overall" go with what Scangarello calls.
In Fangio's first game as a head coach, he faced several game-management decisions that proved critical down the stretch.
He seemed to handle timeouts wisely both at the end of the first half — when the Broncos were driving for a last-second field-goal attempt — and late in the game as the Broncos tried to get the ball back.
The team wasn't able to execute in either situation, but Fangio seemed to make the proper decisions to set the Broncos up for success.
With 9:23 to play in the fourth quarter, Fangio faced his first true fourth-down decision of the game. The Broncos, who were down 15 points, faced a fourth-and-9 after Joe Flacco was sacked. Fangio chose to take the points and kick the field goal.
And even though the Broncos still needed two touchdowns to take the lead, the decision to cut into the lead ultimately put the team in a situation where it could've tied the game. If the Broncos had gotten off the field on third-and-8 with two minutes remaining, they would've had the ball down just one possession.
"It was fourth-and-9," Fangio said. "I just thought it was too far with close to nine minutes left. There's still a lot of football. Anything could happen. I didn't want to leave there without points. And I think in retrospect, it turned out to be the right decision because we still had a chance there if we could've gotten a stop there at the end. We'll never know if we would've converted the fourth-and-9, but that was the choice I made at the time and I feel fine about that choice."
https://www.denverbroncos.com/news/vic-fangio-broncos-poised-to-learn-and-move-on-from-week-1-loss-to-raiders