Vikings Film Breakdown Iowa QB Nate Stanley
3 min read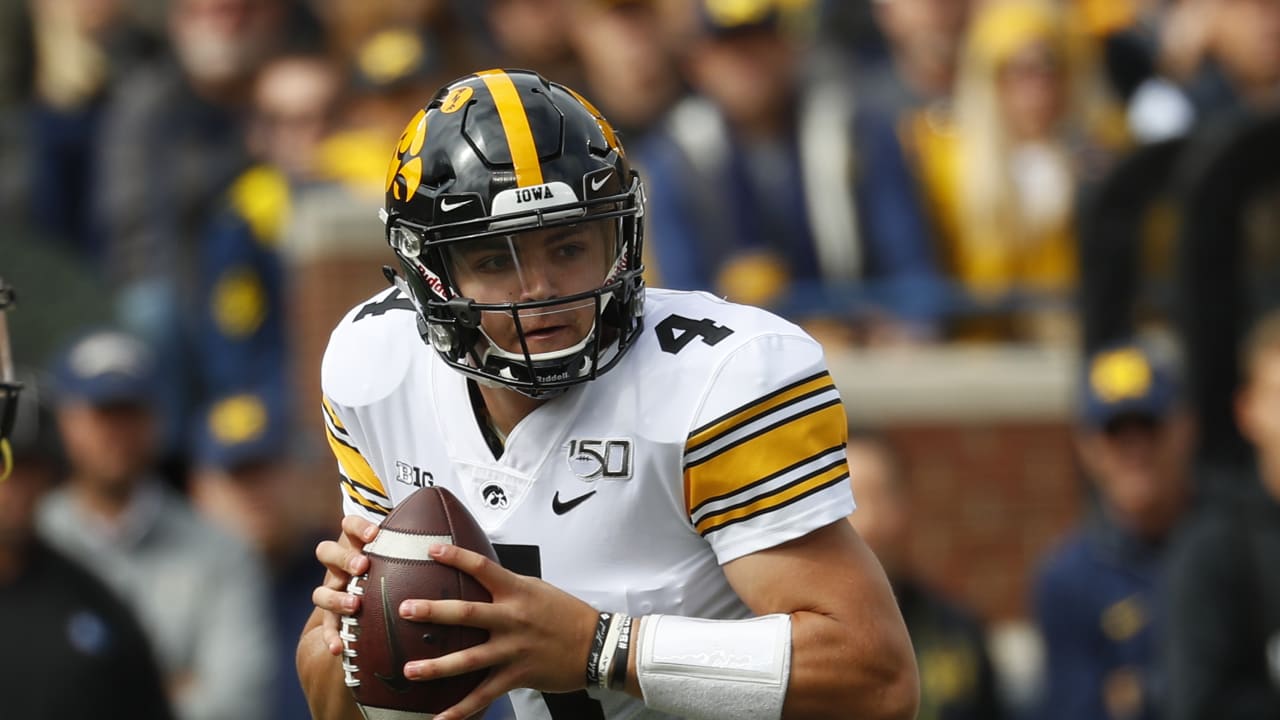 EAGAN, Minn. – The Vikings are set at starting quarterback for the 2020 season with Kirk Cousins, who is entering his third campaign in Minnesota since joining the team as a free agent in 2018.
Sean Mannion, who backed up Cousins last season and played one full game when the Vikings rested their starters against the Bears in Week 17, also is returning. The Vikings additionally have Jake Browning, who signed as an undrafted free agent last spring and spent 2019 on the practice squad.
Vikings General Manager Rick Spielman added to the quarterbacks room in the 2020 NFL Draft, during which he used one of his record-setting 15 draft picks to grab Hawkeyes passer Nate Stanley 244th overall.
Bleacher Report analyst Matt Miller called Stanley the "biggest sleeper" among passers heading into the 2020 NFL Draft and listed him as the eighth-best quarterback in the class.
ESPN's Todd McShay also had positive things to say about the former Hawkeye on the First Draft Show podcast.
"If I had to bet on any of these guys, including Jalen Hurts, I would bet on [Stanley]," McShay said. "He's big. He's strong. He's been around a pro system, and [Iowa Offensive Coordinator Brian] Ferentz comes from the NFL and played under and worked with [Patriots Head Coach Bill] Belichick in New England. That's pretty good to have as an offensive coordinator the past few years."
Here's a deeper dive on how Stanley could work within Minnesota's quarterbacks group:
Player Profile: QB Nate Stanley, Iowa, Senior
Stanley, a native of Menomonie, Wisconsin, was a permanent team captain for Iowa in 2019. He finished his senior campaign 237-of-399 passing for 2,951 yards with 16 touchdowns and seven interceptions.
He's one of just two quarterbacks in Hawkeyes history to go 3-0 in bowl games, joining Ricky Stanzi, and ranks second in school history with 68 career touchdown passes.
Spielman was impressed not only by what he saw on tape but also by a couple in-person scouting sessions of Stanley.
"He's a big kid that has a strong arm. He's won a lot of games in the Big Ten," Spielman told Twin Cities media members. "The one thing that I think he doesn't get enough credit for is his size. He's a very good athlete."
Stanley, who measured 6-foot-4 and 235 pounds, impressed in the 40-yard dash at the NFL Scouting Combine. His time of 4.81 seconds ranked eighth-fastest among quarterbacks. In the 20-yard shuttle, Stanley ranked fifth in the position group with a time of 4.48 seconds.
"When you watch him live, or even on tape, you may underestimate what type of athlete he is," Spielman said. "But when he opens stride and had a couple scrambles in some of the games – he can really move – getting the ball out quick, time and rhythm throws, ability to move in the pocket. We are excited to have him come in here and compete."
https://www.vikings.com/news/nate-stanley-vikings-film-breakdown-iowa-qb