Vikings Have 25th Overall Pick in 2020
2 min read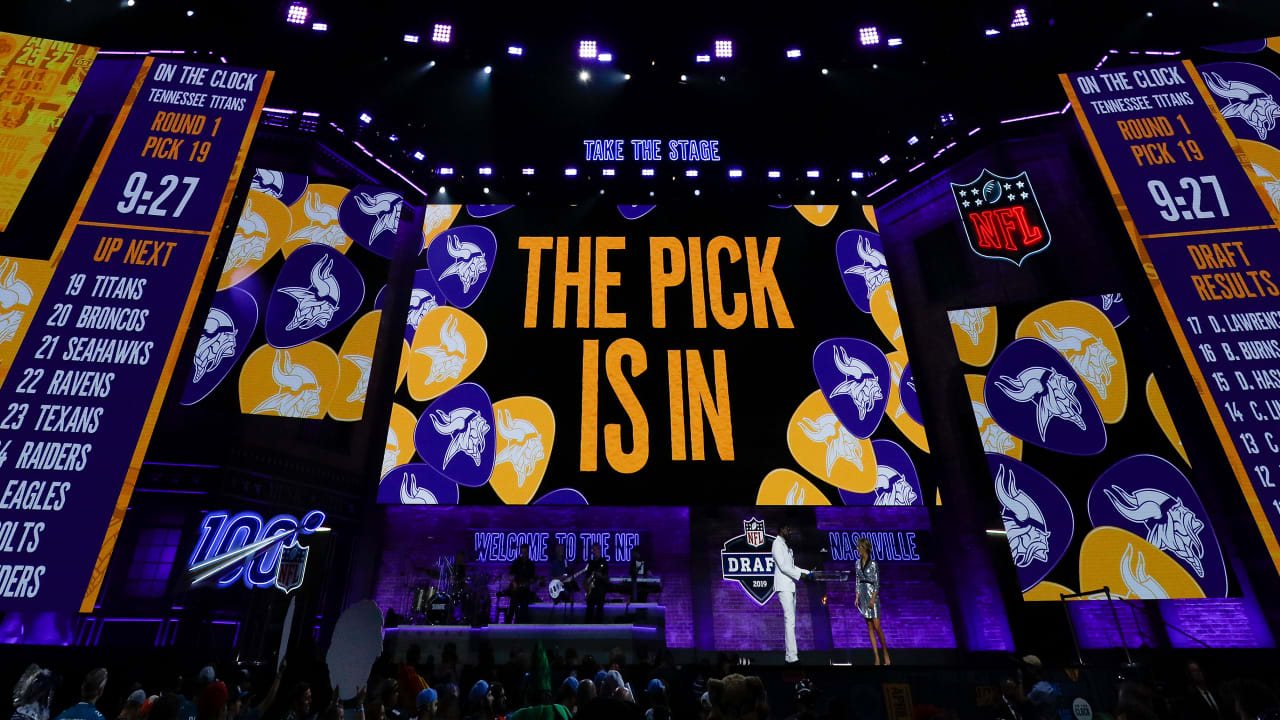 EAGAN, Minn. — The Minnesota Vikings are scheduled to select from the 25th overall spot in the 2020 NFL Draft.
The annual three-day event will be held April 23-25 in Las Vegas.
The draft order for teams that did not make the postseason was finalized when the regular season concluded, based on reverse order of finish.
For the dozen teams that did make the playoffs, draft order is determined by how far a team advances, then followed by reverse order of finish.
The first tiebreaker for teams with identical regular-season records is strength of schedule from the previous season.
Minnesota and Houston both finished 10-6 in the regular season, but the strength of schedule for the Vikings was .477, compared to .520 for the Texans. Miami, which previously acquired Houston's pick in a trade, is now scheduled to pick from the 26th spot.
If the Vikings stay put, it will be the seventh time for the franchise to select from the 25th overall spot. The previous instances were as follows:
1970 John Ward, G, Oklahoma State
1975 Mark Mullaney, DE, Colorado State
1976 James White, DT, Oklahoma State
2000 Chris Hovan, DT, Boston College
2013 Xavier Rhodes, CB, Florida State
Minnesota has one selection in the first, second, third, fourth and sixth rounds and two picks in the seventh round. The overall position of non-first-round picks will be determined in the coming weeks.
The Vikings sent their fifth-round pick to the Ravens for K Kaare Vedvik last August and received a seventh-round selection from the Dolphins in exchange for Danny Isidora in September.
Below is the order for the first round that has been determined so far:
2020 First-Round Draft Order
1. Cincinnati Bengals (2-14)
2. Washington Redskins (3-13)
3. Detroit Lions (3-12-1)
4. New York Giants (4-12)
5. Miami Dolphins (5-11) [.484 strength of schedule]
6. Los Angeles Chargers (5-11) [.514 strength of schedule]
7. Carolina Panthers (5-11) [.549 strength of schedule]
8. Arizona Cardinals (5-10-1)
9. Jacksonville Jaguars (6-10) [.484 strength of schedule]
10. Cleveland Browns (6-10) [.533 strength of schedule]
11. New York Jets (7-9) [.473 strength of schedule]
12. Las Vegas Raiders (7-9) [.482 strength of schedule]
13. Indianapolis Colts (7-9) [.492 strength of schedule]
14. Tampa Bay Buccaneers (7-9) [.500 strength of schedule]
15. Denver Broncos (7-9) [.510 strength of schedule]
16. Atlanta Falcons (7-9) [.545 strength of schedule]
17. Dallas Cowboys (8-8) [.479 strength of schedule]
18. Miami Dolphins from Pittsburgh Steelers (8-8) [.502 strength of schedule]
19. Las Vegas Raiders from Chicago Bears (8-8) [.508 strength of schedule]
20. Jacksonville Jaguars from Los Angeles Rams (9-7)
21. Philadelphia Eagles (9-7)
23. New England Patriots (12-4)
24. New Orleans Saints (13-3)
25. Minnesota Vikings (10-6) [.477 strength of schedule]
26. Miami Dolphins from Houston Texans (10-6) [.520 strength of schedule]
27. Loser of Green Bay Packers (13-3)/Seattle Seahawks (11-5)
28. Baltimore Ravens (14-2)
29. Conference Runner-up with worse record
30. Conference Runner-up with better record
https://www.vikings.com/news/2020-minnesota-vikings-draft-picks