Vikings Mourn Passing of Doug Sutherland
3 min read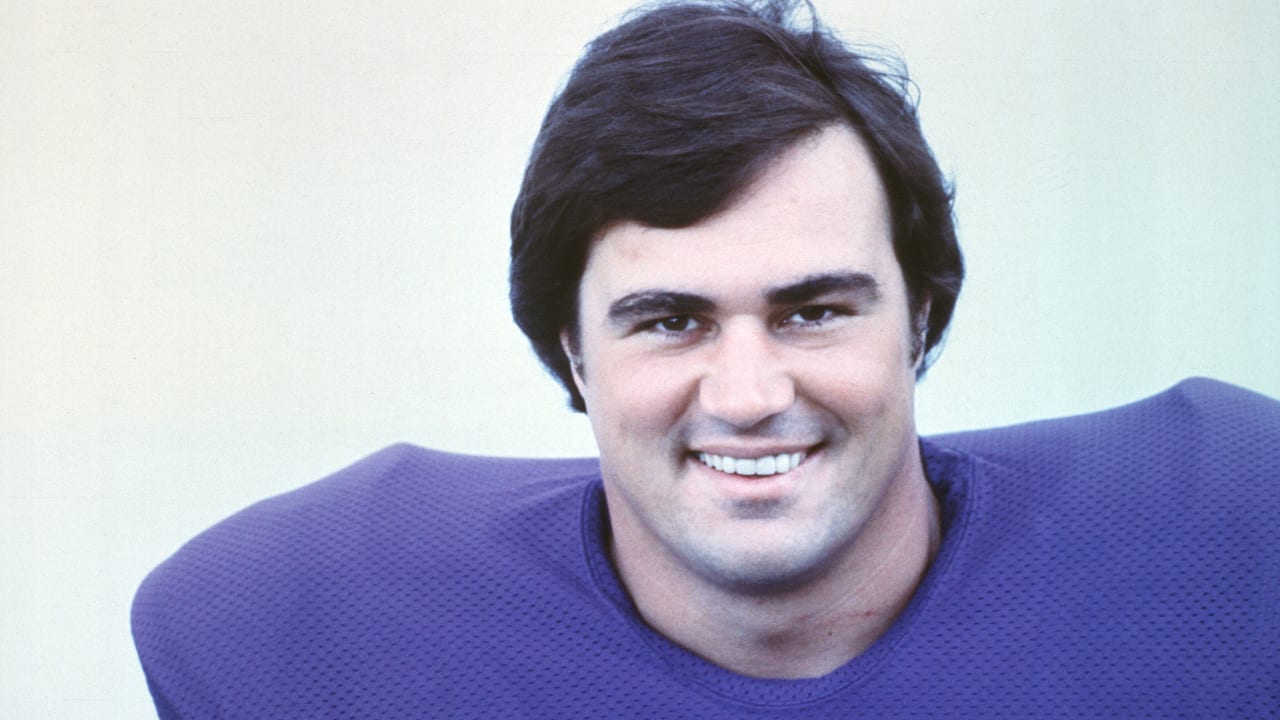 The Saints went 2-11-1 in 1970, their fourth season, which included a 26-0 loss to the Vikings (12-2) in Week 2 with Sutherland observing from the sidelines. He helped New Orleans tie San Francisco in his NFL debut in Week 5.
The following August, New Orleans dealt Sutherland to Minnesota, and he drove the 1,000-plus-mile trek from Saints camp in Hattiesburg, Mississippi, to Vikings camp in Mankato in one day.
Sutherland quipped that he looked at it as going from "the outhouse to the penthouse."
One of the starkest differences Sutherland noticed was the Vikings had more fun and fewer rules in the dormitory — Gage Hall — than the Saints.
The on-field results also contrasted, with Minnesota going 11-3 in Sutherland's first season, compared to the 4-8-2 mark posted by New Orleans.
Sutherland filled in for linebacker Lonnie Warwick due to injury and then stepped in for original Purple People Eater Gary Larsen to make eight starts in 1974. When Larsen retired following that season, Sutherland joined the likes of Page, Carl Eller and Jim Marshall and made every start in each of the next four seasons.
"When Gary Larsen left, Doug Sutherland came in and was the perfect fit. There was no drop off in play," Grant said. "When I think of the Purple People Eaters, I always think of Doug Sutherland as part of that group. He was a very good football player and an equal part of the Purple People Eaters. Playing with those three guys elevated his play, his position and his value."
Eller described Sutherland as "energetic, a go-getter, a great teammate and a guy who really loved to play football."
"He was an impact player for us and very tough. Away from the field, he had a great family and was always involved in events," Eller said. "He would always attend when you invited him to something, and he did a lot of great work around his hometown area. He was a hero there."
Sutherland and Scott Studwell carried Marshall off the field after the defensive end's final home game in December 1979.
"Doug was one of those grinders. He was a great man on and off the field. Doug was an unsung hero," Studwell said. "He did all the dirty work up front. He did his job and went about his business. Doug was very likeable, friendly, smart and fun to be around. He was a lunch-pail guy and he was a team guy all the way. Doug was a very solid player who was not flashy but always got the job done. It was never personal for him. He will be missed by all."
Defensive lineman "Benchwarmer" Bob Lurtsema, who roomed with Sutherland for five years, said "Doug was a great, great guy."
"He had integrity beyond anyone's imagination," Lurtsema said. "He was naturally strong and didn't make any mistakes and always had to be double-teamed. Doug will be missed everywhere, especially in the Duluth area because he was so approachable, so warm and comfortable to talk to. I couldn't love a man any more than I loved 'Sudsie.' "
In 1980, Sutherland capped his run with the Vikings by starting 14 of 16 games. Over 10 seasons with Minnesota, Sutherland totaled 484 tackles (343 solo) and 26.5 sacks. He helped the Vikings rank in the top-10 on defense in five seasons.
Sutherland finished his NFL career in Seattle, playing in 16 games for the Seahawks and his former Vikings defensive line coach Jack Patera in 1981.
He returned to the shore of Lake Superior, coaching for five seasons at his alma mater, and launched a successful real estate career in 1989.
Sutherland participated in numerous Vikings community initiatives over the years.
He teamed up with Grant in February 2016 to present a pair of gold footballs to Superior High School as part of the NFL's High School Honor Roll program in conjunction with Super Bowl 50 to honor nearly 3,000 players or head coaches at more than 2,000 high schools. (Grant had played for now-closed Superior Central; Sutherland was a member of Superior High School's first graduating class).
Sutherland also helped celebrate the opening of U.S. Bank Stadium by joining Eller, Larsen, Page and Marshall to introduce the SKOL Chant on Sept. 18, 2016, in the venue's Inaugural Game.
https://www.vikings.com/news/doug-sutherland-legend-memoriam