Vikings-Seahawks Final Thoughts Week 5
3 min read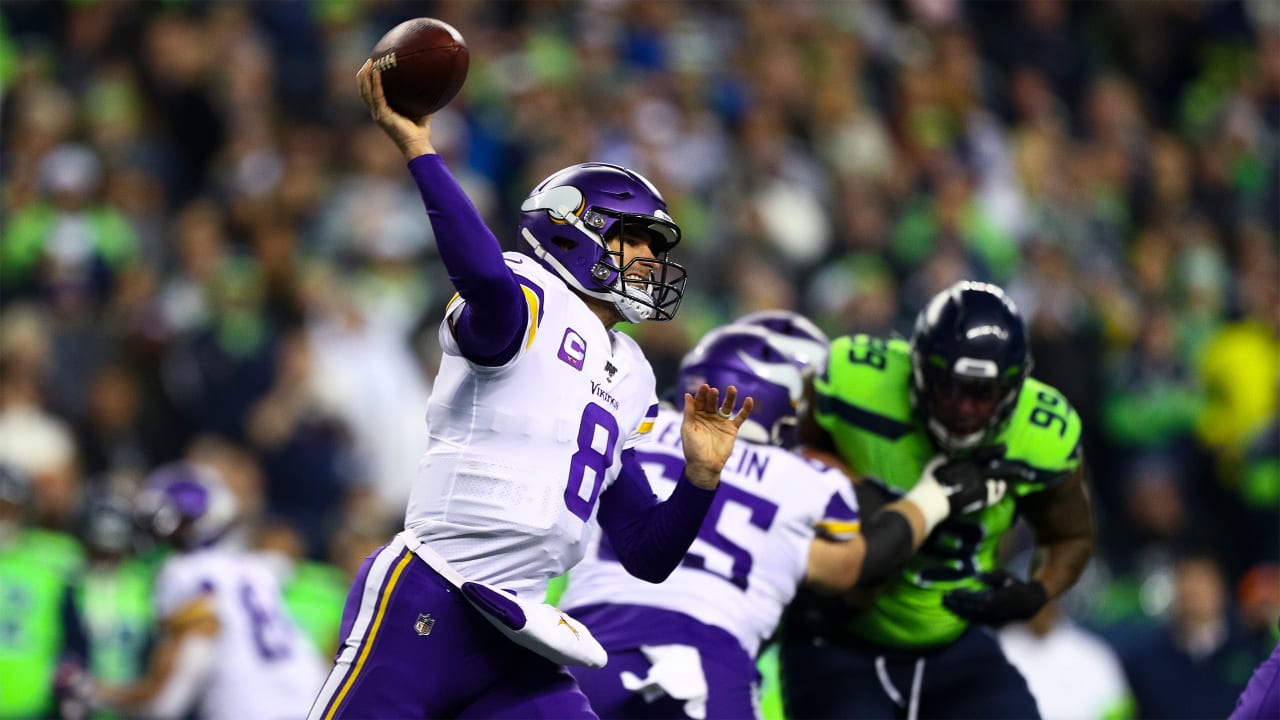 The Vikings and Seahawks have met four times since Minnesota hired Mike Zimmer as head coach and have lost all four (including the brutally cold ending of the playoff game in the brutal cold).
The scores have been 38-7, 10-9, 21-7 and 37-30, but regardless of how close or far the teams were by the end of the game, each of those games had a tumultuous sequence for Minnesota that allowed Seattle to separate or bounce back from a deficit.
Dec. 6, 2015 in Minnesota: The Vikings trailed 7-0 with two-plus minutes left in the first half, but the Seahawks broke the game open with a pair of touchdowns in the final 2:11 of the second quarter. Wilson rushed for an 8-yard touchdown on third-and-goal from the Minnesota 7-yard line. Teddy Bridgewater was intercepted five plays later by Earl Thomas. A 25-yard return and 15-yard face mask penalty placed the ball at the Minnesota 20. Wilson threw a touchdown to Doug Baldwin on the next snap for a 21-0 lead.
Jan. 10, 2016 in Minnesota: Plodding through the third-coldest game in NFL history, Minnesota built a 9-0 lead through three quarters. Wilson recovered his own fumble and returned to his feet in one motion, avoiding a sack and turning what should have been a 16-yard loss by any other QB on the planet into a 35-yard completion to Tyler Lockett thanks to a blown man-coverage assignment. The Seahawks scored the game's only touchdown two plays later. A fumble by Adrian Peterson two plays after that positioned Seattle for the go-ahead field goal.
Dec. 10, 2018 in Seattle: The Vikings trailed 6-0 after missing a 47-yard field goal with 5:46 to play. Two plays later, Wilson got loose for a 40-yard run that led to a 2-yard touchdown run by Chris Carson with 2:53 remaining. Two plays after that, Kirk Cousins was sacked and stripped of the football by Jacob Martin. Justin Coleman returned the turnover 29 yards for a touchdown with 2:35 left in the game.
Dec. 2, 2019 in Seattle: The Vikings led 17-10 at halftime before a disastrous third quarter. One play after Seattle tied the game with an impressive drive, Cook fumbled at the Minnesota 26, which led to a field goal. Seattle threw a 60-yard TD pass to David Moore on its next drive. Two plays after that, Cousins was intercepted by Tre Flowers, which set up another scoring pass (Wilson to Rashaad Penny) for a 34-17 lead.
In Minnesota's three losses this season, they've had lapses of complementary football for periods of the game. Things got a little dicey last week as well. The bottom line is avoiding bad stretches against teams that can put together good stretches is important.
Cook has nine 100-yard rushing performances in his career, including in back-to-back weeks against Tennessee and Houston.
The Vikings running back, and the rest of Minnesota's offense, will face perhaps their toughest test yet in the Seahawks, who rank third in the NFL by allowing just 75.8 rushing yards per game. Seattle has yet to allow a 100-yard rusher this season.
Cook has had his ups and downs in Seattle the past, as he has 22 carries for 84 yards and a score, but he has also lost a fumble and exited the 2019 tilt early with an injury.
The Vikings will once again look to Cook to be the focal point of their offense Sunday, but a stout Seattle defense awaits.

https://www.vikings.com/news/seahawks-final-thoughts-week-5