Vikings Set to Host Seahawks for 2021 Home Opener
2 min read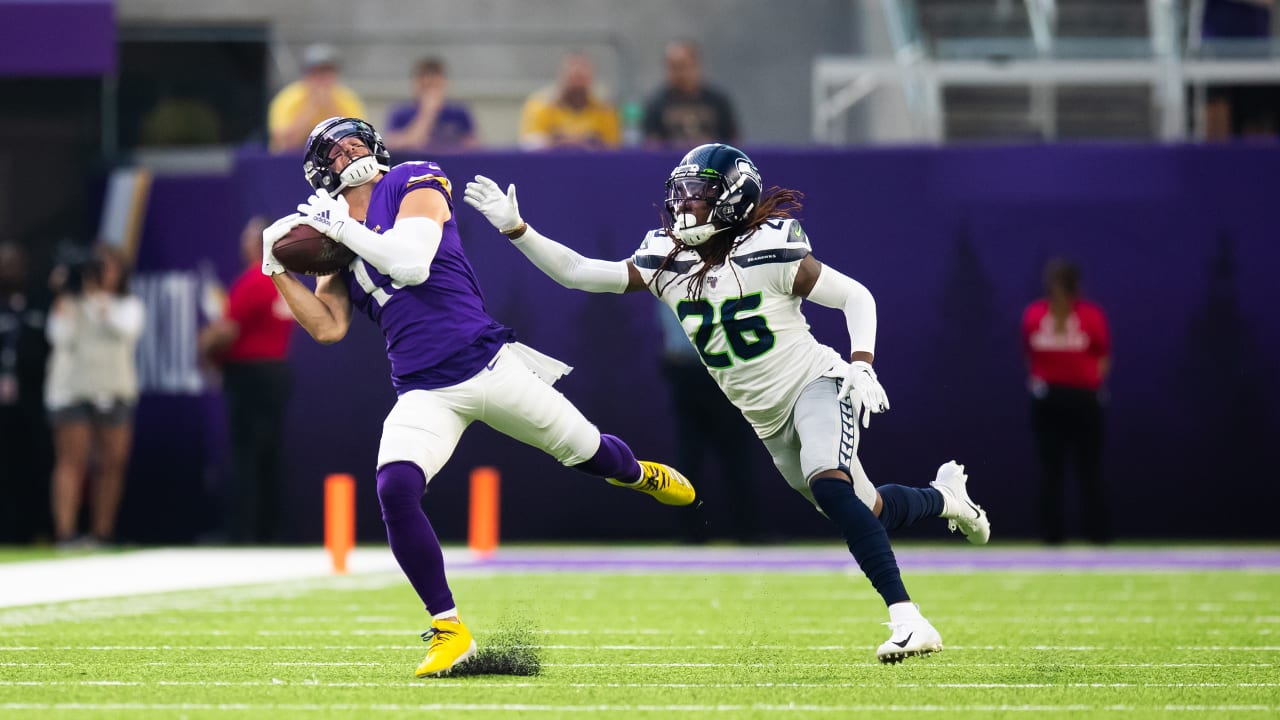 Former LSU Tigers teammates include the following players: Vikings DE Danielle Hunter and Seahawks S Jamal Adams (2014); Vikings WR Justin Jefferson and Seahawks G Damien Lewis (2018-19); Vikings CB Patrick Peterson and Seahawks DT Al Woods (2008-09).
Minnesota S Camryn Bynum and Seattle T Jake Curhan at Cal
Vikings TE Chris Herndon and WR K.J. Osborn teamed with Seahawks RB DeeJay Dallas and RB Travis Homer at Miami.
Minnesota C Mason Cole and S Josh Metellus at Michigan with Seattle DL Bryan Mone
Vikings LB Troy Dye and Seahawks S Ugo Amadi at Oregon
Minnesota T Blake Brandel and Seattle QB Jake Luton at Oregon State
Vikings S Kris Boyd at Texas with Seahawks DT Poona Ford and P Michael Dickson
VIKINGS TOP PERFORMERS VS. SEAHAWKS
Kirk Cousins: 5 games (1-1 with Washington, 0-3 with Minnesota); 111-of-177 passing, 62.7 completion percentage, 1,263 passing yards, 7 TDs, 92.5 passer rating
Dalvin Cook: 3 games; 39 rushes for 149 yards and 2 TDs; 13 receptions for 87 yards and 1 TD
Adam Thielen: 3 games; 14 receptions for 150 yards and 2 TDs on 20 targets
Danielle Hunter: 3 games; 11 tackles (7 solo), 2.0 sacks
Eric Kendricks: 4 games; 32 tackles (17 solo), 1 INT, 1 pass defended
Patrick Peterson: 19 games (all with Arizona); 55 tackles (48 solo), 3 INTs, 9 passes defended
VIKINGS BIG DAYS VS. SEAHAWKS
Kirk Cousins: 27-of-39 passing for 249 yards with 2 TDs for a passer rating of 92.8 on Oct. 11, 2020
Adam Thielen: 9 receptions for 80 yards and 2 TDs on Oct. 11, 2020
Alexander Mattison: 20 carries for 112 yards and 3 receptions for 24 yards on Oct. 11, 2020
Danielle Hunter: 5 tackles, including a sack on Dec. 2, 2019
VIKINGS-SEAHAWKS SERIES NOTES
1. The Vikings have won just five of 18 contests, including a 10-9 playoff loss, against the Seahawks.
2. The series began in 1976, Seattle's first season, with a 27-21 Vikings victory in Minnesota. The Nov. 14 game marked the return of Benchwarmer Bob Lurtsema, a fan fave who was honored at halftime.
3. Kirk Cousins has thrown for the most yards in a Vikings game against the Seahawks with 276 on Dec. 2, 2019. Daunte Culpepper (2003) and Fran Tarkenton (1976 and 1978) each threw for 274.
Longest Vikings winning streak in series: Two games (Oct. 22, 2006 and Nov. 22, 2009)
Longest Vikings losing streak in series: Seven games (Nov. 4, 2012 – current, including one playoff game)
https://www.vikings.com/news/seahawks-week-3-early-look