Vikings Stumble Out of Gate Against Broncos
3 min read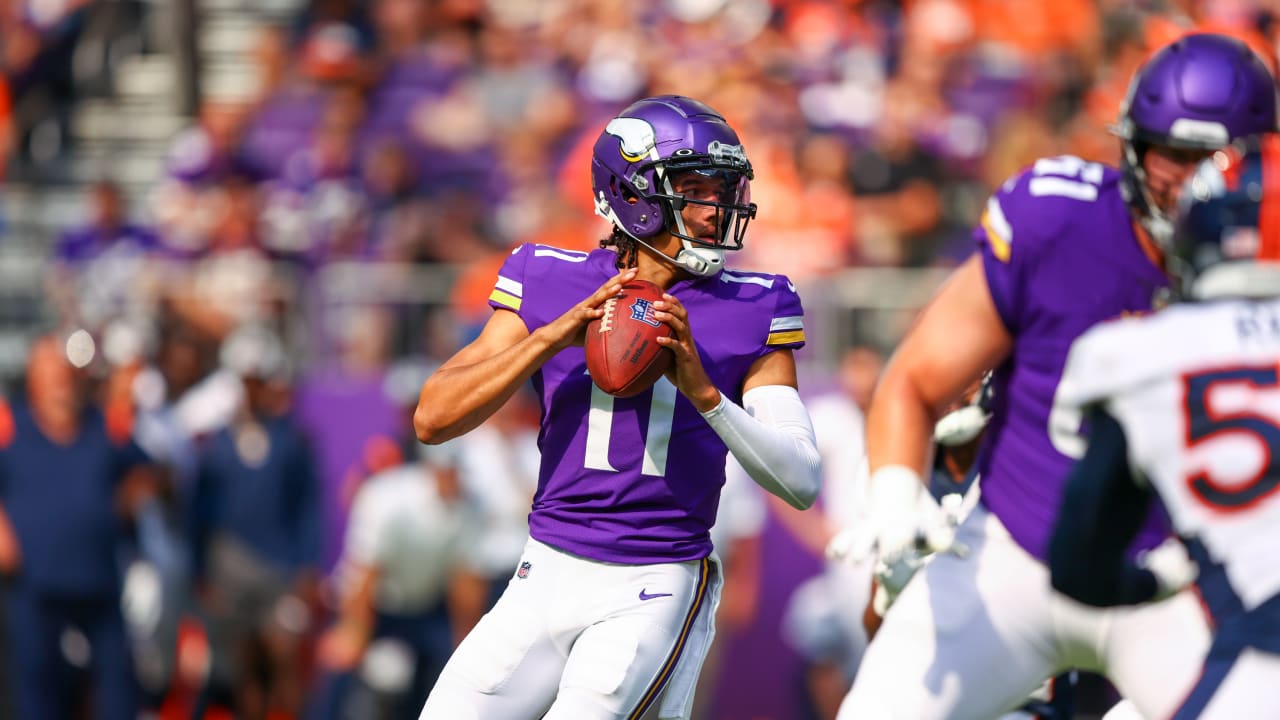 Denver led 26-6 at halftime, not too different from its 20-0 lead back in November 2019.
The Vikings came back and won that one, a key victory toward Minnesota making the playoffs that season. There was no such rally Saturday.
A 62-yard kickoff return by LeVante Bellamy opened the second half and set up a touchdown drive led by Teddy Bridgewater for a 33-6 lead with 10:30 left in the third quarter.
Mond and running back A.J. Rose, Jr., led Minnesota to the Denver 2-yard line on the following possession, but Whop Philyor was unable to secure a throw over the middle on fourth down.
Rose totaled 100 rushing yards on 25 carries.
Vikings rookie running back Kene Nwangwu suffered a knee injury, and linebacker Cam Smith left the game with a concussion. Nwangwu returned one kickoff for 18 yards. Smith played on defense and special teams in his first action since Minnesota's playoff games in January 2020.
The Broncos converted seven of 12 third downs, compared to five of 13 by the Vikings.
Denver outgained Minnesota 387 to 235 and limited the Vikings to 79 yards on the ground.
The Vikings were flagged eight times for a total of 68 yards.
Holding penalty against Dakota Dozier enforced in end zone, resulting in a safety
Old friend returns: Former Viking Shamar Stephen (2014-17; 2019-20) persisted through the play to draw the penalty on Dozier.
KJ Hamler 80-yard pass from Drew Lock (Brandon McManus kicks PAT) [1 play, 80 yards, 0:17 time of possession]
Speedy score: The second-year receiver showed his speed in joint practices and delivered an explosive play by getting past second-year cornerback Cameron Dantzler.
Greg Joseph kicks a 34-yard field goal [11 plays, 61 yards, 5:15 time of possession]
Down the field: The drive was assisted with a 20-yard pass interference penalty on a deep pass to tight end Brandon Dillon but stalled in the red zone when the Broncos had pass breakups on consecutive plays.
Trinity Benson 4-yard pass from Lock (McManus kicks PAT) [10 plays, 85 yards, 5:14 time of possession]
Third-down woes: The drive was extended when Stephen Weatherly jumped offsides on third-and-4. Denver then converted a third-and-4 with a pass to Jerry Jeudy that gained 33 yards to the Minnesota 22.
Pat Surtain II returns interception of Jake Browning 30 yards (McManus kicks PAT)
Quick pick: The ninth overall pick of the 2021 NFL Draft cut inside an out route by rookie receiver Ihmir Smith-Marsette.
McManus kicks a 34-yard field goal [10 plays, 50 yards, 6:15 time of possession]
Reunion tour: Teddy Bridgewater completed his first two passes against the team that drafted him in 2014, connecting with TE Eric Saubert for gains of 6 and 22 yards. A 12-yard scramble by Bridgewater for a score was negated by a hands-to-the-face penalty.
Joseph kicks a 25-yard field goal [12 plays, 69 yards, 2:49]
Spark and scramble: Kellen Mond led the Vikings on a crisp drive with help from A.J. Rose (18-yard reception) and Ameer Abdullah (runs of 9 and 12 yards). The rookie also scrambled for a gain of 8 to put the ball at the Denver 6-yard line.
Benson 4-yard pass from Bridgewater (McManus kicks PAT) [7 plays, 40 yards, 4:30 time of possession]
Short field: The Broncos took over at the Vikings 40-yard line after a 67-yard kickoff return by LeVante Bellamy. Runs by Damarea Crockett gained 5, 4 and 5 yards before Bridgewater connected with Benson for a gain of 17.
https://www.vikings.com/news/vikings-stumble-out-of-gate-against-broncos