Vikings Yield Results by Grouping Jefferson &…
3 min read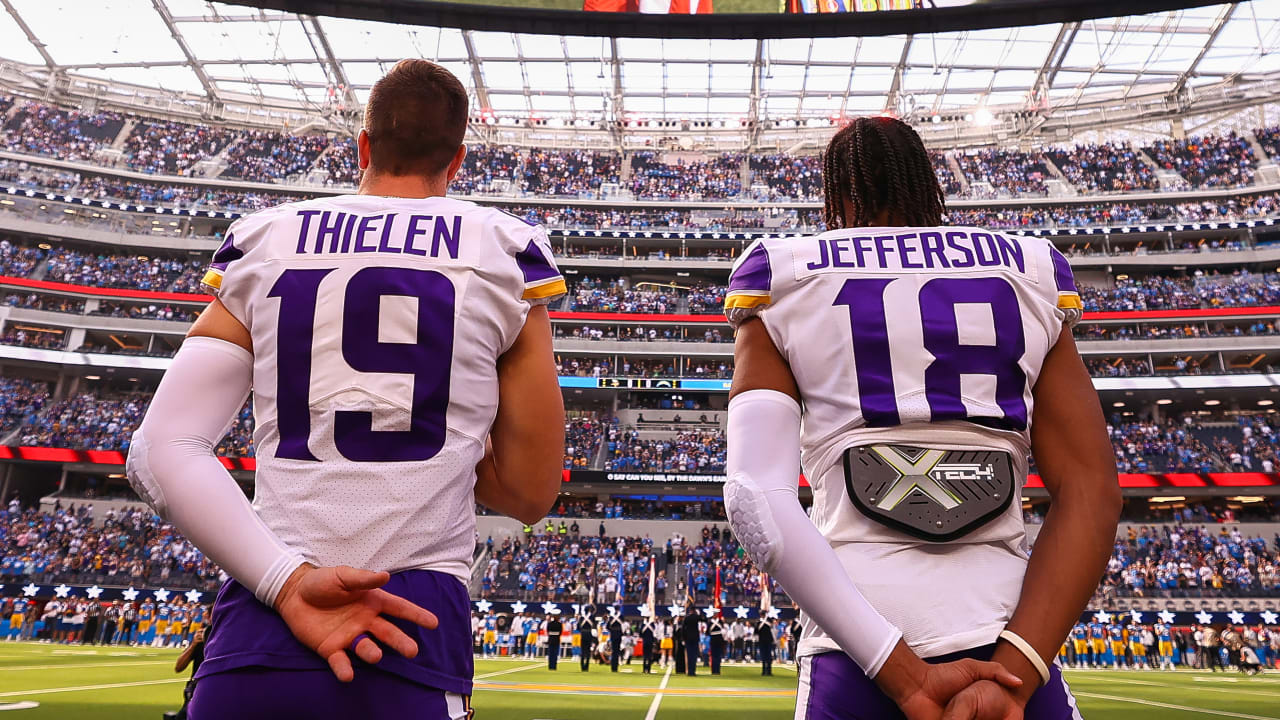 EAGAN, Minn. — There's a lot of talk about where Justin Jefferson and Adam Thielen rank among receiving tandems in the NFL.
Numbers certainly back it up.
Jefferson (63 receptions, 944 yards and six touchdowns) and Thielen (58 receptions, 624 yards and eight touchdowns) are the only two receivers on the same team in the top 13 in receptions and the only duo with at least six receiving touchdowns in 2021.
Together, they've combined for 121 receptions, 1,568 yards and 14 scores.
A big part of their numbers increasing last Sunday was the way that Minnesota had them work in tandem on the same side of formations.
Either lining up near each other directly out of a huddle or winding up in proximity after a pre-snap motion, Jefferson and Thielen hauled in passes from Kirk Cousins, who finished the game 24-of-34 passing for 341 yards with three scores and a passer rating of 128.4.
Jefferson (eight catches for 169 yards and two scores) and Thielen (eight catches for 82 yards and one score) took turns delivering big plays and giving Packers defenders plenty to think about before snaps and during live action.  
Jefferson and Thielen were on the same side of the offensive line for multiple plays, including a 56-yard completion to Jefferson, a 10-yard touchdown to Thielen, a 15-yard pass to Tyler Conklin and a 23-yard touchdown to Jefferson.
We asked Thielen, Cousins and Offensive Coordinator Klint Kubiak about the effects of the two-man game on the offense and Head Coach Mike Zimmer about what strains it can place on defenders.
Here's what they had to say.
"I think it's important to kind of move us around like that and put us on the same side. I think sometimes teams, if we're on opposite sides, they can just cloud coverage, double-double, things like that they can do to just take us away, so the more that — the coaches obviously do such a great job of putting us in good positions to cause stress on the defense. We've done that a lot and had some success with it, so I would imagine we'll do more of it moving forward. I think it's a good change-up and makes teams have to adjust." 
"I think it's just trying to be varied. I don't think we try to overdo that or not do it at all. I think it's something you sprinkle in and see how defenses choose to defend it. You ultimately just sort of react to how they're being defended and go where your reads take you."
"Those guys, between those two and K.J. [Osborn], just have so much confidence in their ability. They're very intelligent players. You can move them around within a series, you can make quick adjustments, and that just speaks to their football temperament and [receivers] Coach [Keenan] McCardell getting them ready to play in a lot of spots."
"Well, sometimes if they're both on the same side, then they can overload the coverage to that side. If they don't, you're going to get some kind of single. If they are overloading the coverage, you're going to see there's four guys to the other side and one guy to the backside. But they played a lot of zone [Sunday]. They got into some, late, got into some man-to-man stuff, rolled to Justin a couple times. But they kind of played what they played."
https://www.vikings.com/news/working-in-tandem-vikings-yield-results-by-grouping-jefferson-thielen