Von Miller sacks 50th quarterback of his career,…
2 min read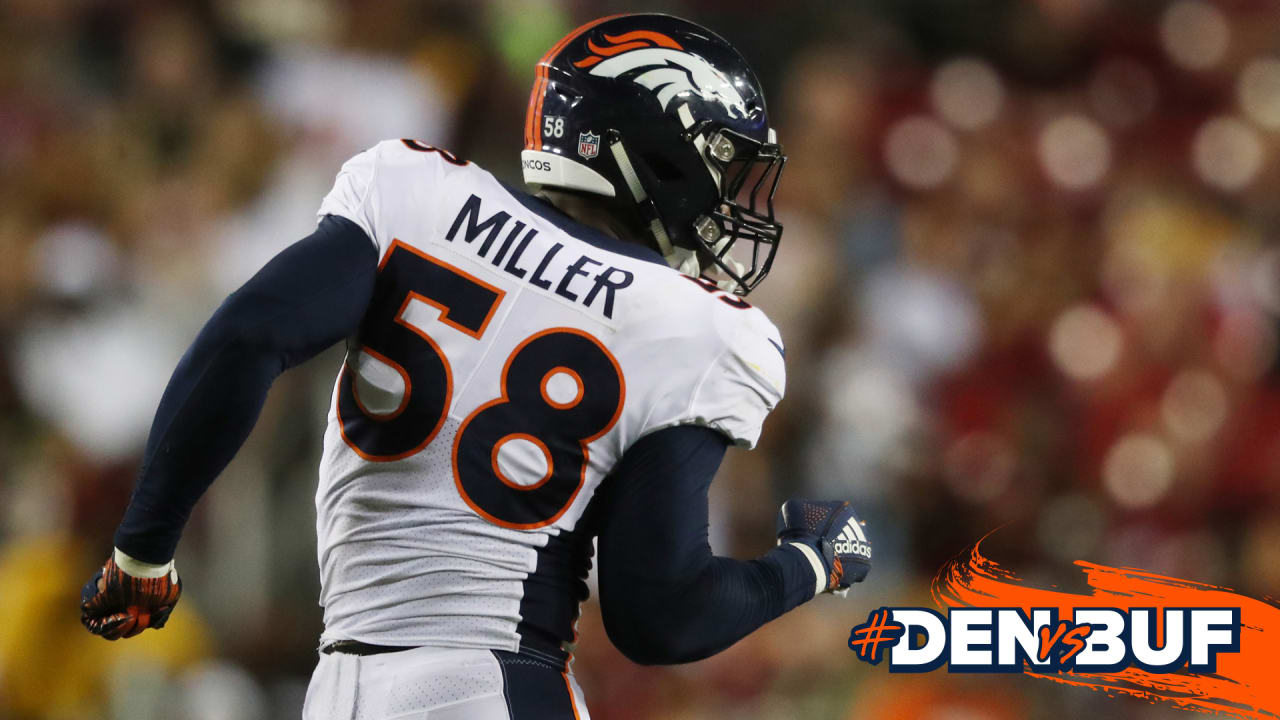 ENGLEWOOD, Colo. — When Von Miller took down Kirk Cousins in the first quarter of Sunday's game against the Vikings, he added another name to a long list of quarterbacks.
In his nine NFL seasons, Miller has now sacked 50 different quarterbacks.
From Philip Rivers — whom Miller has sacked 16 times, the most of any quarterback on his list — to Cousins, it's a group that contains a number of Pro Bowlers and Super Bowl winners.
"I didn't even know," Miller said Thursday about his accomplishment. "I'm like, 'bruh.' I didn't even know. I'm not even keeping count how many quarterbacks I sacked. It's tough to keep up with all the quarterbacks. You've got 32 teams and they have a constant rotation of quarterbacks.
"To that note, I've had a lot of great teammates. I've had a lot of great games with [DE] Derek Wolfe. If it's 50 quarterbacks, Derek probably helped me with 40 of those. Having great players and great defensive coordinators and great teammates around me has been incredible. … There's no way you could sack 50 quarterbacks without great team effort. I'm pretty excited about that and pretty grateful about that. Let's keep it going."
Miller will aim to add another quarterback to the list when the Broncos travel to face the Bills. He hasn't yet played second-year quarterback Josh Allen, and it won't be easy for No. 58 to make him No. 51.
"He's about 6-foot-6," Miller said. "I don't know how much he weighs, but he's got a mean stiff arm, especially going to his right. I hate making player comparisons. I hate when people compare people to me and I hate comparing people to other players and stuff, but the guy's got a lot of — I don't even want to say like [Panthers QB] Cam Newton or anything like that because Josh Allen is his own player. He is definitely up there as one of the most [difficult to tackle]. I wouldn't even say elusive because guys are getting on him, but they're not able to take him down. He's definitely a tough tackle, and he's definitely a special talent. I don't want to make any players comparisons. He's a unique player, he's able to throw the ball down the field, got a strong arm and got a great group of receivers and running backs around him. It's going to tough for us out there in Buffalo."
https://www.denverbroncos.com/news/von-miller-sacks-50th-quarterback-of-his-career-can-add-josh-allen-to-list-in-bu