Week 12 at Houston Texans
5 min read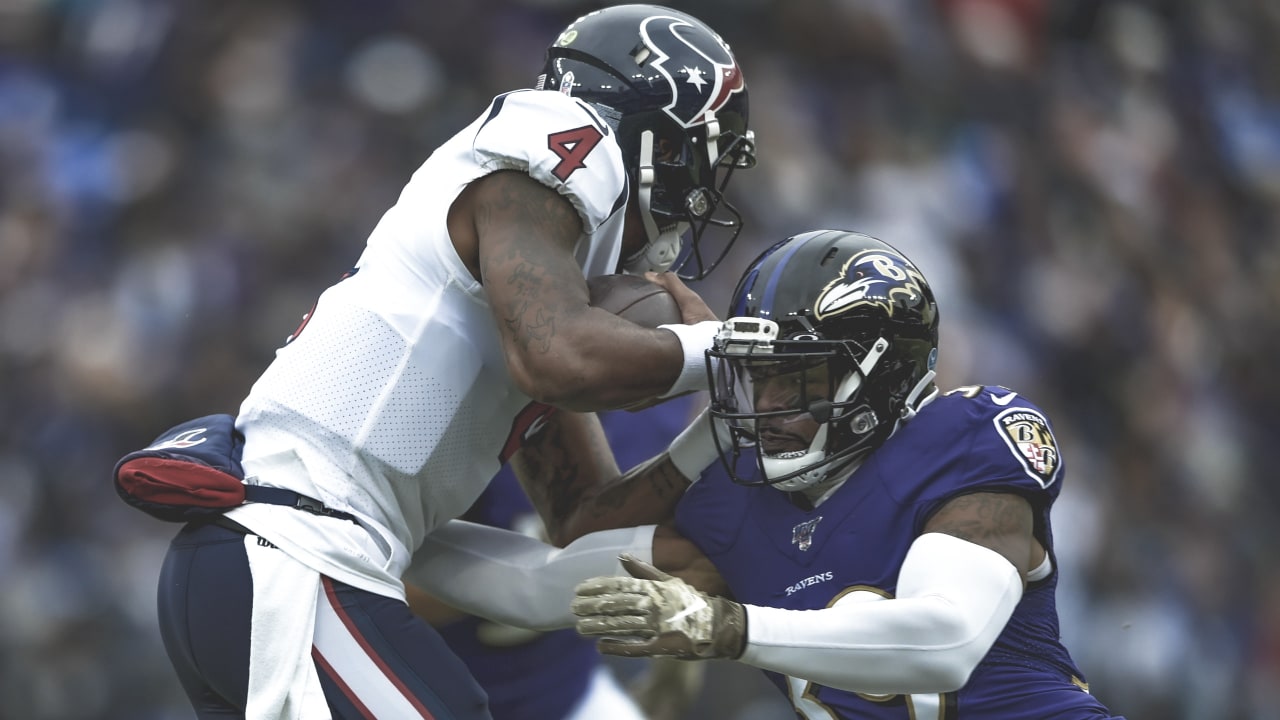 THIS WEEK
When facing the Texans, all attention first points to Watson. In four career games against the Colts (including playoffs), the Colts have had both good and bad outings against him. Watson averages 27.0-of-40.8 passing (66.7 percent) for 296.3 yards (7.5 YPA), 5.5 carries for 46.0 yards (8.5 avg.), and a total of six touchdown, four interceptions and 18 sacks.
Hopkins, Stills, Coutee, Johnson and tight end Darren Fells will continue to be his primary pass-catchers, but Fuller V will be a game-time decision.
The Colts' pass defense has been on a roll lately as they haven't allowed 300 net passing yards in a game since Week 3. In their last six games, they have 16 sacks and five interceptions, applying consistent pressure and being opportunistic to take the ball away. Individually, in the last six games, Colts defensive end Justin Houston has a sack in each game (7.0 total in that time).
In Week 7 against the Colts, Watson went 23-of-34 passing (67.6 percent), for 308 yards (9.1 YPA) with one touchdown, two interceptions (Pierre Desir and Darius Leonard) and was sacked three times (Houston [2], Sheard). Hopkins caught nine passes for 106 yards (11.8 avg.) and a touchdown, and Stills caught four balls for 105 yards (26.3 avg.).
QB Deshaun Watson — 69.5 percent completions, 2,601 yards, 7.9 YPA, 18 TD, 6 INT, 31 sacks
WR DeAndre Hopkins — 75 catches (104 targets), 745 yards (9.9 avg.), 4 TD
WR Will Fuller V — 34 catches (49 targets), 450 yards (13.2 avg.), 3 TD
WR Kenny Stills — 26 catches (35 targets), 394 yards (15.2 avg.), 1 TD
TE Darren Fells — 25 catches (34 targets), 263 yards (10.5 avg.), 6 TD
With normal starting running back Lamar Miller going down with a season-ending ACL/MCL injury in the preseason, Hyde, the, newcomer has been a very pleasant surprise. He is on pace for a career high in rushing yards, has a pair of 100-yard rushing game to his name this year and is averaging nearly five yards per carry. Watson and Johnson have offered a nice change-of-pace to Hyde's between-the-tackles style, displaying their speed and often picking up yardage outside the numbers.
As good as the Colts' pass defense has been at times, their run game has been even better. Since Week 5, they are only allowing 73.0 rushing yards per game, and they've allowed 100 yards to opposing teams just twice in that times.
In Week 7, the Colts contained the Texans pretty well as Hyde led Houston with 12 carries for 35 yards (2.9 avg.), Johnson has seven carries for 34 yards (4.9 avg.), and they ran for 100 yards (4.2 avg.) on 24 carries with a touchdown as a team.
RB Carlos Hyde — 158 carries, 769 yards (4.9 avg.), 4 TD
RB Duke Johnson — 60 carries, 327 yards (5.4 avg.), 1 TD
QB Deshaun Watson — 55 carries, 291 yards (5.3 avg.), 5 TD
WR Keke Coutee — 2 carries, 14 yards (7.0 avg.), 1 TD
Jacoby Brissett returned to the lineup for the Colts in Week 11 after missing the last game-and-a-half with a sprained MCL, and they got back on the winning side of things. The Colts leaned primarily on the run game, but Brissett was efficient given his depleted receiving corps and scored two red-zone touchdowns. Overall, Brissett has been deadly in the red zone this season and leads the Colts' eighth-ranked red-zone offense (63.2 percent). T.Y. Hilton (calf) and Devin Funchess (IR-clavicle)'s statuses are still up in the air, but the grouping of Zach Pascal, Eric Ebron, Jack Doyle and Nyheim Hines has been reliable for Brissett in their absence.
Houston's pass defense has struggled this year, ranking near the bottom of the NFL in sacks, passing touchdowns allowed, interceptions and overall pass defense. However, starting cornerback Bradley Roby (hamstring) is a game-time decision and could be making a comeback for them this week.
Brissett had arguably the best game of his career against the Texans back in Week 7, going 26-of-39 passing (66.7 percent) for 326 yards (8.4 YPA), four touchdowns, and was sacked just once. His yards, passing touchdowns and 126.7 passer rating were all single-game career highs; he was named the AFC's Offensive Player of the Week for his efforts. Pascal had his best day as well, catching six passes for 106 yards (17.7 avg.) and two touchdowns. Hilton added six catches for 74 yards (12.3 avg.) and a touchdown while Ebron had a big day also with four catches for 70 yards (17.5 avg.) and a score.
In the Colts-Texans Week 7 matchup, Houston defensive lineman J.J. Watt put up a team-high 89.6 grade according to Pro Football Focus, including an incredible 12 pressures on Brissett. Unfortunately for Houston, Watt has since been knocked out for the season with a pectoral injury, so the Colts have the benefit of him not wreaking havoc on them.
QB Jacoby Brissett — 64.6 percent completions, 1,797 yards, 6.9 YPA, 15 TD, 4 INT, 15 sacks
TE Eric Ebron — 27 catches (47 targets), 331 yards (12.3 avg.), 3 TD
WR T.Y. Hilton — 32 catches (46 targets), 360 yards (11.3 avg.), 5 TD
WR Zach Pascal — 23 catches (40 targets), 364 yards (15.8 avg.), 4 TD
RB Nyheim Hines — 30 catches (40 targets), 242 yards (8.1 avg.)
Houston's run defense is the better part of that unit, but it's far from perfection. Although they've allowed the second-fewest rushing touchdowns, they're ranked near the bottom in opponent rushing yards per carry, run plays of 20-plus yards. They also rank poorly on third down and in the red zone, which features a good dose of the run game.
Houston contained Mack and the Colts' run game in Week 7 as Mack ran for just 44 yards on 18 carries (2.4 avg.) and the team ran for a total of 62 yards on 26 carries (2.4 avg.), but the Colts know they can flip that. The Texans also had a good run defense last year before the Colts came in during the Wild Card Round of the playoffs and put up 200 rushing yards on them, with Mack becoming the first opponent to run for 100 yards against them in the process.
RB Marlon Mack — 192 carries, 862 yards (4.5 avg.), 4 TD
QB Jacoby Brissett — 39 carries, 122 yards (3.1 avg.), 2 TD
RB Jordan Wilkins — 27 carries, 165 yards (6.1 avg.)
RB Nyheim Hines — 25 carries, 77 yards (3.1 avg.), 1 TD
https://www.colts.com/news/houston-texans-quick-scouting-report-week-12-2019