Week 7 Vs. Houston Texans
4 min read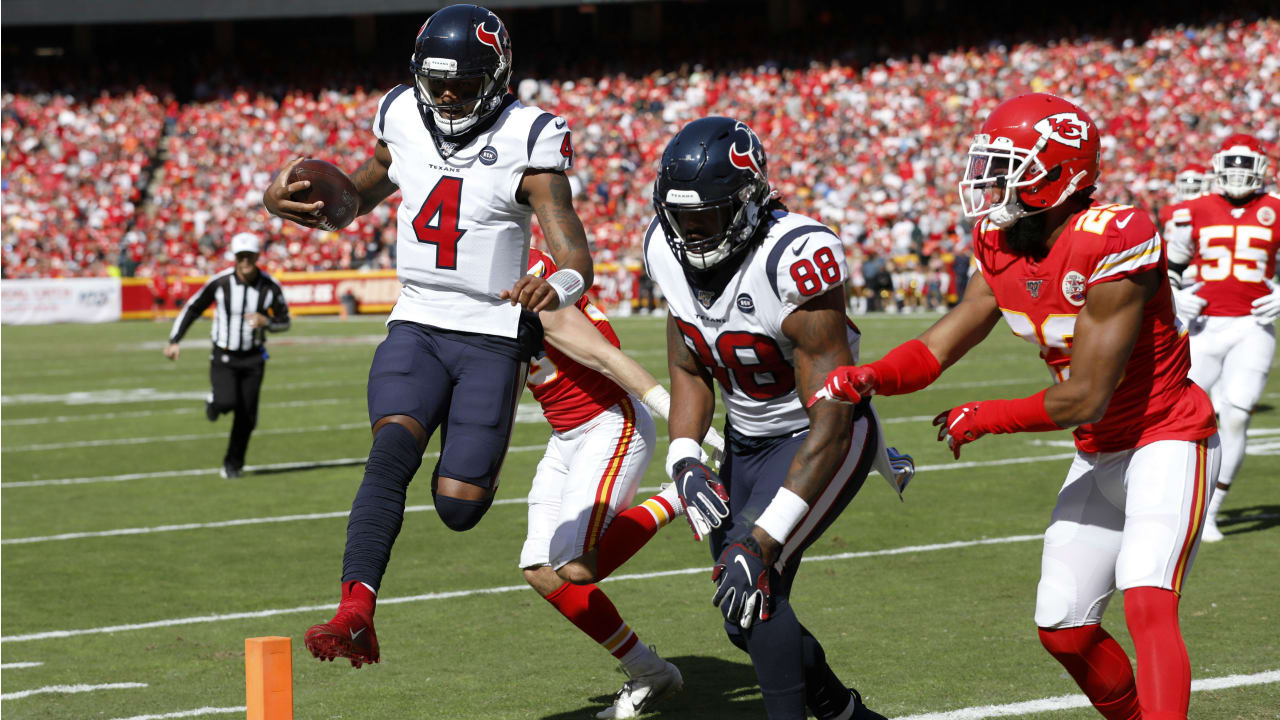 THIS WEEK
Last year's three matchups between the Colts and Texans were full of fireworks. While Watson was under constant duress (he was sacked 15 times by the Colts in 2018), he was productive, averaging 343 yards of offense per game and scoring five total touchdowns. There's not much on paper to suggest this year should be much different. The Colts did a good job against Mahomes in Week 5, and while they know quite a bit about Watson, the same can be said regarding his familiarity with the Colts' defense. Will defensive coordinator Matt Eberflus decide to switch things up and play a larger percentage of man-to-man defense against Watson, like they did against Kansas City in Week 5?
QB Deshaun Watson — 69.7 percent completions, 1,644 yards, 8.2 YPA, 12 TD, 3 INT, 3 sacks
WR DeAndre Hopkins — 40 catches (56 targets), 402 yards (10.1 avg), 2 TD
WR Will Fuller V — 33 catches (48 targets), 444 yards (13.5 avg), 3 TD
TE Darren Fells — 15 catches (20 targets), 159 yards (10.6 avg), 3 TD
TE Jordan Akins — 13 catches (18 targets), 196 yards (15.1 avg), 2 TD
Week 5 was the first time this season the Colts completely shut down the run, so they've got some momentum in that department, especially with defensive end Jabaal Sheard back and healthy. They also could see the return of linebacker Darius Leonard after he missed three games with a concussion, so that could be an enormous shot in the arm for them as a unit, especially with how hungry he likely will be to make an impact. The Colts added some beef up front recently in defensive tackles Carl Davis and Trevon Coley, so run defense should be an area in which they excel.
Before last week, the Texans' leading rusher over the prior three games never had more than 60 yards, so it's not been something where they have one incredible runner. They are truly a running team, so the Colts have to stay disciplined in the middle of the field as well as containing the edges.
RB Carlos Hyde — 99 carries, 426 yards (4.3 avg), 3 TD
RB Duke Johnson — 37 carries, 239 yards (6.5 avg)
QB Deshaun Watson — 32 carries, 164 yards (5.1 avg), 5 TD
It's nearly impossible to predict which Colts' passing offense will show up on a weekly basis because so much of it depends on if the run game is clicking. If the Colts are holding the advantage on the ground then the passing game can become just a supplemental part of the offense. Regardless, what we do know about the Colts' passing game is that it's efficient (nearly 65-percent completions), methodical (just 6.4 yards per attempt) and equal-opportunity (12 different receivers have caught multiple passes). Teams can key in on T.Y. Hilton all they want, but Brissett isn't afraid to pull the trigger for his other pass-catchers.
While the Colts will always want to establish the run, they could feasibly have a big game through the air this Sunday as Houston ranks 24th against the pass and are 23rd in red-zone scoring allowed, where Brissett has excelled as a passer this season. The Colts, who rank tied for second in sacks allowed (six), will need to keep that same protection since Houston can get after the passer, ranking 12th in the NFL with 16 sacks.
QB Jacoby Brissett — 64.7 percent completions, 1,062 yards, 6.4 YPA, 10 TD, 3 INT, 6 sacks
WR T.Y. Hilton — 24 catches (29 targets), 232 yards (9.7 avg), 4 TD
RB Nyheim Hines — 18 catches (21 targets), 120 yards (6.7 avg)
TE Eric Ebron — 9 catches (20 targets), 136 yards (15.1 avg), 2 TD
TE Jack Doyle — 14 catches (20 targets), 128 yards (9.1 avg), 1 TD
Marlon Mack and the running game is the straw that stirs the Colts' drink. In the three games where they've exceeded 100 yards rushing as a team, they're averaging 183.3 yards on the ground. Both Mack (94.0 YPG) and the Colts as a team (142.0 YPG) rank in the top five in rushing yards per game, but it doesn't get much easier for opponents when Mack leaves the field because Nyheim Hines is second on the team in pass targets, and Jordan Wilkins is averaging more than six yards per carry. Expect them to keep trying to establish their dominance up front.
The Texans are respectable against the run, ranking eighth, but you can see some possibilities for the Colts if you read between the lines. For instance, teams only run the ball against Houston 19.8 times per game, which is the second fewest, and they're also near the bottom of the league in run plays of 20-plus yards allowed. The Colts, meanwhile, run the ball 31.8 times per game (fourth-most) and are tied for the sixth-most runs of 20-plus yards (five).
RB Marlon Mack — 101 carries, 470 yards (4.7 avg), 2 TD
QB Jacoby Brissett — 24 carries, 66 yards (2.8 avg), 1 TD
RB Jordan Wilkins — 19 carries, 125 yards (6.6 avg)
RB Nyheim Hines — 13 carries, 30 yards (2.3 avg)
https://www.colts.com/news/houston-texans-quick-scouting-report-week-7-2019