Wes Phillips on Role as Vikings OC & Personnel…
4 min read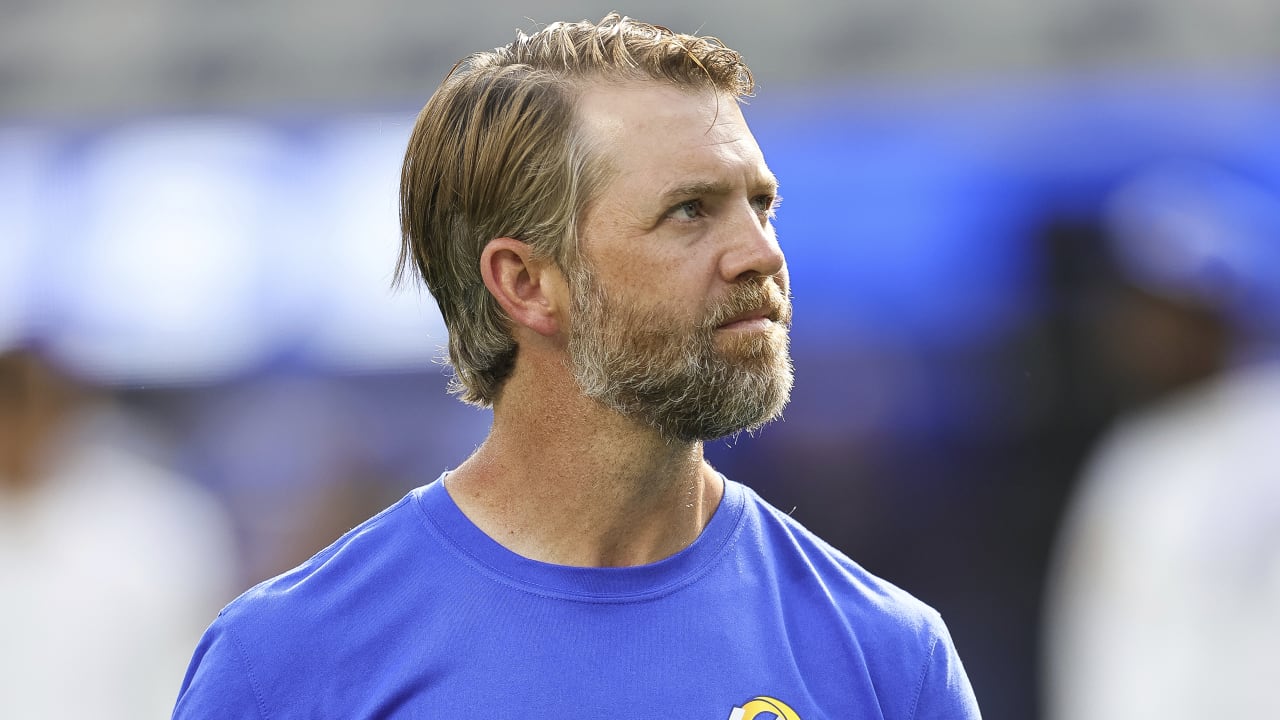 EAGAN, Minn. — The NFL river runs deep in Wes Phillips' family.
The new Vikings offensive coordinator's grandfather O.A. "Bum" Phillips was the head coach of the Houston Oilers and New Orleans Saints. Wade Phillips, famed in the Twitterverse as @sonofbum, was a defensive coordinator or head coach in the NFL for the better part of four decades.
Wes is feeling right at home in Minnesota, relaying an anecdote Thursday in his introductory press conference for how he learned the passion people here have for Vikings football.
Phillips was informed shortly after his hire, which became official Monday, that he'd be asked to participate in an introductory press conference. Part of his preparation included getting a haircut.
"I'm sitting there waiting for a haircut, and people getting haircuts and the people cutting the hair, all they're talking about is the Minnesota Vikings," Phillips said. "I didn't get as much of that in L.A."
Phillips just turned 43 on Feb. 17. His answers to questions illustrated his approach of relating to players as well as his potential philosophies on game days.
"My grandfather was like, 'I'd rather have a guy who wants to do it than who was scared and scared of me and try to make him do it.' These guys understand the 'why,' " he said. "Really, all we're trying to get these guys to understand is why we want to do it, and if they understand the 'why' most of the time, that means they're going to be performing better. They're going to be playing better for themselves, for their team and ultimately, we're going to win more games."
He later emphasized in a follow-up that he believes coaching is just as much about the people as it is the scheme.
Phillips first entered the NFL in 2007 with Dallas. After four seasons as an offensive assistant, he became the Cowboys assistant offensive line coach from 2011-12 before pivoting to tight ends in 2013. He's coached that position group every year since, including in Washington (2014-18) and Los Angeles (2019-21). This past season, he additionally held the title of pass-game coordinator for the Super Bowl LVI Champions with new Vikings Head Coach Kevin O'Connell as the team's offensive coordinator. Phillips and O'Connell also overlapped in Washington for two seasons.
O'Connell, who plans to call offensive plays for the Vikings, highlighted Phillips' experience with multiple positions.
"A really, really good mind from a standpoint of how we want to throw the football and marry it with the running game on early downs," O'Connell said. "But more importantly how to go score. He's been a huge part of building every offensive red zone plan I've had working alongside him over the past few years both in Los Angeles and in Washington.
"I've seen him develop and take good players and make them great and take young players and turn them into really high-quality, starting-caliber players when not a lot of people in the building may have thought that was possible. What does that tell me? He can develop. He can teach. He can lead. He can obviously motivate," O'Connell continued.
The 2021 Rams ranked 23rd in the NFL with 420 rushing attempts and 10th in the league with 607 pass attempts during the regular season, but it yielded results. Los Angeles ranked fifth in passing yards, second in passing touchdowns and seventh in scoring.
Asked directly for his thoughts on the importance of a running game, Phillips said, "I think any coordinator who's good will tell you the running game is important, but I would say that winning the game is most important."
"You're going to play some teams who, scheme-wise, they make it very difficult to run based on their personnel and their scheme," Phillips added. "A guy that comes to mind, Todd Bowles, always had one of the best defenses against the run, and you see a lot of people's press conferences after they play Todd Bowles' defense, and they say, 'Why did you abandon the run, why did you abandon the run?'
"It's like a broken record. Well, there's a reason for that," he continued. "They're daring you to throw it a lot of times, and sometimes that's what you've got to do to win the game, so the running game is certainly important, and you always feel better about staying on track, not being in second-and-longs, third-and-longs [to make sure] more of your playbook is available."
The Rams played the Buccaneers (where Bowles is defensive coordinator) in Week 3 of the regular season and rushed 24 times for 76 yards (including two kneel-downs by Matthew Stafford) but completed 27 of 38 passes for 343 yards and four touchdowns.
A rematch occurred in the Divisional Round of the NFC Playoffs, and the numbers were quite similar as Los Angeles completed the sweep. The Rams rushed 30 times for 73 yards (with a touchdown by Stafford) and completed 28 of 38 passes for 366 yards and two scores.
https://www.vikings.com/news/at-the-onset-wes-phillips-on-role-as-vikings-oc-personnel-possibilities