What are realistic expectations for rookie TE…
4 min read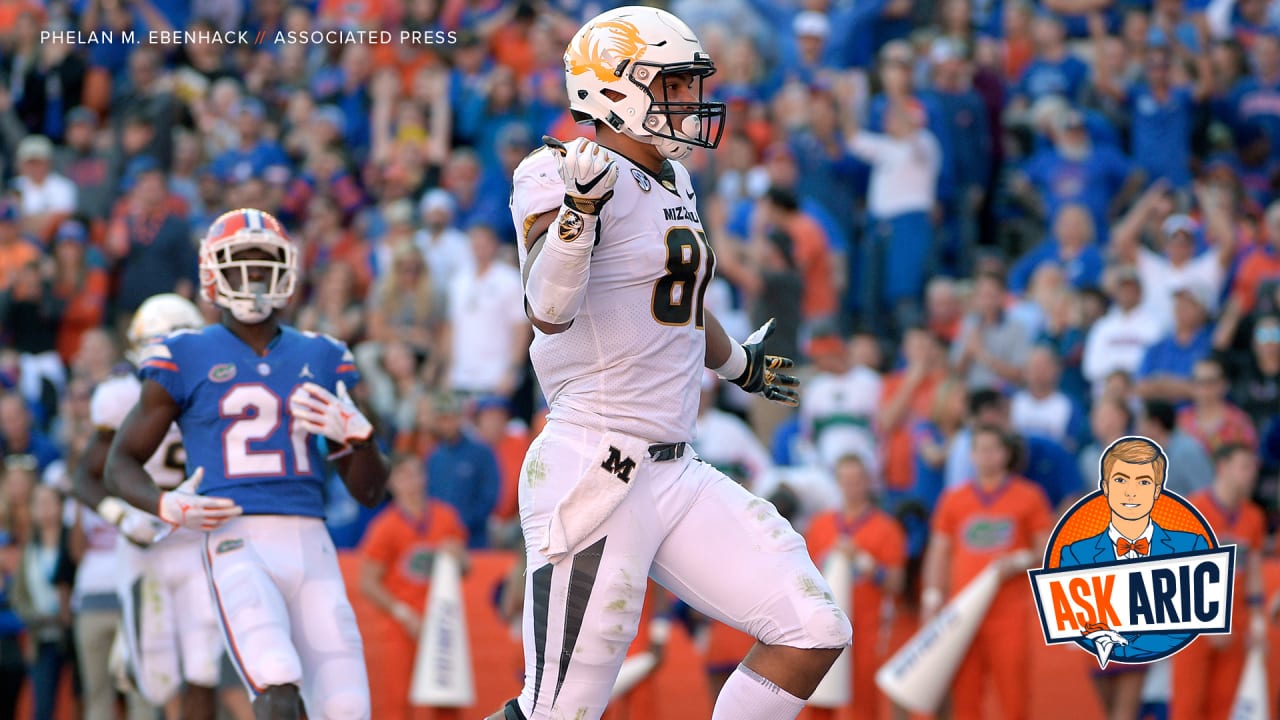 ENGLEWOOD, Colo. —It sure seems like we're getting closer to football.
Commissioner Roger Goodell announced last week that he expects NFL coaching staffs to be able to return to team facilities this coming week, which would be the latest step in reopenings around the country.
As we wait to hear what will come next, let's take a look at some of your questions this week about Denver's linebacking corps, which rookies could contribute and expectations for rookie tight end Albert Okwuegbunam.
If you'd like to ask a question for a future edition of the mailbag, click here.
Will the lack of a strong middle linebacker hurt in the run defense this year? – Allen N.
Allen, I actually feel pretty good about the Broncos' run defense. When Alexander Johnson entered the starting lineup in Week 5 — along with Mike Purcell and the return of Kareem Jackson from injury — the Broncos' run defense jumped to seventh in the league over the season's final 12 games. They held Derrick Henry to just 28 yards in a Week 6 matchup, and Henry later went on to rush for 1,273 yards in an eight-game stretch to end the season. Johnson, a physical 6-foot-2, 255-pound linebacker, added to the team's athleticism at the position and is capable of moving sideline-to-sideline with ease. Todd Davis, who lines up next to Johnson, is a proven veteran who has totaled more than 110 tackles in each of the last two seasons.
My bigger concern is in pass coverage, but there's not many teams that don't have those worries about their linebackers covering a tight end like Travis Kelce. Johnson showed flashes of adeptness in pass coverage last year, especially when the Broncos played zone. He was hobbled late in the season with a knee injury, though, which certainly impacted his play. It's possible fifth-round pick Justin Strnad could help in that area for Denver.
Hi Aric, so we're pretty certain Noah Fant will be our #1 TE. Behind him though are many unproven guys still. Who else do you think has a good chance to have a significant role this year in Pat Shurmur's system? – Erika M.
Erika, I think it's a safe bet that 2020 free-agent addition Nick Vannett will be on the field in run-blocking scenarios. So if the Broncos are near the goal line or Denver is trying to bleed time off the clock at the end of the game, Vannett could get considerable opportunities. I'd expect him to fulfill the role that Jeff Heuerman had in 2019, when he played nearly 40 percent of the team's snaps. Heuerman will compete for a spot on the roster with Albert Okwuegbunam, Andrew Beck, Jake Butt, Troy Fumagalli and a handful of other players. I'd expect Okwuegbunam — a rookie who actually ran his 40-yard dash a split-second faster than Fant — to be on the field with Fant at times or when the Broncos want to give Fant a quick spell. I think Beck seems like a decent bet to earn the fourth roster spot at tight end because of his ability to play fullback when needed.
Last season Tim Patrick made a great return from injured reserve. What do you see as his contribution with Hamler coming in. How do you see the competition stacking up? – David S.
I think hopes for Patrick were high both entering 2019 and when he returned from injured reserve midway through the season. He caught four passes for 77 yards against the Vikings in his first game back from a hand injury, but he caught three or more passes in just three of his seven games after returning from injured reserve. Though he finished the season as the Broncos' No. 2 wide receiver, I wonder if the competition at the position is less about the overall talent of each player and more about finding the right combination. For example, DaeSean Hamilton and KJ Hamler are both slot-type players, so I think it's possible they both compete for reps there. Patrick and seventh-round pick Tyrie Cleveland are bigger bodies who project best on the outside. Therefore, I'm not certain that Hamler and Patrick are going to be competing for snaps. Now, it's always possible that the Broncos weigh a lineup with Courtland Sutton and Patrick on the outside with Jeudy in the slot vs. a lineup with Sutton and Jeudy on the outside and Hamler in the slot. That may be as close as we get to a direct competition between those two players.
https://www.denverbroncos.com/news/mailbag/ask-aric-what-are-realistic-expectations-for-rookie-te-albert-okwuegbunam