Which 49ers Stood Out in the Primetime Matchup vs….
3 min read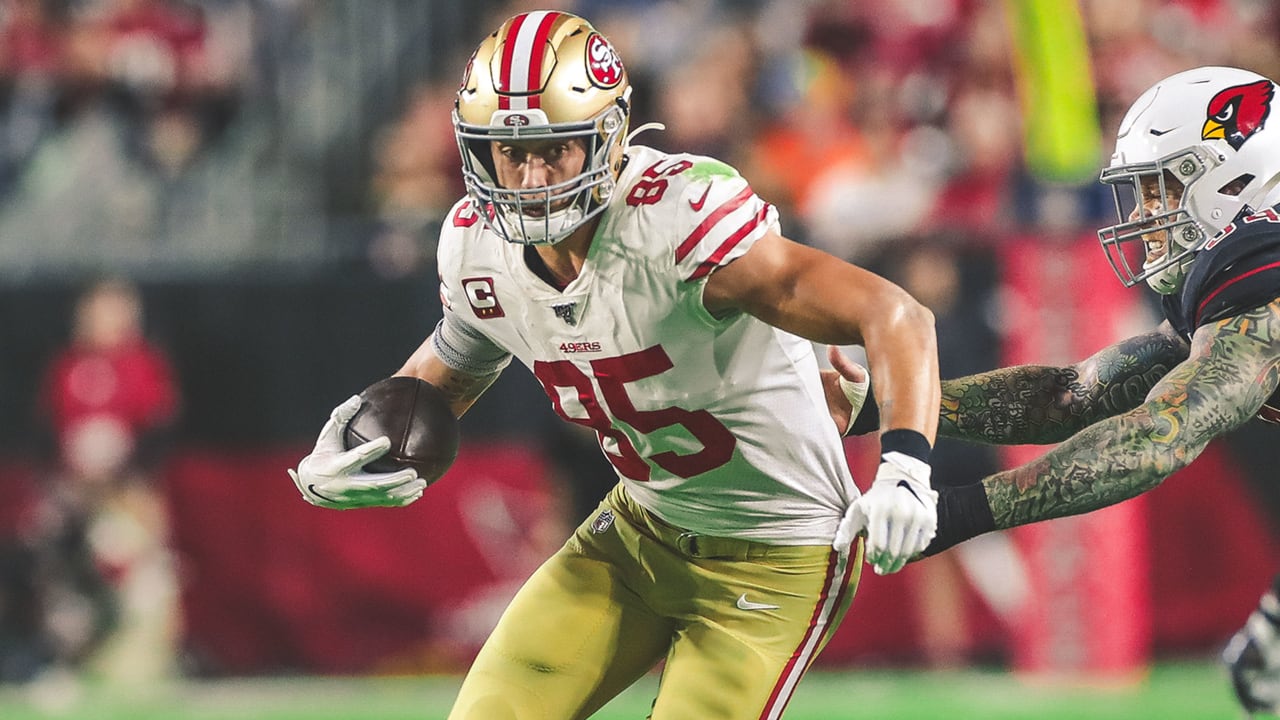 Jones earned the highest grade on defense following Thursday night's matchup on 27 snaps. Jones was responsible for sneaking around center A.Q. Shipley to force Kyler Murray out of the pocket, which allowed Dre Greenlaw to register his first-career sack.
For the second-straight week, Tomlinson has graded out as San Francisco's best among offensive linemen on the night. The fifth-year guard did not allow a single quarterback sack or hit in his 74 snaps against the Cardinals.
Sanders continues to impress in his short time with the 49ers. The receiver caught seven passes on nine targets for 112 yards and a touchdown. Six of his seven catches resulted in either a first down or a score. When targeting Sanders, Garoppolo had a 155.6 passer rating.
"When you're watching him, you always know he's a pro," Shanahan said. "He's even been better than expected since he's been here with how unbelievably smart he's been in picking up the offense and going out there that much especially here on a short week. That game would have been real tough without him."
In his two games in San Francisco, Sanders has put up 137 yards on 11 receptions and two receiving touchdowns. Garoppolo's passer rating on targets to Sanders is a noteworthy 147.0.
San Francisco's fourth-year defensive lineman registered a sack, two quarterback hurries and two run stops in San Francisco's Week 9 victory despite the struggle to contain Cardinals quarterback Kyler Murray.
"He's like a little squirrel back there, like a little squirrel running everywhere and everything," Buckner said postgame. "Next time we go against them, we have to do a better job at containing him and keeping him in the pocket. Obviously, throughout the week we learn some of his mannerisms and stuff like that. We just have to keep the rush and bring the pressure and the back end needs to continue to hold up and allow us to get back there."
It may not have shown up on the stat line, but San Francisco's rookie edge rusher put up another impressive outing. Following his three sack and one interception performance in Week 8, the reigning NFC Defensive Rookie of the Month earned an 85.8 pass rush grade. Bosa also registered three quarterback hurries in Thursday's win.
Back-to-back weeks San Francisco's veteran corner has put up standout performances. Sherman allowed just one catch on three targets for just three yards against the Cardinals and allowed a passer rating of 42.4 on the night. Sherman also registered a pass breakup on Thursday night. His passer rating this season of 35.7 is the lowest for any cornerback with at least 180 coverage snaps.
https://www.49ers.com/news/which-49ers-stood-out-in-the-primetime-matchup-vs-cardinals