Why the Broncos overlooked a bad combine workout a…
3 min read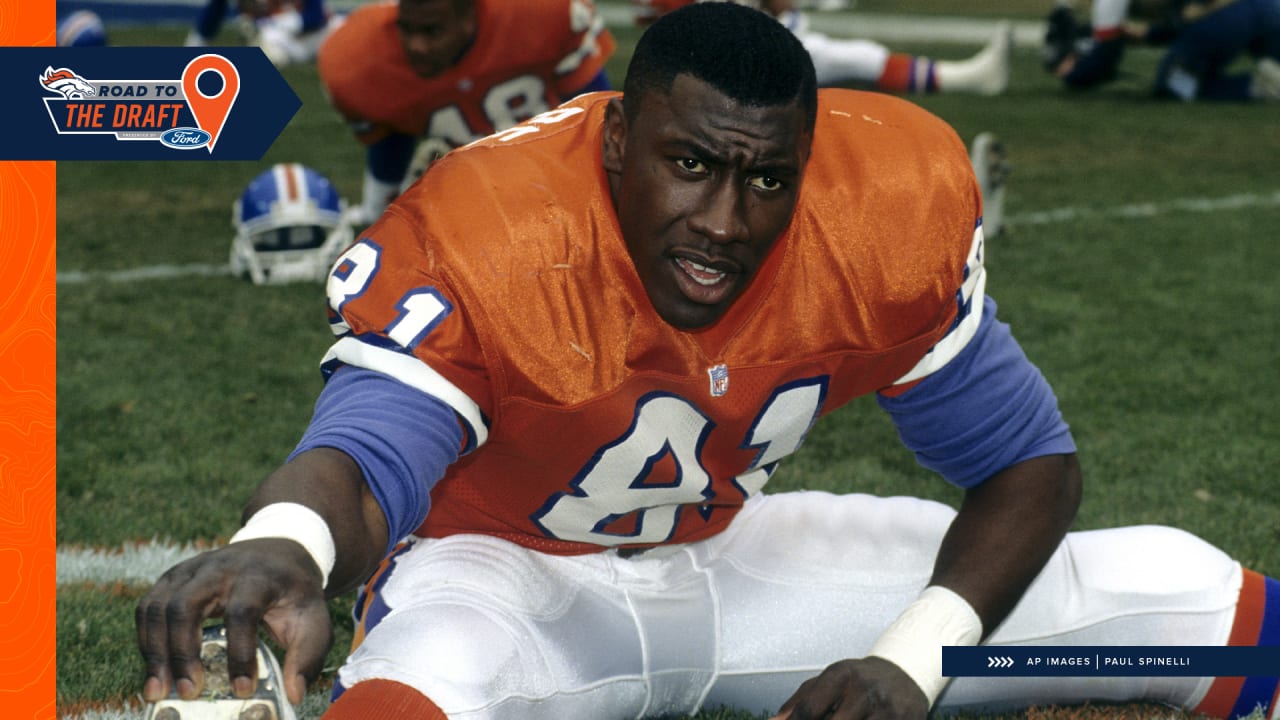 That evening, at his brother's house in South Carolina, he got a pep talk from his brother, whose draft day was much different as the seventh-overall pick in 1988.
"Look, man, I know you're disappointed," Sterling recalled telling his brother. "… But hey, it doesn't matter where you get drafted. All you want is a chance."
Regardless, Shannon was stunned at the day's turn of events.
"I couldn't believe it," Sharpe told ESPN's Bill Williamson in 2008. "I was sitting on my bed all night, just shocked that I wasn't picked yet. I didn't know what was going on. I know I was from a little school, but I had big numbers. To this day, I'm still surprised I went so late."
He wouldn't have to wait long the next day, as the Broncos drafted him in the seventh round. When he returned from a morning workout, he received a call from Broncos scout Ron Hill, Williamson reported.
"He told me I was a Bronco," Sharpe said. "I told him, he wouldn't regret it and that I'd be a steal. I knew Denver was getting a good deal in the seventh round."
The truth is the Broncos didn't know exactly what they had in Shannon Sharpe when they drafted him — they didn't even know what position he'd play — but they knew he was extraordinary.
"After the draft, I heard [Ring of Fame head coach] Dan [Reeves] on a radio show talk about me," Sharpe said in 1997. "He said I was a project and he didn't know if I was a wide receiver or tight end. But he saw something special in me."
Hill saw it for himself when he went to a workout at Savannah State before the draft, he told the Atlanta Journal-Constitution in 2002. On an "excruciatingly hot" day, Sharpe worked to prove his mettle, even in spite of stiff, new shoes.
"They kept him out there three hours, he's bleeding from a blister," Hill said. "I knew the guy had intangibles then."
The other concerns — stemming from perhaps "film [that] looked like it was shot on the top of a car hood" or a Scouting Combine performance that Hill described as "probably … the worst workout in the history of the combine," not to mention that tweener label — were less important to Hill. Hill told ESPN that he gave Sharpe a second-round grade.
They picked him five rounds after that, but still, Sharpe was just glad to find a new home.
"It got a little frustrating waiting, but I'm glad to be going to Denver," Sharpe said after the draft. "I hope my size will help, and I spend a lot of time in the weight room. Hopefully, I'll be able to catch a lot of balls from John Elway."
It took a little time for the Broncos to figure out where Sharpe would play. They tried him at receiver and H-back, but eventually he settled into the position where he became a star: tight end.
By the end of his career, he had established himself as perhaps the most prolific tight end in the history of the game. He won three Super Bowls (two with the Broncos), made eight Pro Bowls and was a four-time first-team All-Pro. When he retired, he was the NFL's all-time leader in receptions, receiving yards and receiving touchdowns by a tight end.
Not bad for a seventh-round pick.
"You can measure how fast I am, how high I can jump," Sharpe said in 2021. You can't measure my passion. My desire to beat the man across from me.
"I got three Super Bowl wins, I got eight Pro Bowls under my belt and a gold jacket. I won."
https://www.denverbroncos.com/news/tales-from-the-draft-why-the-broncos-overlooked-a-bad-combine-workout-and-tweene