With more to prove, talented Ronald Darby to bring…
3 min read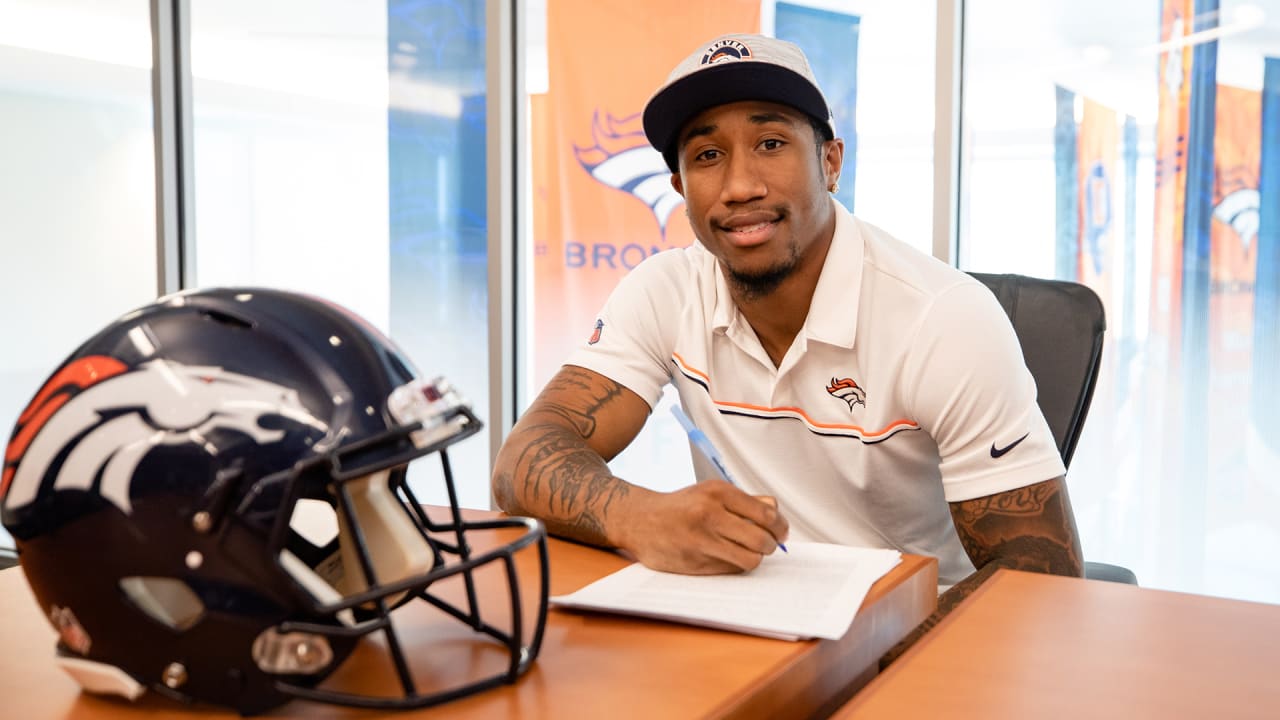 ENGLEWOOD, Colo. — Ronald Darby has reached the pinnacle of team success.
In 2017, the Broncos' new cornerback was a starter on the Philadelphia Eagles' Super Bowl LII championship team. Undoubtedly, he'd like to reach the mountaintop again with the Broncos.
But the former second-round pick also has individual goals he'd like to reach.
"I haven't made it to a Pro Bowl yet," Darby said Thursday at his introductory press conference. "I haven't been All-Pro yet. Those are things I want to do. Each year, I just want to get better and better and will continue to get better and better. That all starts in the offseason when people are not around, and coaches aren't looking. It's what you're doing with yourself and with your time."
The newest Broncos cornerback's two interceptions and 21 passes defensed in his first season earned him All-Rookie Team honors in 2015, and his 16 passes defensed in 2020 ranked fifth in the NFL.
Darby, who has 81 total pass breakups in his six-year career, attributed his success in that category to a pair of traits.
"Confidence is one, and just film study, of course," Darby said. "Just going out there and playing fast and reacting — playing natural. I've been doing this for a long time. The routes are pretty much the same. They'll throw some new stuff in there, but once you get used to seeing things, it's route recognition. So, I just play fast."
Of course, converting a few more PBUs into interceptions would likely help him on his path toward a Pro Bowl.
"Catch it," said Darby with a laugh when asked what the key is to snagging more picks. "Just catch a few of them. Instead of going for some breakups, get my hands on them and hold onto them."
Darby's film, though, clearly demonstrates that the talented cornerback puts himself in position to make plays. He's missed his share of games — 20 in three years in Philadelphia — but rebounded in 2020 to start all 16 games for Washington.
And as General Manager George Paton and the team's scouting staff evaluated free-agent cornerbacks, Darby rose to the top of the team's list.
"Comparing him to the other corners in free agency, we thought he had the best pure coverage skills of any corner.," Paton said. "Talking with the coaches, he really fits what [Head Coach] Vic [Fangio] wants. He can play man, he can play zone, he can match up, he can press and he can really run. Since Ronald's been in the league, he's third in the NFL in pass deflections, so he gets his hands on a lot of balls. Doing our background on players who aren't here and from other teams, we do a lot of background, and everything that came back from Ronald is he's a 'glue guy' and he brings the juice.
"He's a hard worker and he's going to fit the culture that we have with the Denver Broncos."
https://www.denverbroncos.com/news/he-brings-the-juice-with-more-to-prove-talented-ronald-darby-to-bring-boost-to-b