An oral history of Super Bowl 50
10 min read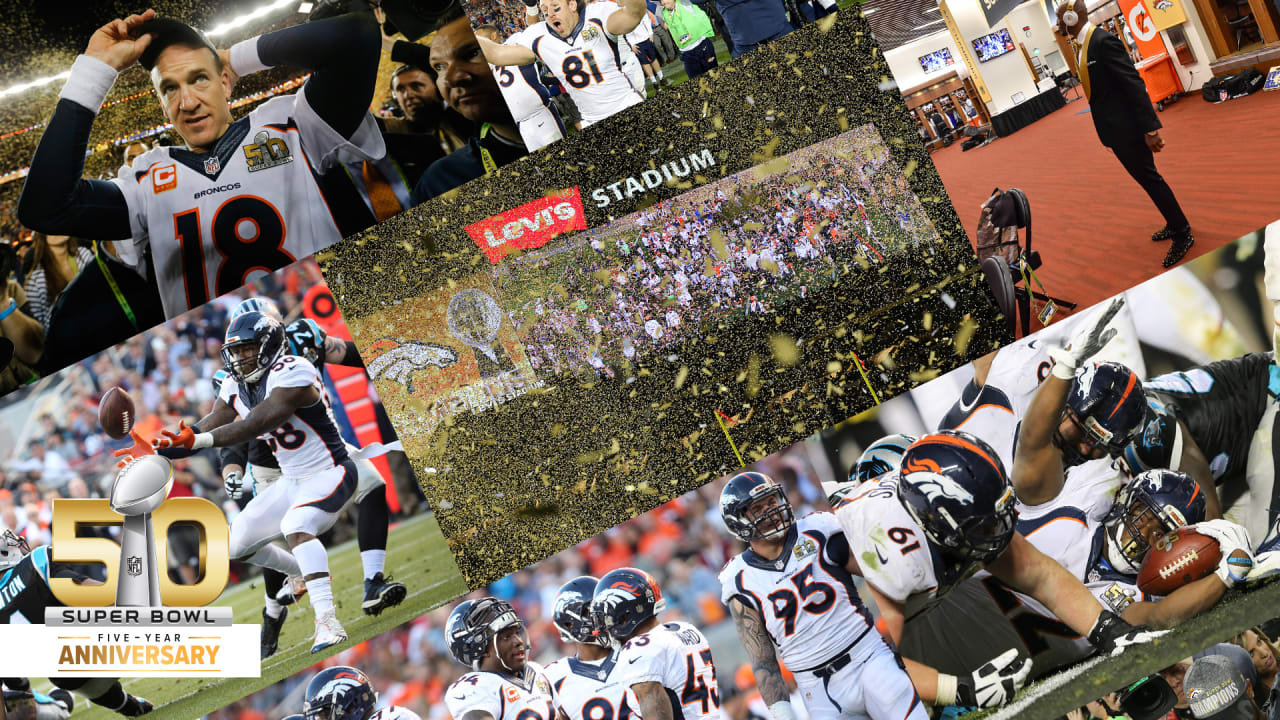 XI. 'It was everything I thought it would be'
With less than a minute left, the result was unavoidable. The Panthers ran a few plays, but they had no timeouts. The clocked ticked down, and the celebration neared. It truly kicked off when Miller and Ware upheld Super Bowl tradition by taking a half-filled 10-gallon Gatorade cooler and dumping it on Kubiak on the sideline.
Ware: That was my first Gatorade bath ever. The only Gatorade I served was to Bill Parcells with the Dallas Cowboys because [when] I was a rookie first-round draft pick, I had to get him his cup of Gatorade every single break in practice. But I was like, I've got to do the Gatorade bath! So me and Von grabbed the Gatorade and waited until the end of the game. I was like, Man, this is probably the first and last time we'll get to do this. And he looked at me and said, Well, let's do it.
Daniels: It was crazy. … During the Super Bowl or during any game, everyone's locked in. The regular season, playoff game — typically there's another game afterwards, right? And you've got to stay focused and stay locked in. There's never any phones on the sideline. So, we've got practice squad guys, we've got guys who aren't dressed, young guys. It was under two minutes and the time was ticking down and the game had been wrapped up, essentially. Guys were on their phones on Snapchat or IG, or whatever it was back then. This is happening — this is during a game! Like, OK, this is the coolest thing I've ever experienced.
Talib: I remember looking at the clock. And it was just, like, Four … three … ahhhh! It started right there, too, and it was over with. Boom, the confetti drops. I had, like, a $30,000 deal with Microsoft to write "Super Bowl champs." I immediately ran over to get my [tablet]. Let me get my money right, because I done spent all of my Super Bowl money. I need another check coming in, because the money we get from this game is gone already. … Then if I got it on this stage it was this amount of money; if it was this stage it was this amount of money. … I just immediately tried to get that, do that real quick.
Norwood: It's definitely a situation where, I don't know — you might think you know how you're going to feel when that confetti falls or when you're just walking back to the hotel after the game, but it was just a surreal feeling. Nothing could have wiped a smile off my face.
Daniels: For me, it was just completely, it was like, uh — I don't want to say it was a relief, but it was like a release of emotion. When it finally hit zero, I just ran. I just ran. I don't know where my helmet was. … I ran, like, looking to the sky with my arms out, like I couldn't believe that I was in that position, on that field. I'm thinking back. The Super Bowl in general was a very reflective time for me, as far as thinking back to when I first started playing the game, up until that point in my life. I had been playing the game for about 25 years at that point. Just reflecting on my idea of the Super Bowl when I was young, and that I was actually living that, that dream, at the time. It was just my way of kind of soaking it all in, I think. There's a couple pictures that the press got of me running, and when I look at it, I can just go back to that moment, every time I look at it, and just feel exactly what I was feeling right then. Literally, it looks like I'm trying to just absorb all the energy that was flowing around the stadium at the time. I wish I could go back and do it again, man.
Anderson: I exploded out, two hands up, super excited. The media's asking me how I'm feeling and I'm screaming for my mom. We spend so much time with others and teammates, husbands and fathers, that was a moment for me that I felt like I wanted to grab my mom and my grandma. I was screaming for my mom and my grandma. Where's my mom? Where's my grandma? … I went to go get them in the tunnel somewhere and grabbed them all and we had a chance to celebrate on the field together, and it was just a very, very special moment and a very memorable time.
Ware: I still don't have a reaction, to this day. To be honest with you, I don't. There was a feeling of, like, numbness. Like I couldn't even absorb exactly what happened. I'm seeing confetti everywhere. The only thing I remember is my son running up to me. And he grabbed my leg, and he was like, Dad, you did it! And he had this huge [cutout] of me in his hand, because I saw it in the stands, and he had it when he came down to the field. And I'm like, Man, this is the reason why I did this. I'll be able to tell this story to my son, but also him being there to experience this, and my daughter too.
Daniels: The fact that I'm holding my son on the football field, Super Bowl football field, was — ah, it's really hard to put into words what I was feeling at that time. I just think I felt just so grateful to be in the position I was in, to have the support from my family over my whole career and now to be able to share my experience with my son was super, super special. I was pretty emotional that day and even on the bus ride to the stadium on game day. Wasn't a long bus ride, but I was able to fire off some text messages to family and friends. I just felt this huge wave of gratitude to anyone who had been part of supporting me during my life and my career. Family, friends who helped me get through some tough times in my career and were there to support me all the way through. Those are the people that I played for, really. They were my why, as guys like to say — the reason for playing, why I get up in the morning, why I work so hard, why do I sacrifice? It's to get in this position. It's obviously great as a player to play in those games, but to have to close family and friends be able to experience that with me, I think it was as much as I could give them as far as a thank you for supporting me all those years.
Talib: I just remember the joy. I wanted my family to experience it with me. We was out on that field for, like, 45 minutes, an hour or something. I didn't want it to end. Then we did the media after that. I was just like, Man, I could do this all day! …
I was with the fam and we were doing our thing on the field. Then, I can't remember who — somebody came, like, Hey, 'Prime' [Deion Sanders] wants to holler at you! They're on the set and they want to holler at you. I was like, Oh, s—! Prime! You know, that's my dog. I chopped out all the way over there. I got cleats on and it never crossed my mind, a metal stage. Never crossed my mind. I just hopped right there — Boom! I fell down and I was laughing so hard. I was so happy, nothing was going to ruin the moment. Just made the best of it — 'Lib goes viral!"
Ware: It was one of the best experiences. And then one of the final ones is when Elway held that trophy and he said, This one's for Pat. Knowing what all the family's been through, what that organization means and I'm like, I got to be a part of it. I didn't get to meet Pat [Bowlen] as much, but I was there to bring home one of the most iconic things to the Denver Broncos country, and I'm part of that.
Daniels: I had spent every single year of my career with Coach Gary Kubiak. He's the one that gave me my first opportunity to play in the NFL. … we had been through a ton in Houston together as far as … helping take the franchise from a losing franchise to something that was respectable and would win division championships. That took a lot of work, and that helped our relationship grow stronger. So he was one of the first guys I wanted to find to give him a big ol' hug. … for us it took 10 years together to get there, but it was worth the wait and almost made it even more memorable and makes me cherish that time even more so, because it didn't come easy.
Ware: Wade was like my dad. I'm being honest with you. He was like my dad. I played with him for so many years. … I just walked up to him and gave him a big hug. Every year, Wade always dedicates a game to his dad. … I used to play lights out for every single one of those games. I haven't lost one of those games he dedicated to his dad, right? We haven't. And I said, Your dad was here. That's what I told him. I said, You called a great game. He was there and this one was one of the games that I dedicated to your dad. I know you did, too.
Anderson: The biggest moment is when we won and the emotion I got to see from Coach E. When I got to Denver in 2013, I didn't know too much about Eric Studesville. I didn't know what type of man he was, what type of person he was. For most of my rookie year, I thought he hated me, to be honest. Obviously during the OTAs, he lost both of his parents. Me and Coach E got tight over that time, and obviously four or five years later, we really got tight. At that moment, to him, with Staci and E.J. and Syd [Studesville's wife and two children, respectively], and him to look up, I think Vic Lombardi was there asking him a question, I'm hugging him. In that moment, he looked up and he started crying. I just knew what he thought about, and I started crying with him. At that moment, I can tell that. …
I told him, Hey, man. They'd be super proud of you right now. Because everything I felt like Coach E. do, even to this day, he still does it the right way. Obviously me and him still talk a lot, too. He still does it the right way. And at that time, everything that he's done the right way paid off for him for a chance to be a Super Bowl champion winning coach. That moment is something I won't forget, just because I was actually in that moment. A lot of moments I was in, but seeing Coach E from 2013, lose his parents, stay strong, still emotional about it but stay strong, coach us the hard way, still do things the right way. Losing both your parents can be a trauma effect where you hear about coaches going off drinking or go off doing this or start changing their ways. He never changed up. … That moment will probably be my most special moment, just because seeing the emotion that he had for his parents was big-time.
Ware: I was just in a daze for a little while, until I went to my locker. And what Flip did, Flip [Equipment Manager Chris Valenti] … I told him, I want to get a little bit of time with that trophy my myself, because I want to slap that name on my locker and say, God, we did it. I just want to touch that trophy and give it to Him. And I walked into the locker room. It was totally quiet. Nobody was in there. I was the first person. I'm usually the first person in the locker room. Ain't got time to be playing around outside — I'm tired. And so I walked into the locker room and I saw that Super Bowl trophy. And I'm like, How did they take that? … I just saw Elway [say,] 'This is for Pat!' And I walked into the locker room and it's right there. Flip grabbed it, washed it off and put it in my locker. I'm just sitting there like, Man, I did my ritual, slapped the nametag, grabbed the trophy and said, 'God, we did it.' And guess who taps me on my shoulder? Peyton. And when I turned around at Peyton, Peyton's eyes are glittery. Mine's glittery. And I'm like, Who would have thought, man? Me and you being able to lead this team to a Super Bowl, and we're so old and beat-up, but we did it. … There was no words; we just, like, grabbed each other, man. The trophy was right between us like a baby.
Talib: It was everything I thought it would be, from the game itself to the postgame, to the party after, to the plane after, the parade — everything, man. It was unmatched laughing — jawbones hurting from smiling and laughing all the time. I definitely will never forget that feeling.
Norwood: Those moments — my daughter had just been born. She was like four months old and she was back in the hotel. I remember getting back to the hotel and just having a quiet moment with her and my wife, just kind of decompressing for a little bit and saying, Wow, I can't believe this just happened.
https://www.denverbroncos.com/news/five-from-50-an-oral-history-of-super-bowl-50