Colts Enter Week 16 As AFC No. 5 Seed
2 min read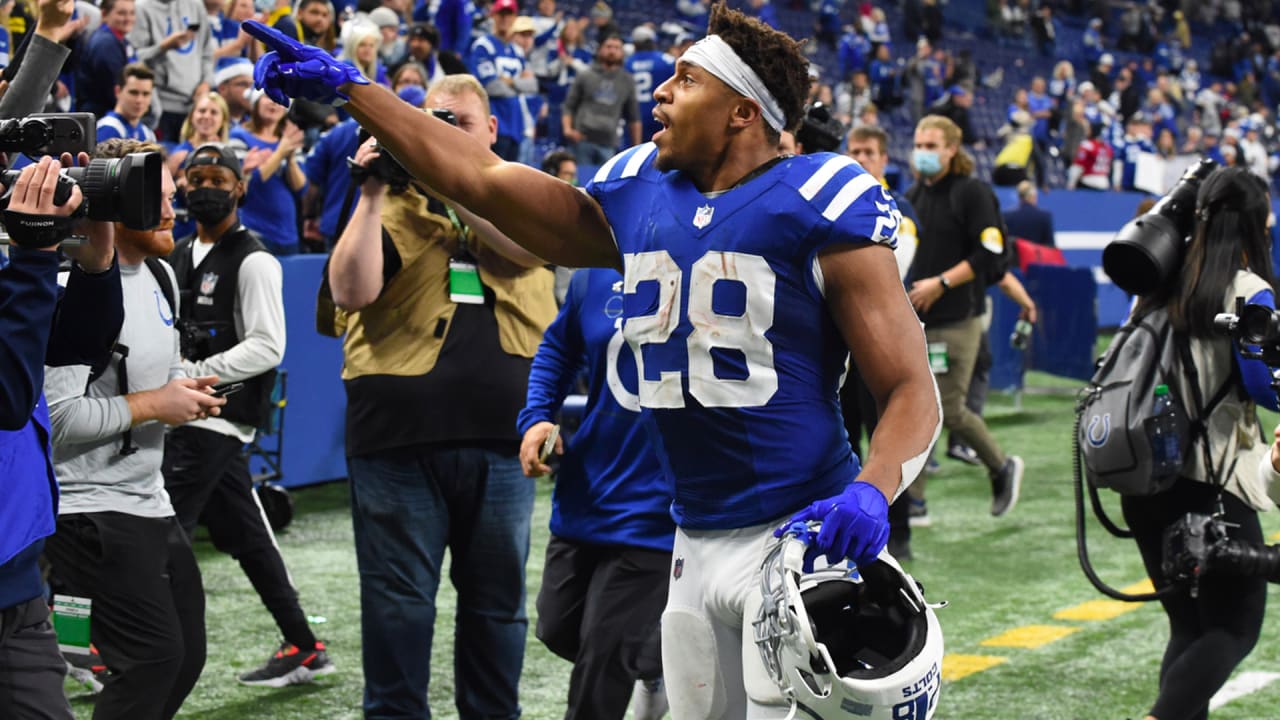 With the AFC's Week 15 games in the books, here's where the 8-6 Colts stand in the conference's playoff picture:
Kansas City Chiefs (10-4)
New England Patriots (9-5)
Tennessee Titans (9-5)
Cincinnati Bengals (8-6)
Indianapolis Colts (8-6)
Los Angeles Chargers (8-6)
Buffalo Bills (8-6)
Baltimore Ravens (8-6)
Pittsburgh Steelers (7-6-1)
Las Vegas Raiders (7-7)
Miami Dolphins (7-7)
Cleveland Browns (7-7)
Denver Broncos (7-7)
With a four-way tie for wild card spots, the Colts have the top wild card seed thanks to owning the best AFC record (7-3) of that group. The Chargers are 5-4 in the AFC, the Bills are 5-5 and the Ravens are 5-5.
As a reminder, the Colts own the head-to-head tiebreaker over the Bills and Dolphins, while the Ravens have the head-to-head tiebreaker over the Colts. The Colts play the Raiders in Week 17.
Here's how the Week 16 schedule shapes up for these playoff contenders:
Titans: vs. 49ers (Thursday, 8:20 p.m.)
Browns: @ Packers (Saturday, 4:30 p.m.)
Colts: @ Cardinals (Saturday, 8:15 p.m.)
Patriots: vs. Bills (Sunday, 1 p.m.)
Bengals: vs. Ravens (Sunday, 1 p.m.)
Chargers: @ Texans (Sunday, 1 p.m.)
Chiefs: vs. Steelers (Sunday, 4:25 p.m.)
Broncos: @ Raiders (Sunday, 4:25 p.m.)
Dolphins: @ Saints (Monday, 8:15 p.m.)
The Colts head into Week 16 with an 89 percent chance of making the playoffs, according to FiveThirtyEight. A win over the Cardinals would increase those odds to 98 percent; a loss would decrease them to 81 percent. The Colts cannot officially clinch a playoff spot in Week 16, but could potentially have a playoff locked up by the end of Week 17 if they beat the Cardinals and then Raiders, and have a few other results go their way over the next two weeks.
But notably, the Colts enter Week 16 with a 16 percent chance of winning the AFC South. If the Colts win their final three games and the Titans lose two of their final three (or the Colts go 2-1 and the Titans go 0-3), then the Colts will win the AFC South.
A Titans loss to the 49ers coupled with a Colts win over the Cardinals would essentially turn the AFC South into a coin flip, per FiveThirtyEight, with the Colts having a 49 percent chance of winning the division against the Titans' 51 percent. After the 49ers, the Titans play the Dolphins at home and the Texans on the road; the Colts finish the season with the Raiders at home and Jaguars on the road after their Christmas trip to Arizona.
If Tennessee beats San Francisco on Thursday, though, the Colts' chance to win the AFC South drops to four percent.
https://www.colts.com/news/nfl-playoffs-standings-odds-afc-south-titans-wild-card-week-16