How Justin Fields & Darnell Mooney have continued…
3 min read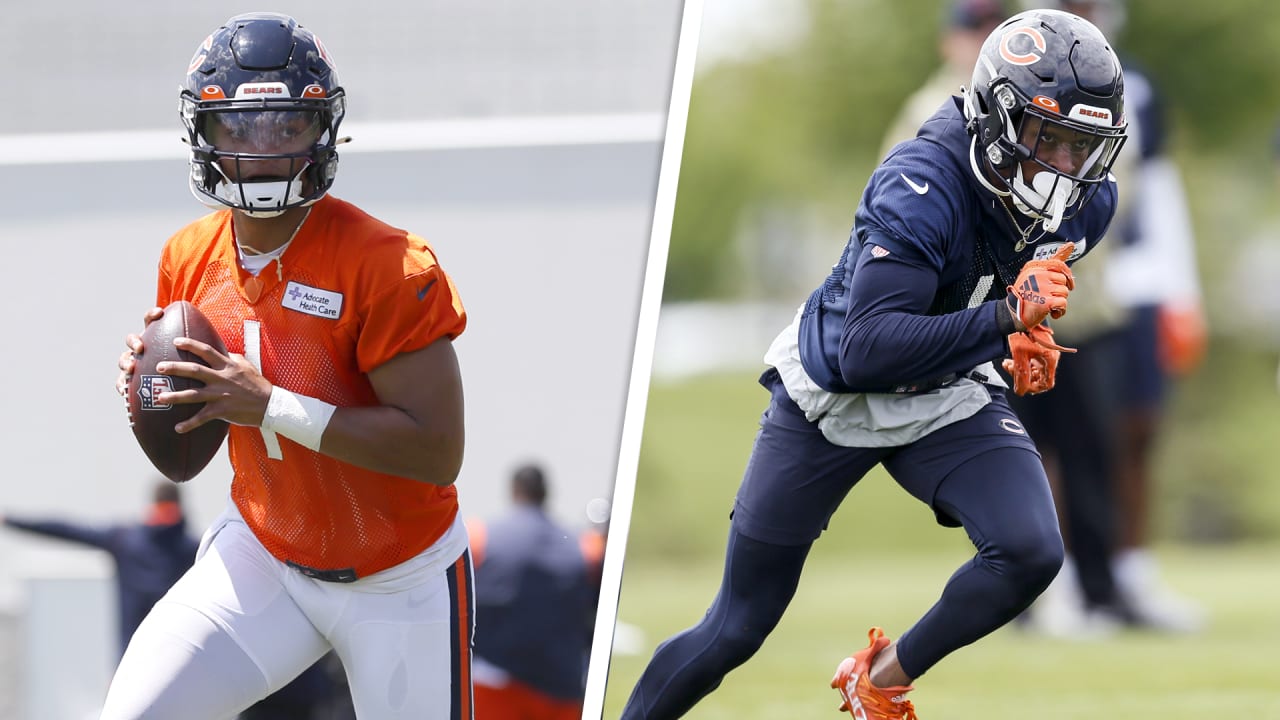 On one recent occasion, Fields and Mooney both were determined to work out longer than the other. After several hours, they called a truce and left the weight room together.
"He honestly makes we want to do more," Fields said. "Just seeing how much he works, how hard he works, it's kind of contagious."
Fields and Mooney intend to take the chemistry they developed in their first season together last year to another level in 2022. About two weeks ago, their bond was evident during a workout in the Walter Payton Center.
"It just felt like every ball we were throwing and catching, it was just connecting," Mooney said. "It wasn't too much to it. We were out there doing our thing. It felt good, it felt natural. It wasn't too much talking. Playing music and just working out, so it was just natural. I mean, I loved it. I didn't ask him about it. Looking back after that day, it was very nice, it was a nice day."
The Bears expect Fields to make a big leap in his second NFL season. As a rookie, the 2021 first-round pick from Ohio State appeared in 12 games with 10 starts, throwing for 1,870 yards with seven touchdowns, 10 interceptions and a 73.2 passer rating. He also rushed for 420 yards and two TDs on 72 carries.
Asked where Fields has made the greatest strides this offseason, Mooney said: "Just locking in and knowing what he wants to do with this offense, with this team. And him as a quarterback in this league, he wants to take over the league. He's already Justin Fields. But he wants to be the best quarterback in the league. He's taken the stride to be there. I've got unbelievable faith that he will be there. And his success is my success, so as long as he's doing good, I'm doing good, we're all doing good."
As the Bears' undisputed No. 1 quarterback, Fields has entered his second season with a different mindset than he had last year, when he was expected to back up veteran starter Andy Dalton.
Fields has displayed more leadership and a greater command of the huddle this offseason than he did as a rookie. In addition, the new coaching staff has made a fundamental change that should help him get rid of the ball faster, having him line up in the shotgun formation with his left foot forward instead of his right foot like last year.
During this week's mandatory minicamp, Fields is continuing to focus on his footwork while also gaining a firmer grasp of the offense. It's a system that Mooney is confident will enable all of the Bears' skill-position players to excel in 2022.
"The scheme we've got here, I love it a lot," Mooney said. "It's very nice. It complements a lot of us players: running back, quarterback and a guy like me. [I'm] just able to do a lot of things that I love to do and just be a playmaker."
https://www.chicagobears.com/news/bond-between-justin-fields-darnell-mooney-continues-to-grow