New Broncos coordinators Evero and Stukes hoping…
3 min read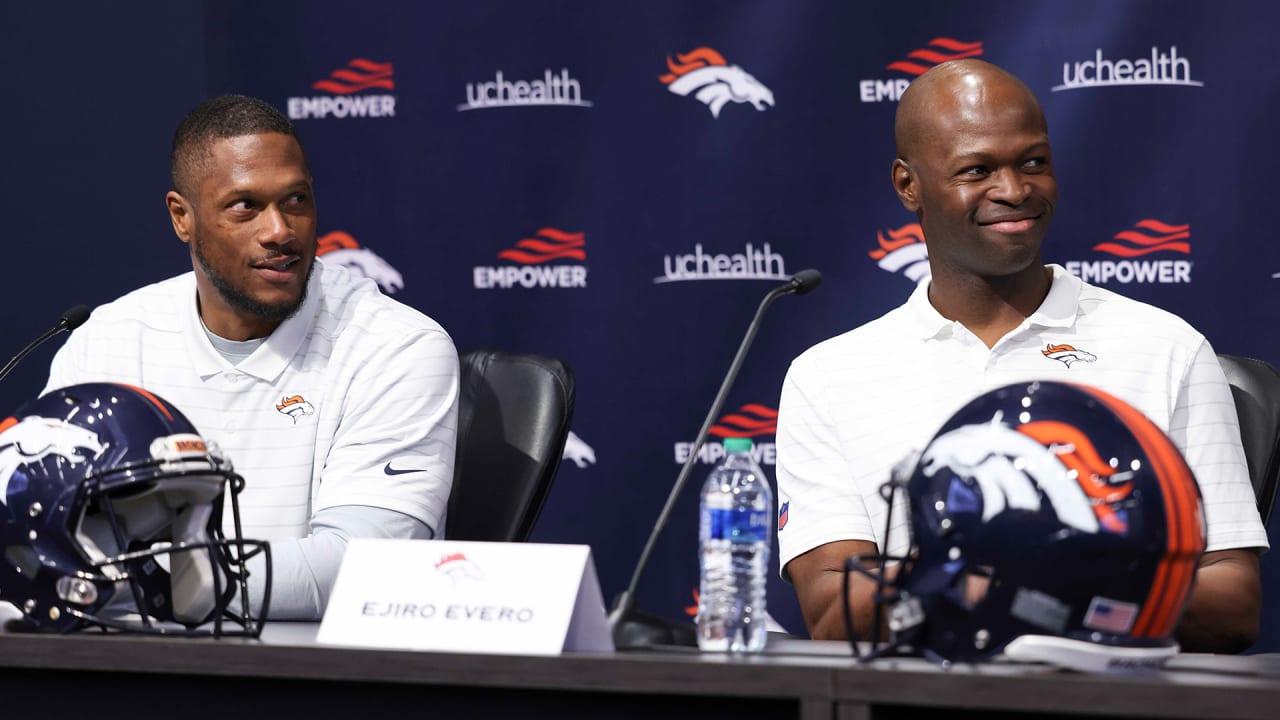 ENGLEWOOD, Colo. — Just over a week ago, two of the Broncos' new coordinators were in sunny California instead of snowy Colorado.
As members of the Rams' staff, Ejiro Evero and Dwayne Stukes exulted in their Super Bowl LVI victory, the pinnacle of their coaching careers so far.
"To put it in words is hard," Stukes said Tuesday during their introductory press conference. "To see the confetti come down, to know you're a world champion and nobody can take that away from you, that's amazing."
Now, just days after that, Evero and Stukes have moved on to their next challenge as Denver's new defensive coordinator and special teams coordinator, respectively, but the goal will not change from the one they just achieved.
"Hopefully we can duplicate that here," Stukes said.
Doing that, of course, is easier said than done. But the experience they — and fellow former Rams coach and new Defensive Line Coach Marcus Dixon — gained from a championship season goes a long way as they learned how to prepare for this opportunity to lead an entire phase of the game for the Broncos.
"One, you've got to have the players and the players have to be committed to winning," Evero said. "But the biggest thing is that you've got 17 games, you've got offseason programming, you've got training camp, you've got hopefully the postseason. There's going to be highs, there's going to be lows, and it's really about staying the course. And it's about developing a process that you believe works and sticking to it, and more than likely, you're not going to win all your games. There's going to be losses. There's going to be adversity. And the one thing we've learned is that as you go through it, there's going to be a lot of challenges to your character and your approach and your process, and you've got to put the blinders on, you've got to have belief in what you're doing, and you've got to stay the course. If your process is right, which I believe it's going to be here, and the people are right and you stay the course, you're going to have the results you want."
The results the Broncos want is the one the Rams got — holding up the Lombardi Trophy. Over the course of the season, the Rams went all in, trading for quarterback Matthew Stafford before the season and outside linebacker Von Miller during it. After that, the team endured a three-game losing streak before reeling off nine wins in a 10-game stretch that ended with the championship. Through it all, the team kept its focus and made sure to enjoy the process, as Stukes said.
https://www.denverbroncos.com/news/new-broncos-coordinators-evero-and-stukes-hoping-to-recreate-super-bowl-success-