Cardinals Grab Victory Over Eagles Through DeAndre…
3 min read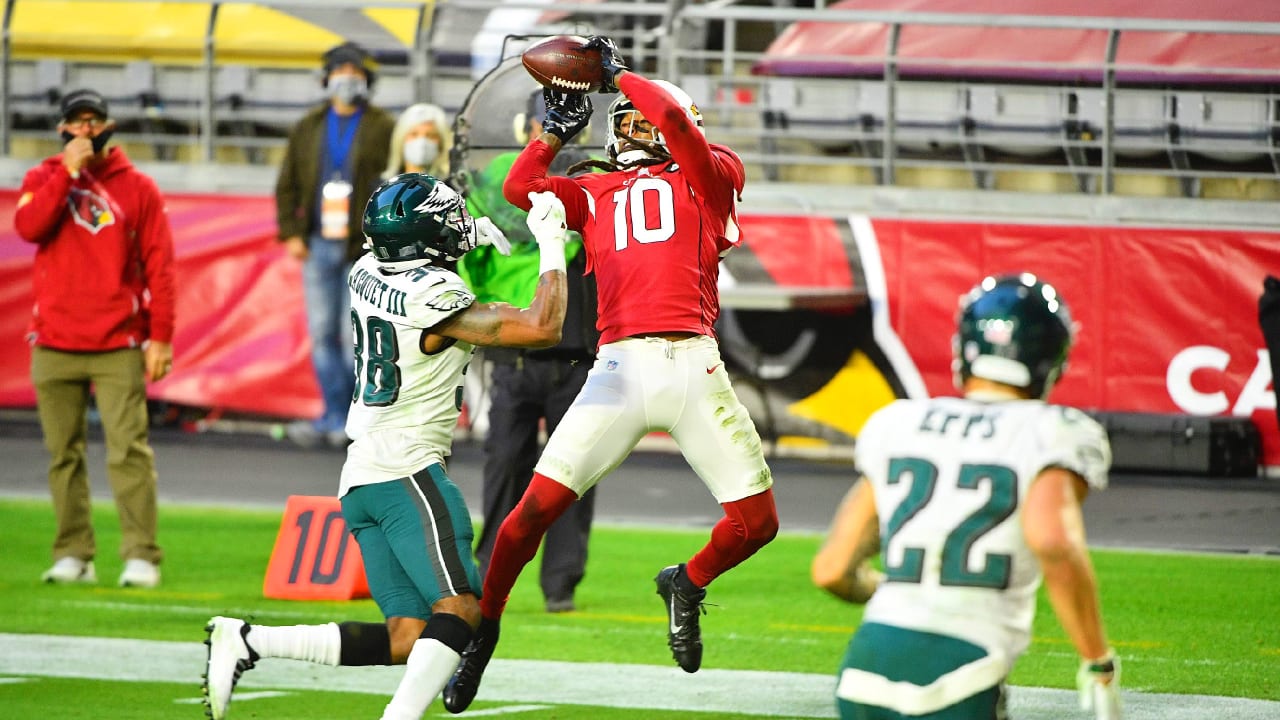 Instead rookie quarterback Jalen Hurts was trying to make his own highlights, with three TD passes, 338 yards through the air, and no turnovers, giving the Eagles (4-9-1) hope and making the Cardinals sweat.
It was an odd game for the Cards, who had 526 yards of offense – their highest total since Kliff Kingsbury became coach – but converted only 3-of-10 third downs, making many drives harder than necessary.
Those three conversions though? All Hopkins magic.
The first was a 45-yard jump ball in the first half in between double coverage, flipping the field and setting up a Mike Nugent field goal.
"That's probably top 8 (in my career), maybe 10," Hopkins said. "I'm going to go top 8 because it's on two people."
The other two came on the game-winning drive. First, a third-and-8 turned into a 44-yard catch-and-run, on a play Hopkins used his body to beat his defender.
"I knew my team needed a spark," Hopkins said. "I was telling them to come to me the whole game in a situation with a crucial down and Kyler trusted me.
"Kyler put the ball where it needed to be. I wish I could've scored but the legs got heavy. Fourth quarter."
No matter. The next third down, 20 yards from the end zone, Murray put the perfect pass on Hopkins, who was covered well in the same part of the end zone where he caught the Hail Murray against the Bills. Again, Hopkins' vice-like grip made it no contest. It was a TD "as soon as it touched these fingers," Hopkins said.
Hopkins ended up with nine receptions for 169 yards, his best day as a Cardinal. The lone flub? Hopkins fumbled the ball away inside the 10-yard line on the initial drive of the game, throwing away his gloves after the play and getting a new pair – "Those were 4Xs (extra large) and they know I wear 5Xs," he said – for his sizable hands.
That cost the Cards one potential touchdown. Murray's end zone pick, the other.
"The interception really had me…obviously, I just have to let it go," Murray said. "Just as far as throwing interception and the timing, in that moment when we are about to be able to put the game away you or try to… just can't do that, that's not playoff football."
That the quarterback thought of the interception first – over his big passing day or the offense's gaudy stats in general – is not a surprise.
"I hold Kyler to a high standard," Hopkins said. "He holds me to a high standard. He shouldn't have thrown that interception down there knowing where we were, and I shouldn't have fumbled the ball and he'd probably say the same."
The victory, however difficult it was to pull off, was the important end result. The Eagles had two Hail Mary tries into the end zone on the game's final two plays knocked down, as well as stopping the Eagles' previous possession in the red zone when Philadelphia had a chance to tie.
"I liked our odds," linebacker Jordan Hicks said. "There was no panic."
That the Cardinals gave the ball away so many times and didn't force any from a rookie QB could have been a disaster.
"When you have three turnovers in an NFL game, they don't have any and you find a way to win, it's a heck of an accomplishment," coach Kliff Kingsbury said.
Then again, the Cardinals found out yet again this season, that talent that arrived in trade over the offseason can be a nice eraser of problems.
"I feel we can still do a lot of work," Hopkins said. "I hate close games. Me being who I am, on third down I always feel I want the ball in a selfish way. I feel like Kobe Bryant wanted the ball in every clutch situation. That's the kind of player I am."
https://www.azcardinals.com/news/by-beating-eagles-cardinals-make-sure-destiny-still-within-grasp